About the
Client
Mark Andy is a global leader in the manufacture of narrow- and mid-web printing and finishing equipment. Mark Andy prides itself on being a Total Solutions Partner to its customers–they don't simply sell the equipment, they also provide on-site installation assistance, customized training, and ongoing technical support to ensure their customers maximize both revenue and efficiency.

Client
Challenge
Mark Andy had a great story to tell, but they needed help telling it. Their website and overall digital presence did not adequately reflect who Mark Andy is or how they help their customers. They also needed to develop a strategic digital marketing plan to generate leads and to engage with users at all stages of the sales funnel.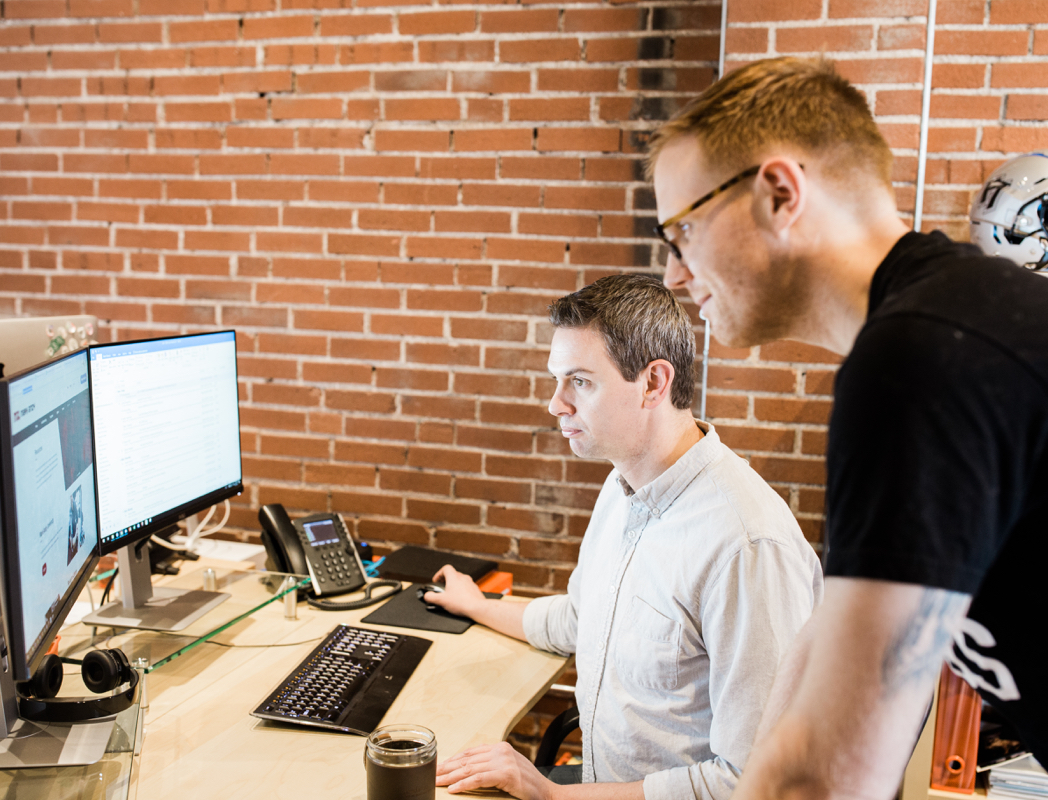 How TG
Helped
Up-Front Strategy
We began our partnership with Mark Andy by conducting a very thorough strategic analysis of their brand, their industry, and their competitors. This proved to be invaluable later on since every member of our team understood the overarching goals and desired outcomes of the project.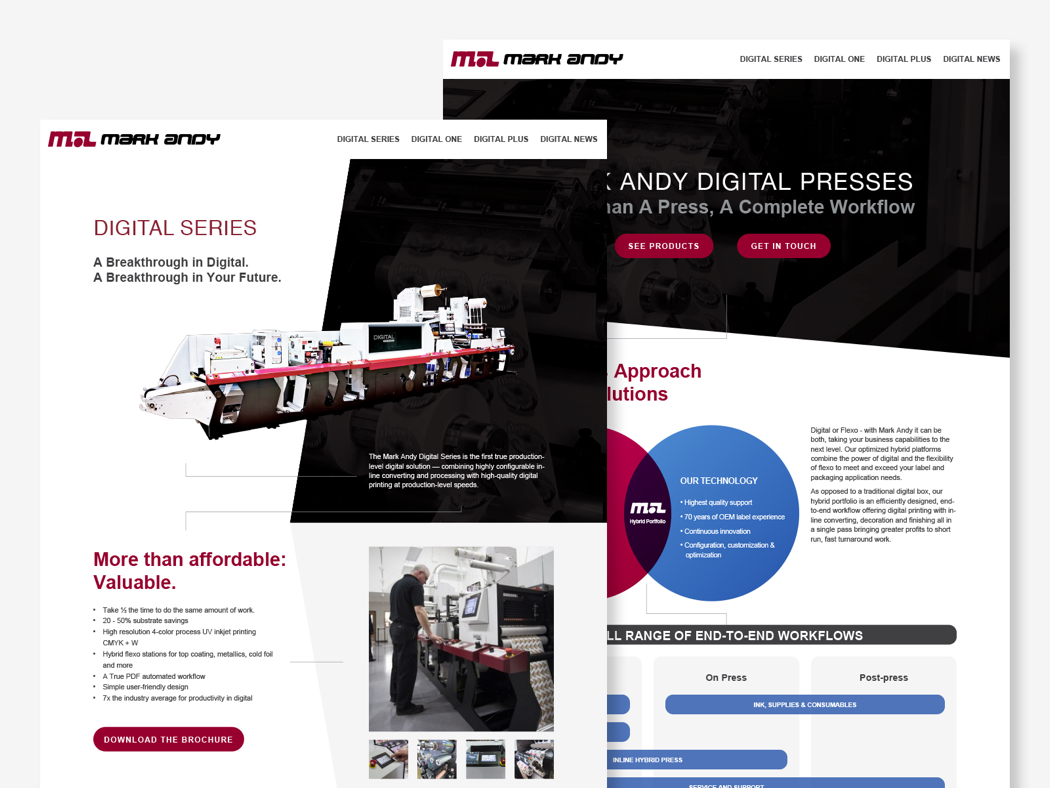 Microsite
Knowing that the new website design would be a lengthy project given its sheer size and scope, we first built a microsite for Mark Andy's suite of digital solutions. Drawing upon the insights gained during the initial strategy phase of the project, we were able to quickly build a microsite that told Mark Andy's story, provided pertinent product information in an organized and visually appealing way, and produced plenty of leads for the Mark Andy sales team.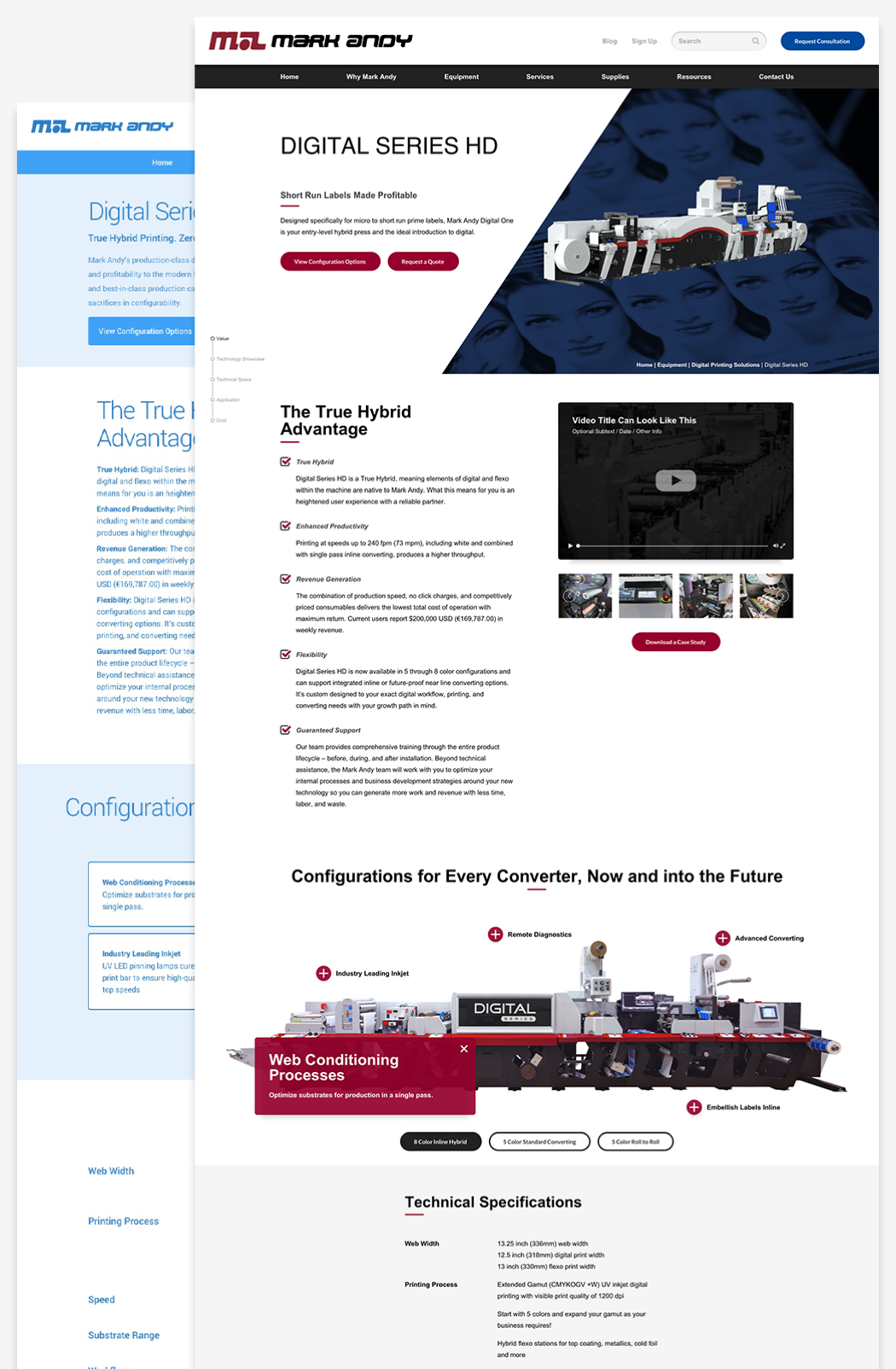 New Website
Fast forward several months, and it was time to begin creating the new, full Mark Andy website. Based on the proven lead-generating success of the digital microsite, both teams felt confident that the strategy was sound. Nevertheless, the new B2B website design did present a few challenges. First, due to the myriad products and services that Mark Andy offers its customers, the content plan and user pathways needed to be well-thought-out. Second, the site had functional requirements that required some creative development solutions. And third, the site launch had an aggressive hard deadline–it needed to be live in time for an important client trade show. All of these challenges were met through superb communication–both externally with the client and internally amongst our team members.
Mobile-Friendly UX
It's no secret that users are increasingly visiting websites on their phones and other mobile devices. So keeping mobile UX top of mind was very important to a successful outcome. The new Mark Andy site has multiple levels of navigation, so we needed to be mindful of how a user would access each page of the site, move between pages and sections, and ultimately find the information they are searching for.
SEO
Paramount to a successful website launch, within the first month we are already seeing the new website rank on the first page of SERPs for many of Mark Andy's trophy keywords–compared to not ranking in the Top 50 or even Top 100 for those same keywords on their old site.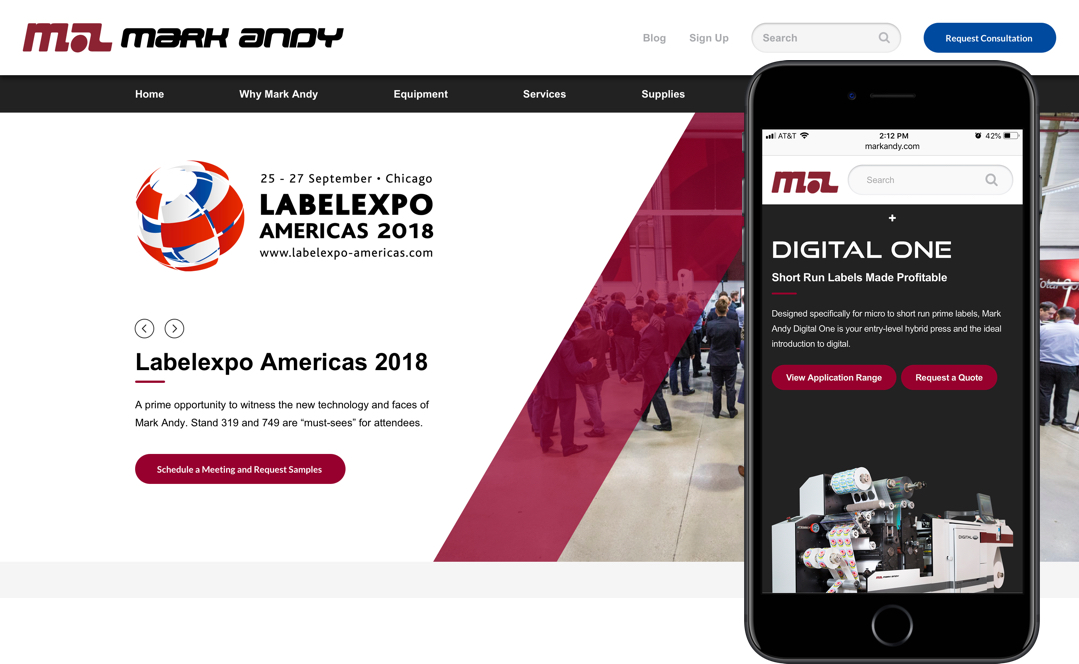 Committed
Agency Partner
From initiation of the strategy to launch of the new Mark Andy website, this was a two-year process. The only way that such an endeavor could be successful is with a client that has clear business goals and objectives, and a marketing partner that doesn't simply take marching orders, but proactively makes recommendations and suggestions backed by proven experience, current best practices, and creative, strategic thinking. There were some intense, heated discussions along the way, but they led to better work–and better results for our client.