Razr Rodz
Created in 2010, Razr Rodz is a high-performance fishing rod manufacturer with products geared toward avid and professional anglers and fishing enthusiasts. Though not sold in big box stores, Razr Rodz products are available for purchase via the Razr Rodz website and in person at their Wood River, Illinois brick and mortar store.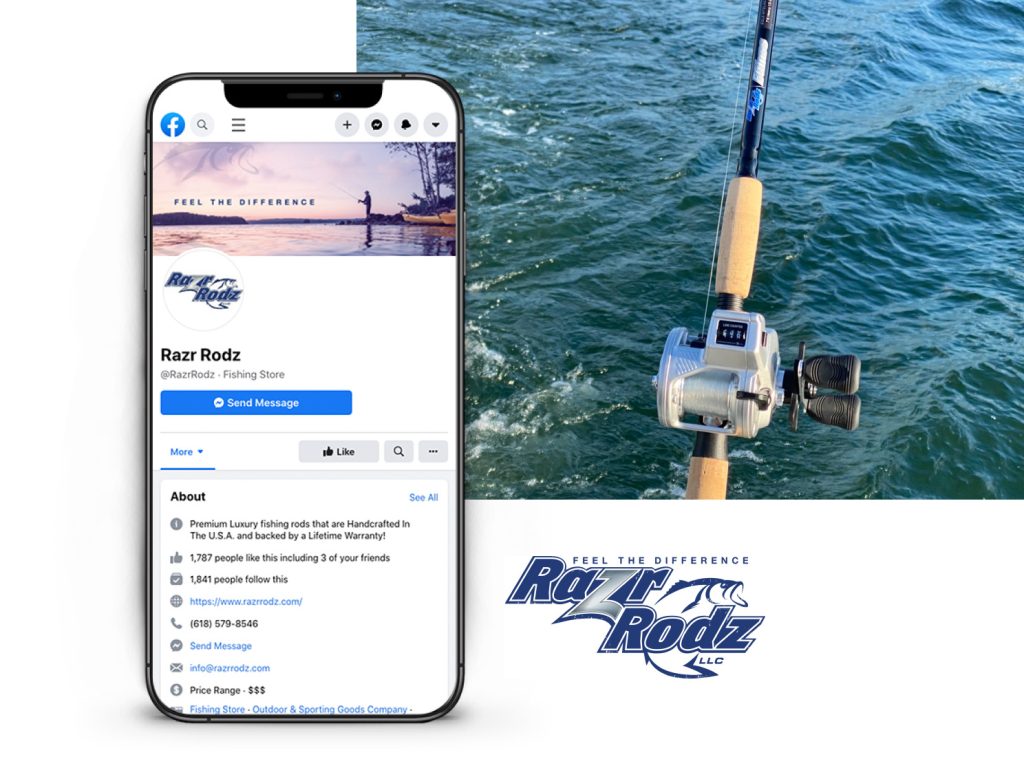 Challenge
In 2019, Razr Rodz was purchased by two brothers with a love for fishing and a respect for the Razr Rodz line of products. Unfortunately, professional-grade fishing equipment is not the easiest e-commerce venture to tackle (no pun intended). The typical price point for a Razr Rodz product is high for novice fishermen while seasoned anglers are generally bound by unwavering brand loyalty and unwilling to try something new. In finding a new audience for the Razr Rodz brand, the brothers had their work cut out for them.
Takeaways
For companies with hands-on products like fishing rods, establishing a brand, building a loyal following, and driving sales without the benefit of, in this case, a Bass Pro Shops or other big box retailer can be challenging. But Razr Rodz believed in their product and knew that if they could speak to the right audience, they'd see sales increase. Unfortunately, a few bland and organic social media posts weren't "reeling in" customers. And while we probably couldn't tell you the difference between a spoon lure and a spinnerbait, we can help you get your products and services in front of those most willing to become buyers and advocates. By delivering a quality product, making the most of your strategic social media efforts, and managing it all through a seamless and bug-free website, your e-commerce business can thrive even in the face of fierce competitors.
How TG Helped
The Timmermann Group team in partnership with the Razr Rodz experts got to work on a plan of attack designed to drive traffic and boost sales. But before we could get started, we had a few website maintenance tasks that deserved our immediate attention.
Website Hosting, Maintenance, and Support
Social Media Marketing
Product Photography
Website Hosting, Maintenance, and Support
The owners had launched a new Razr Rodz website just prior to their partnership with Timmermann Group, but it wasn't quite equipped for seamless e-commerce transactions just yet. In order to get the site to work properly, our development team made substantial adjustments to the site's ordering, payment, and shipping functionalities to allow for easier management on the backend and a more seamless shopping experience for the user on the front.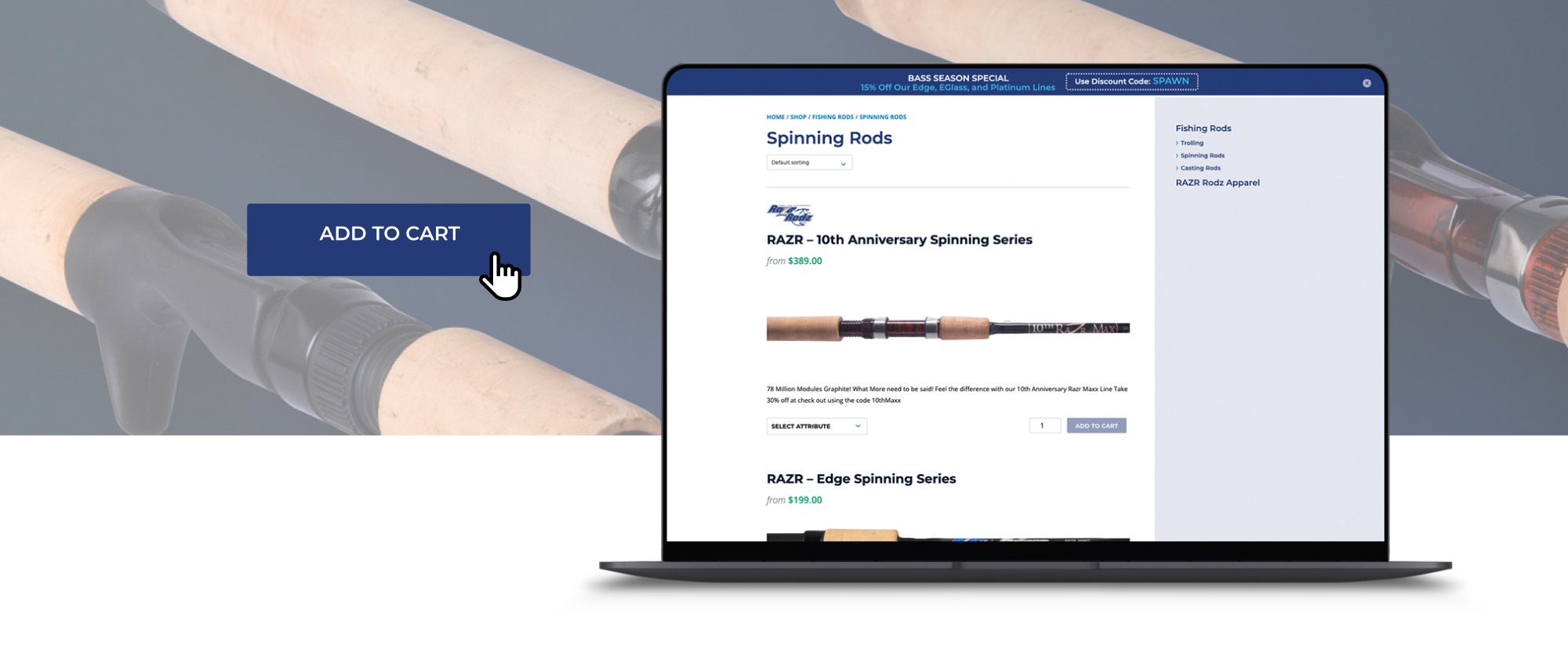 Social Media Marketing
Once the site functioned as it needed to, it was time to build and grow the client's social media presence on Facebook and Instagram and use that presence to drive website traffic (but not before familiarizing ourselves with the Razr Rodz voice and studying up on the latest fishing terminology). We ran a series of cold traffic and re-engaging ads to appropriate audiences and cultivated a series of giveaway promotions in conjunction with the Razr Rodz Pro Team–more than a dozen professional anglers, ambassadors, and influencers in the fishing world who use the Razr Rodz products. Lastly, we set up native shops within the social media sites themselves that allowed people to purchase products directly through their Facebook or Instagram app.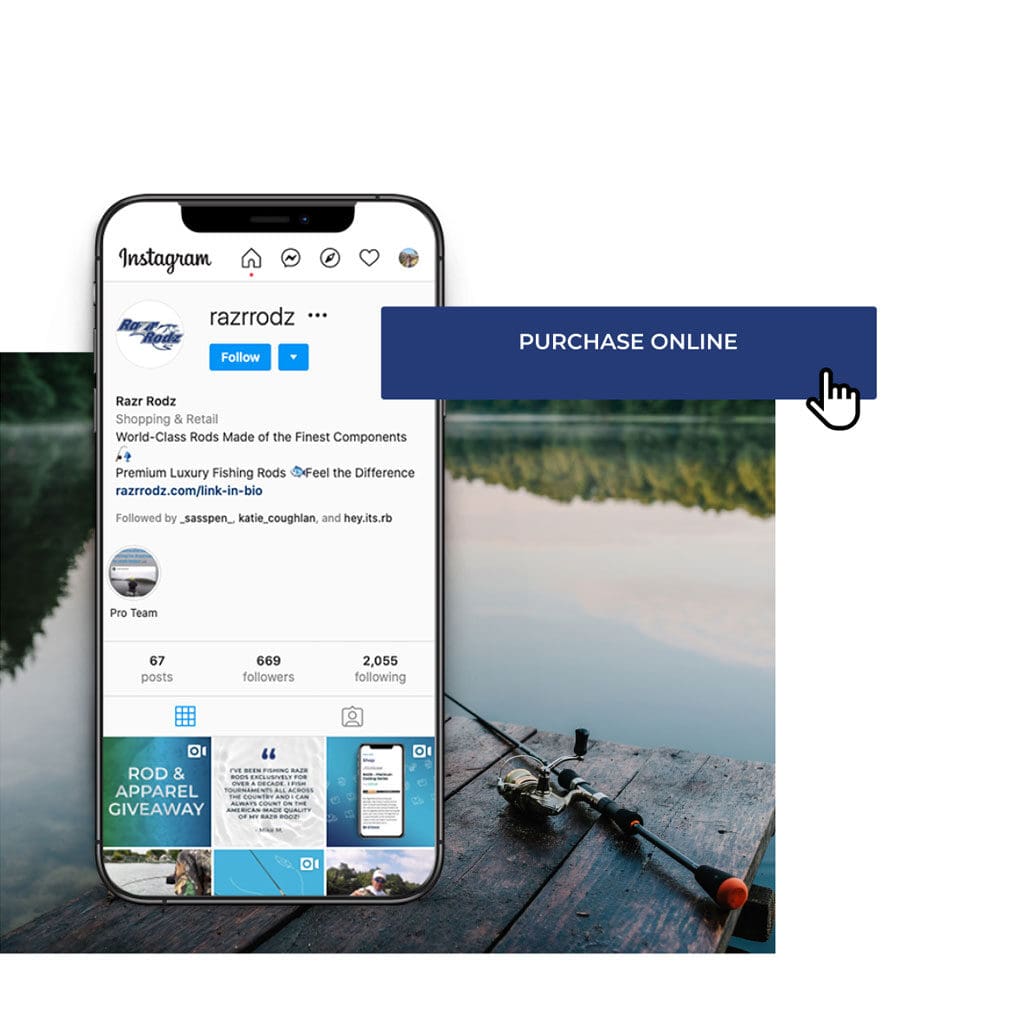 Product Photography
When it came time to roll out their latest line of fishing rods, our in-house photography team carefully matched the style of the client's existing product photography bank to provide high quality, and eye-catching images for the client's online platform, social media, and print advertising needs.
Results
More than 73% increase in following

Since launching a branded Instagram page and rejuvenating a once-stagnant Facebook presence, Razr Rodz has seen their following jump by more than 73 percent in the first six months of their partnership with Timmermann group.

More than 89% increase in traffic

In addition, they're noticing a constant influx of additional website traffic with more than 89 percent of all site traffic coming from social media. Monthly product giveaways conducted in partnership with the Razr Rodz Pro Team routinely receive off the charts social engagement with more interactive and experiential giveaways planned for the near future.