Tacony Corporation
Tacony Corporation distributes and markets home floor, commercial floor care, and sewing products. Of the number of brands under the Tacony Corp. umbrella, Baby Lock, Koala Studios, Riccar, Powr-Flite, Simplicity, and Tornado engaged TG for our help.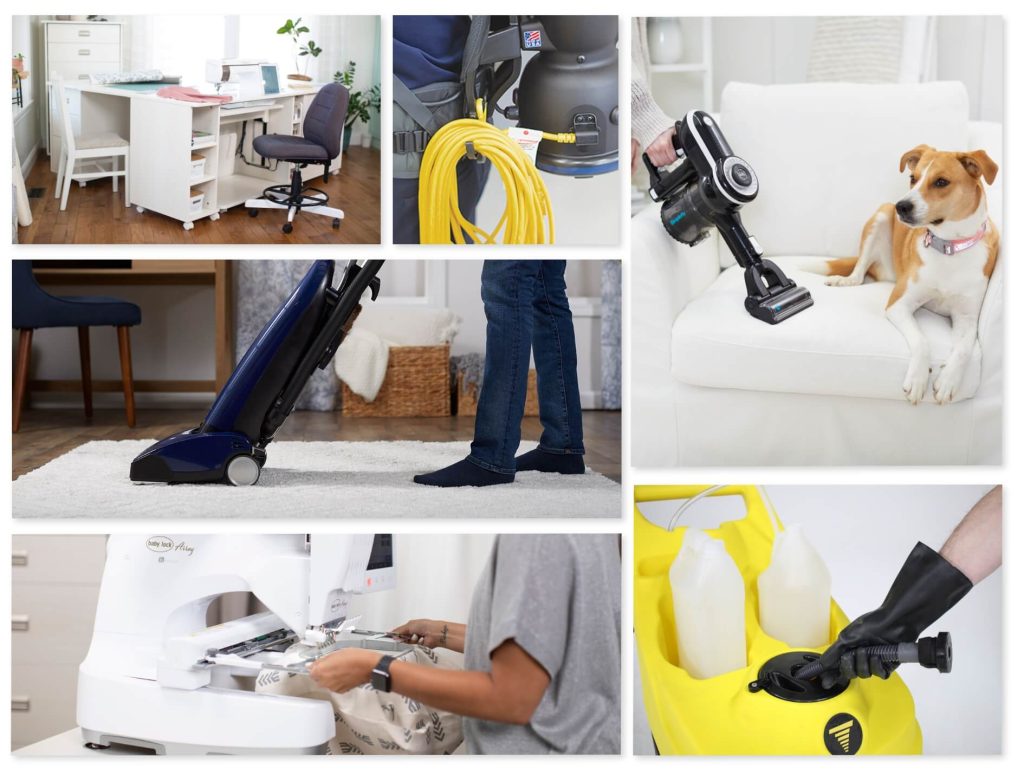 Challenge
The Tacony Corporation team came to us with a different set of challenges for six of their brands. Customers' lack of brand and product knowledge caused a barrier to attracting new segments—due, in part, to selling exclusively through specialized retailers and advertising at the local and regional levels. Their family of brands also encountered hurdles with a steady flow of website traffic and converting sales digitally.
Takeaways
When an organization like Tacony Corporation approaches with six of its subsidiaries, you answer the call. And that's precisely what we did. By defining clear roadmaps, strategizing impactful tactics, and implementing game-changing best practices, we brought high-quality brands like Baby Lock, Powr-Flite, Simplicity, Riccar, Tornado, and Koala Studios to their proper Google ranks. Soon to follow was the infusion of website traffic they needed to meet the conversion and traffic goals they put before us.

SEO
Tacony Corporation came to us with a need for increased traffic, higher conversion rates, and more eCommerce sales for six of its brands. They struggled with visibility into the performance of their website due to the lack of analytics goals and tracking. We knew we needed to thoroughly audit their current standings and turn things around for them quickly. Since implementing our SEO strategies for Baby Lock, Koala Studios, Powr-Flite, Riccar, Simplicity, and Tornado, we've seen consistent drastic improvements in their keyword rankings, organic website traffic, and organic goal completions. This resulted in eCommerce revenue increasing by 10%.
PPC
Our goal for PPC was to increase conversions with less ad spend. That's a clear request, but it can be challenging to execute with the number of variables that come into play. We first analyzed Tacony's current ad campaigns, ads, and keywords to accomplish this request. Next, we optimized legacy campaigns to maximize their performance. These optimizations outperformed their existing campaigns, resulting in an eCommerce revenue increase by over 20% with a 25% less cost in ad spend.
Social Media
Our social media team built unique, robust social media strategies for the Powr-Flite, Riccar, Simplicity, and Tornado brands to combat brand awareness, engagement, and website traffic challenges. This included identifying their current, potential, and ideal audiences, establishing landing pages for increased conversions, and building content calendars and ad strategies for each brand to reinvigorate their audiences. Because these brands sell their products directly to consumers or specialty retailers, there was a unique opportunity to engage audiences in a way their competitors do not have.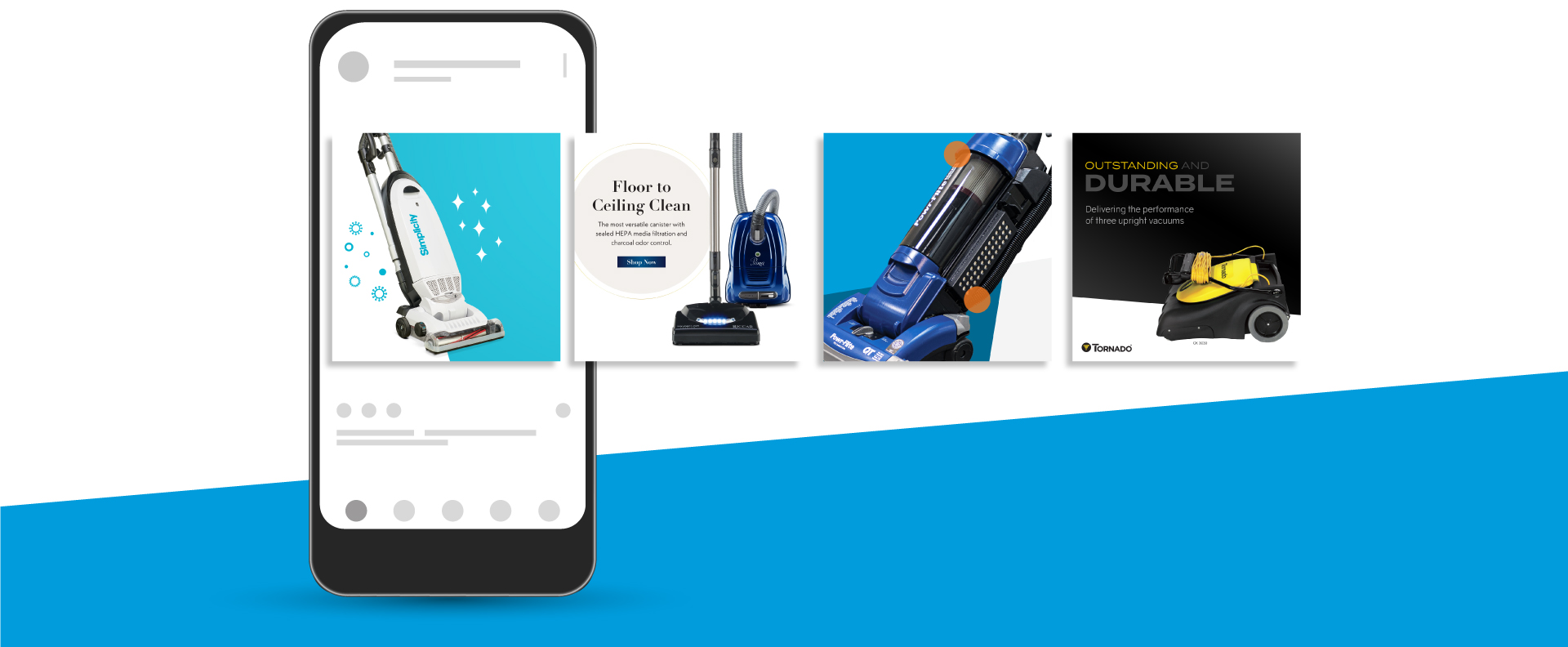 The Results
Baby Lock

After thoroughly auditing their current keyword standings, our team provided on-page edits for meta titles, descriptions, and header copy. As a result, we captured a 13.04% increase in organic sessions and a 12.65% organic goal completion. Notable page rankings include: quilting machines is ranking #3, with 5,200 search volume; serger machines is ranking #2, with 14,160 search volume. As well as the #1 spot for the following keywords:

single-needle embroidery machines #1

multi needle embroidery machine #1

Koala Studios

After conducting on-page and technical audits, we recommended optimizing certain category pages for keywords and technical fixes to enhance site performance. We closely monitored rankings and saw impressive increases in their Google standings.

Riccar

Without alienating their loyal existing customers, our team got to work developing segmented audiences to grow their consumer base. Since then, we've seen a notable uptick in newsletter signups, form submissions, and 'Find a Retailer' searches. To increase keyword rankings, we optimized several target pages and redirected blog posts from old permalinks to minimize the impact on organic rankings. Over 50% of their website traffic came from organic searches through our SEO and social efforts!

Simplicity Vacuums

After optimizing target pages for keywords, we resolved SEO technical issues and updated meta titles and descriptions. Simplicity's organic goal completions increased by 14.61% as a result. Additionally, starting with virtually no social media presence, we grew their Facebook and Instagram following organically. Our team developed strategic user personas to create targeted paid ads, resulting in over 660K impressions on Facebook and 187K on Instagram.

Powr-Flite

Our team noticed a 9% increase in organic goal completions and brought Powr-Flite to the front page of Google for most of their target keywords. With our robust social media strategy, we've funneled nearly 6,000 new users to their website resulting in a 50% increase in total purchase conversion value that continues to grow month over month.

Tornado Industries

As we grew their presence on Facebook and LinkedIn, we captured a 45% increase in total followers across both platforms. And with over half of their website traffic coming from social media, our winning strategy increased their sales leads with 86 form submissions and demo requests.