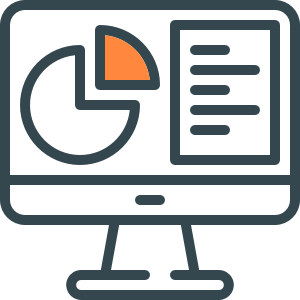 What is
Analytics?
Marketing analytics is the process of collecting, managing, and synthesizing marketing data points and metrics into actionable marketing insights. In other words, marketing analytics helps you understand how well your marketing efforts are performing and identify areas for improvement and optimization.
You may be familiar with the old adage, "I know that 50% of my marketing is working. The problem is I don't know which 50%". For decades, business owners and marketing directors had little way of knowing how effective their marketing efforts were–or even if they were effective at all. There were few tools for audience and campaign measurement, and most of the tools that did exist were based on subjective, often unreliable methods. Making sound business decisions based on sketchy data is just as dangerous, if not more so, than making decisions based on no data. Enter the internet.
More & Better Data
The rise of digital marketing has been nothing short of a revolution in terms of how brands and consumers interact. Consumers have more options than ever before for researching and gathering information on industries, brands, and products and services that can help them solve their problem. They also have much more control over this process than in the past. Rather than being a captive audience forced to watch a television commercial during their favorite show, or hearing a series of radio spots as they drove to work, today consumers conduct a Google search, visit a company's website, or interact with their favorite brands on social media on their own terms. So how does more consumer choice and control benefit your business?
The trade-off that consumers make for having so much control over how they gather and receive brand information and messaging is that, in the digital realm, nearly everything can be tracked. How many searches take place each month for a particular keyword, how many unique users visit your website, how many Facebook and Instagram followers your company has–there is an incredible amount of data available to businesses. This website analytics data can help understand consumer behavior, recognize industry trends and competitive threats, and improve revenue and profitability. But data alone is just numbers on a spreadsheet. In order for it to become meaningful and actionable, your business needs to embrace marketing analytics.
Turn Data into Insights
Marketing analytics takes the raw data and synthesizes it into actionable marketing insights. It provides meaning to those numbers on a spreadsheet, so that you can make sound business decisions. Marketing analytics helps your team understand how well each of your marketing efforts is working, and to accurately calculate its return on investment (ROI). Analytics provide context and meaning to data points, and help tell the story of your marketing and advertising campaigns.
A good marketing analytics partner will not only turn data points into insights; they will also make recommendations about how to optimize your future marketing efforts to be even more successful. These recommendations should be actionable, measurable, and specific in nature. After all, what good is data or website analytics if it doesn't allow you to take action to grow and improve your business?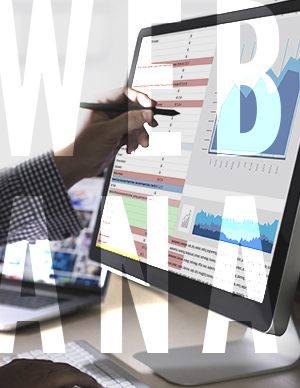 Why are Analytics
Important?
Measure Performance
Analytics are important and should be part of your marketing efforts because they allow you to effectively track the performance and ROI of your marketing tactics. It reduces the need to rely on gut hunches by bringing visibility to each tactic's actual achievement. It should be noted that an effective marketing analytics program helps you track not only your online marketing efforts, but your offline marketing efforts as well. This is because consumers rarely interact with a brand in only one context before making a decision. Including calls-to-action and special offers with your offline marketing including trade shows, broadcast media, and direct mail that directs these prospects to your website allows you to measure the effectiveness of these programs. This also helps your team understand how the various marketing tactics cohesively work together to generate leads and sales.
Identify Opportunities
Marketing analytics also helps your business identify opportunities that you may have previously overlooked or discounted. Sometimes a particular marketing tactic doesn't seem to be working very effectively, but insights gleaned from analytics demonstrates that it is actually generating a positive ROI, and that with more budget behind it could help grow your business even more. Marketing analytics support and influence your company's marketing strategy, helping you identify areas that should be amended and optimized to align with your business goals and objectives.
Support Your Sales Team
Marketing analytics also benefits your sales team's efforts. By continually analyzing every facet of your marketing campaigns, and then using those findings to take action and optimize your efforts, your business will develop both more marketing qualified leads (MQLs) and sales qualified leads (SQLs). By providing your sales team better leads, they spend less time on lower-quality prospects that likely will never become customers, and more time cultivating relationships with those leads that will become customers. This improved efficiency also helps your ROI. Another way that marketing analytics benefits sales is it helps with sales forecasting. Having reliable data about the performance of past marketing campaigns means you can more accurately project revenue for current and future marketing campaigns. This helps the entire company make solid, informed decisions about how to invest the marketing budget.
Marketing and website analytics has become an incredibly valuable tool, and its value will only increase as more consumer behavior, including purchases, takes place online. There is a wealth of data available, and properly utilized this data can be developed into marketing insights and from there into actionable steps you can take to grow your business and improve your ROI. The sheer amount of data can be overwhelming, so turning to a qualified, experienced marketing partner is important. They will help ensure you are properly tracking the data, build brand insights from these raw data points, and make meaningful recommendations to help you optimize your marketing going forward, freeing you up to focus on all the other things that require your attention.
Why Choose
Us?
With all of these stats and figures literally at our fingertips, there's no excuse for making uninformed decisions regarding your online brand. And at Timmermann Group, we don't. Figuring out what's working (and what's not) should not be a guessing game when it comes to digital marketing. Every website or marketing initiative we launch is based on thorough research of data. We work diligently to ensure that every one of our marketing efforts is being done in pursuit of your company's highest potential ROI. You'll receive detailed reports every month outlining in a concise and easy-to-follow fashion how your consumers are responding to your online brand. And should you have questions, our in-house data strategist is happy to assist. If you're looking to develop a custom analytics strategy, but don't know where to begin, let's talk.