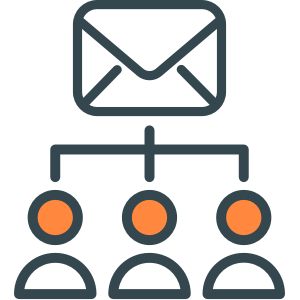 What is
Email Marketing?
Email marketing should be part of every business's content marketing efforts. Email marketing allows you to cultivate new customers, enhance relationships with existing customers, and to reconnect with past customers. Properly conceived and executed, email marketing can be one of the most effective, profitable digital marketing tactics that your company utilizes.
One reason why email marketing is such an impactful tool is that it easily allows you to customize your marketing message to the specific recipient. For example, when a user first subscribes to your email list, you can send them a personalized thank you message, perhaps with a special introductory offer. You can alert your existing customers to upcoming sales and special events, or send them seasonally appropriate messages. For past customers who have not engaged with your business for some time, you can send them email marketing messages designed to encourage them to buy from you again–or to opt out of future email messages because they are no longer interested. This is okay, since you want to keep your email marketing list as fresh and up-to-date as possible to make sure that you are targeting only your best customers and prospects, and not wasting valuable time and resources chasing after users who are no longer good targets for your business.
Email marketing content can, and should, be created for users at all stages of the buying cycle. For new prospects and potential customers, your email's content should be more educational and informative, as this will help build positive brand awareness and trust. Subsequent emails should demonstrate why your company is the best choice for solving their problem, and that you are able to help them more effectively and more efficiently than your competitors. Finally, you should craft email marketing content that is focused on converting prospects into paying customers that includes a strong call to action to entice the user to make a purchase.
Email marketing allows not only for list segmentation as mentioned above, but also for robust testing. Subject lines, copy, images, and offers are just some of the many ways that your business can test different email marketing approaches to determine which are most effective–and to then leverage those findings to make future email marketing campaigns even more effective. It is important to utilize a robust marketing analytics program to track this information and the appropriate data points, so that you can synthesize this raw data into actionable marketing insights to improve your email marketing efforts.
Email marketing has been one of the most effective digital marketing tactics for many years, and will continue to be so in the future. Work with a digital marketing agency partner well versed in email marketing best practices to ensure that your email campaigns are helping your company achieve its business goals and objectives.
Why Choose
Us?
There are a number of platforms out there that make putting together an email marketing campaign fairly simple. Unfortunately, this means that EVERYONE is doing it ALL of the time. So there's no shame in getting a little help to make yours really pop in a consumer's crowded inbox. Let our team of writers, designers, data strategists and SEO specialists produce a campaign that will give a boost to your web traffic and your sales. We take a holistic approach to email marketing by producing engaging content, aesthetically pleasing designs, and predetermined KPI driven by data analysis. Want to stay ahead of the email marketing landscape? Let's talk.