RotoMetrics
RotoMetrics is a leading global manufacturer of high-quality rotary cutting tools with a dedication to providing customers with expert solutions and applied knowledge. Since their recent merger with Maxcess International, RotoMetrics and Maxcess are both now recognized as the premier worldwide end-to-end provider of web handling solutions.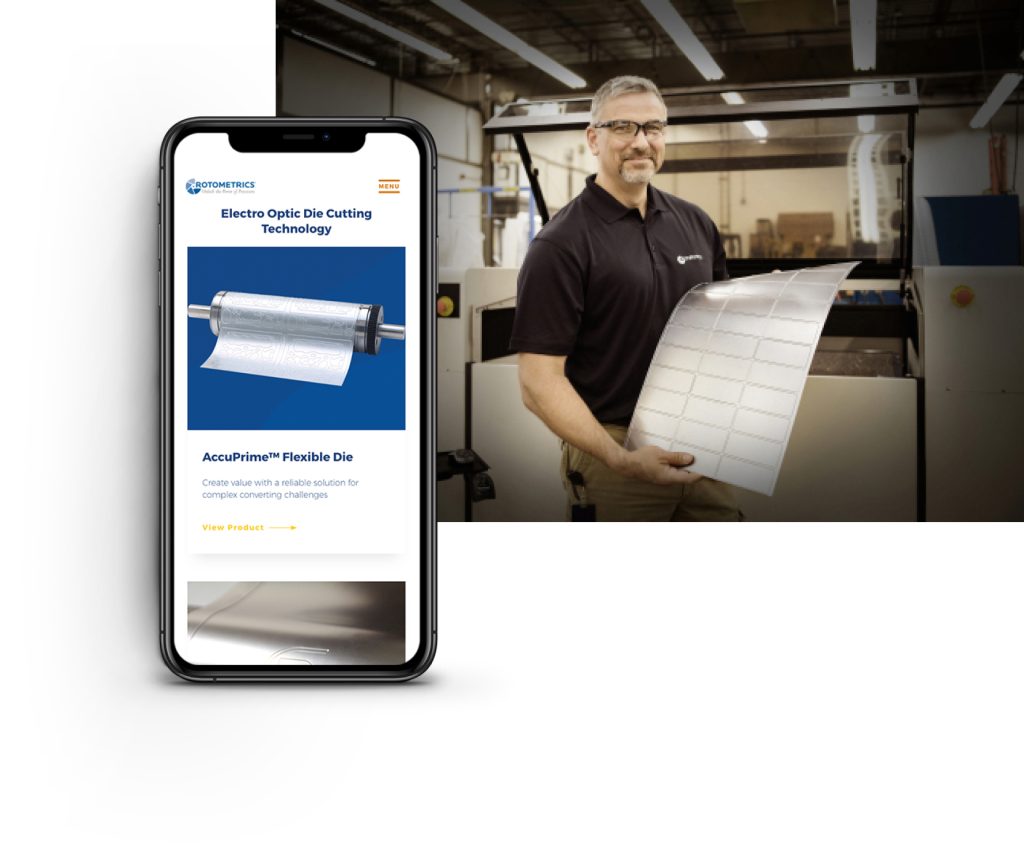 Challenge
The problem RotoMetrics faced was that their superior products were not getting in front of the right potential buyers. Their website left much to be desired in terms of content and ranking potential and they approached other digital marketing avenues, including social media marketing, with hesitance. A new website would not be enough unless it could drive traffic, generate leads, and boost sales.
Takeaways
We're always talking about growth and being agile: how your website should be scaled to grow and change with your business, how strategies should shift as your goals change. These same principles should apply to your partnership with an agency. In nearly 10 years, we've continued to work as a partner to RotoMetrics, helping their marketing team navigate changes in their products and services, changes in the industry, new KPIs, new competitor challenges, shifting audiences and now a huge merger that will monumentally expand the scope of their business. In all of this, we've had the pleasure of working right alongside their marketing team to continue to elevate and augment their digital marketing efforts, increasing lead generation and helping make them a more powerful brand and profitable business, opening the door for even bigger and better things in the future.
How TG Helped
Our partnership with RotoMetrics dates back to 2011. In the years that have passed, we've helped their team address a range of challenges that previously stood in the way of building a brand and marketing presence that was on par with their industry presence, including new website builds, ongoing website optimization and maintenance, the creation of their social media accounts and much more.
Strategy and Analytics
Website Optimization
Product Marketing
Social Media
Search Engine Optimization
Strategy and Analytics
One of the keys to a successful project partnership, whether short term or long term, is a solid foundation in strategy and analytics, and it's equally important that this foundation is in sync with the business's goals. They know what's best for their business; it's our job to help them execute and define the pathways toward their desired successes. This fundamental understanding of their business and its goals have paved the way for almost a decade of fruitful partnership that enhances every service we've provided over the years.
Website Optimization
We built both RotoMetrics's current and previous websites. This kind of partnership history is rare, and it's especially valued by our team. As a B2B website design agency, it's always our aim to establish a relationship with a client partner that allows us to help them elevate their marketing year over year and continue to grow in our understanding of and connection with their business. For RotoMetrics, years of ongoing analytics measurement and reporting set us up to build—and continue to augment—a site that works for their team and their customers.
Interactive Content
In our ongoing evaluation of both the RotoMetrics website and industry trends as a whole, we found that their users, in particular, were more likely to take action after using an interactive element on the RotoMetrics website. The site's find-a-product configurator has been a popular feature since the site's launch, but we've added additional interactive content in the time since, such as a slideshow of die handling tips. Users who interact with this kind of content not only convert more frequently, but also spend more time on the site, visit more pages, and in general contribute to better site metrics.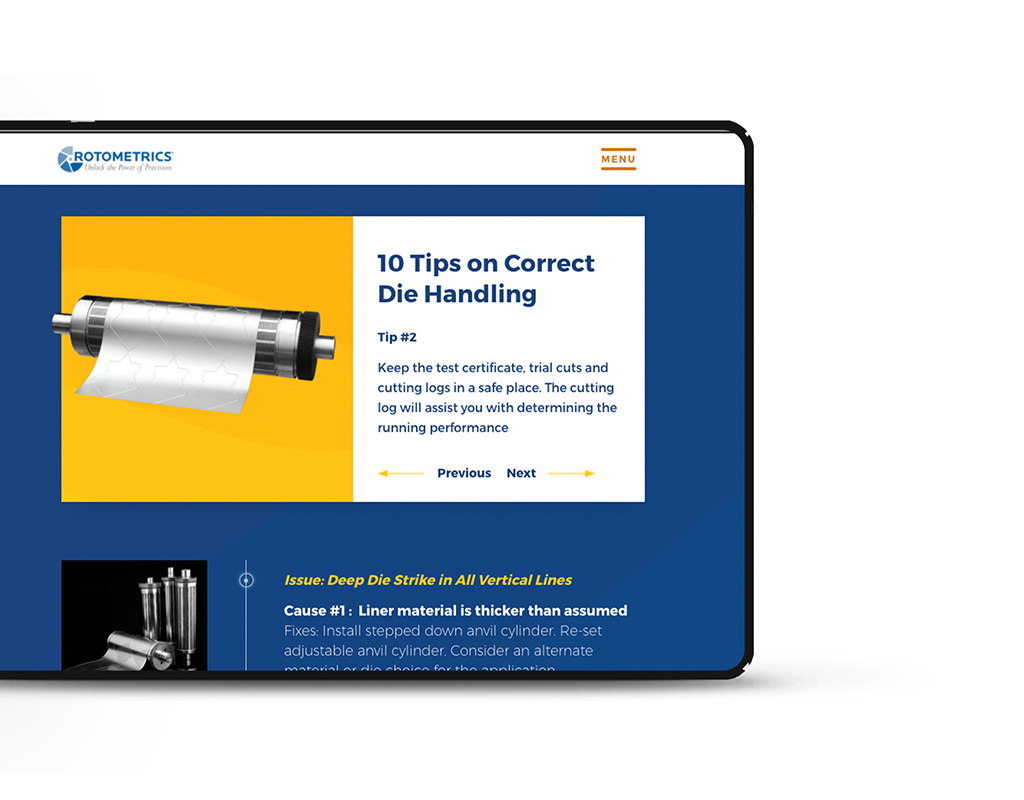 Product Marketing
An integral part of a partnership with almost any business is understanding how to best market their products, including the products they haven't even thought of yet. When RotoMetrics introduced their RotoRepel adhesive control system, it didn't fit into any of their existing product categories. We found that users weren't really finding or utilizing the product, even with product pages established in a few different product categories. So we decided to position RotoRepel as what it was: an addition to your product and not so much a product itself. By adding an informative RotoRepel module to applicable product pages, we saw a huge increase in traffic and interest in RotoRepel.
Conversion Rate Optimization
While there are a few primary routes of conversion on the RotoMetrics site, one of the most popular is the "contact a regional representative" function. In analyzing how users interacted with the site, we found that users were more likely to convert if they visited the regional rep contact page compared to the general contact form. In response to this, we utilized this landing page for other tactics (such as social media, SEO and PPC), creating additional pathways for users to find this page. After adding a global rep locator to the site's homepage, we quickly found that users who interacted with the map were the most likely of any site users to convert.

Social Media
A few years ago, we suggested that RotoMetrics expand into social media marketing, an avenue which they had been hesitant to explore, certain that it wasn't worthwhile or appropriate for their business or other B2B businesses. However, we felt confident in the potential opportunity for this channel. Within five months of establishing their social media presence, RotoMetrics saw a 5,300% increase in lead generation, a 650% increase in customer portal sign-ups. They now occupy a social media space that is leaps and bounds ahead of their competition and consistently results in month over month increases in conversions.
Strategic Audience Targeting
In the early stages of developing RotoMetrics's social media presence, we catered our content to users in decision-making positions; users were more likely to be interested in what RotoMetrics offers, but also had purchasing power within their organization. Eventually, we moved beyond targeting these select job titles and expanded our audience to include other relevant audiences, including employees at companies that might not have purchasing power but could still be swayed by RotoMetrics content and present an argument for RotoMetrics to the relevant leadership. By tailoring our messages to these specific audiences and their pain points (increased value, faster and smoother press runs, easier to manage presses) we've created an ad strategy that continues to generate more leads for the RotoMetrics team month over month.
Lead Generation Strategy
When we first began our social ad strategy for RotoMetrics, we had to do some testing to see what pathways would be the most successful for our audiences. We found quickly that sending users to RotoMetrics product pages didn't result in as many conversions as service pages, so we shifted our focus to services. We also found that users were less likely to fill out a general contact form than contact a local sales rep, so we funneled them toward a sales rep locator instead of the contact form. Over time, we've continued to monitor and test these strategies as we identify new audiences and new messaging. The idea is that we're always looking for the sweet spot: messaging, targeting and pathways that are just specific enough to connect with the right people, but broad enough to include a few outliers.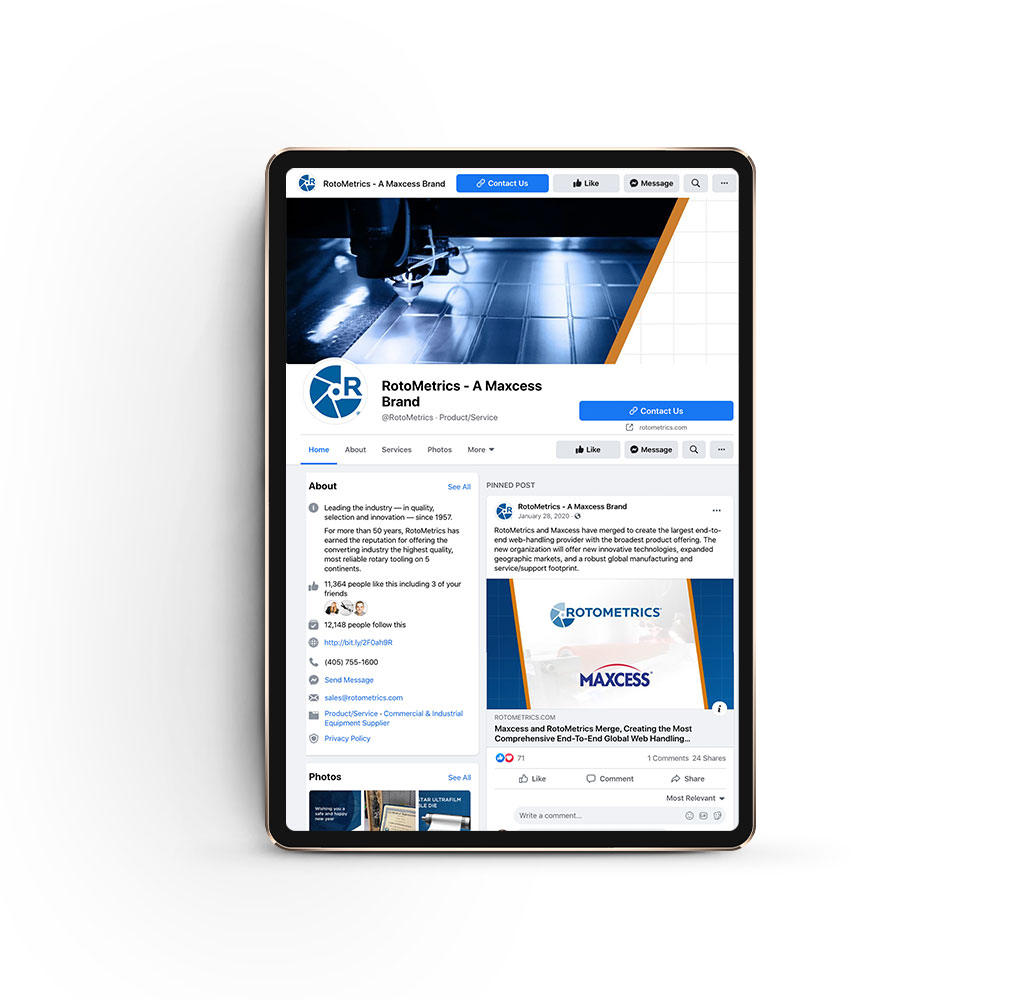 Branding
When RotoMetrics merged with Maxcess International, we assisted in spreading awareness about the merger, both on the RotoMetrics website and social media. The awareness campaign we've run has resulted in an increase in traffic on both the RotoMetrics and Maxcess sites.
Translated Ads
Because RotoMetrics has a worldwide presence, it was only natural to create content in a variety of languages relevant to their international audience. Having translated ad versions was especially crucial to segments of our audience that weren't in leadership positions. We learned early on that relying on Facebook's auto translated versions wouldn't work either, as things got lost or misinterpreted in translation. By creating content in these different languages, rather than relying on an automatic translation, we've given the content a better chance to succeed among an audience that is likely to recognize copy that is written in their language compared to a robot's best attempt.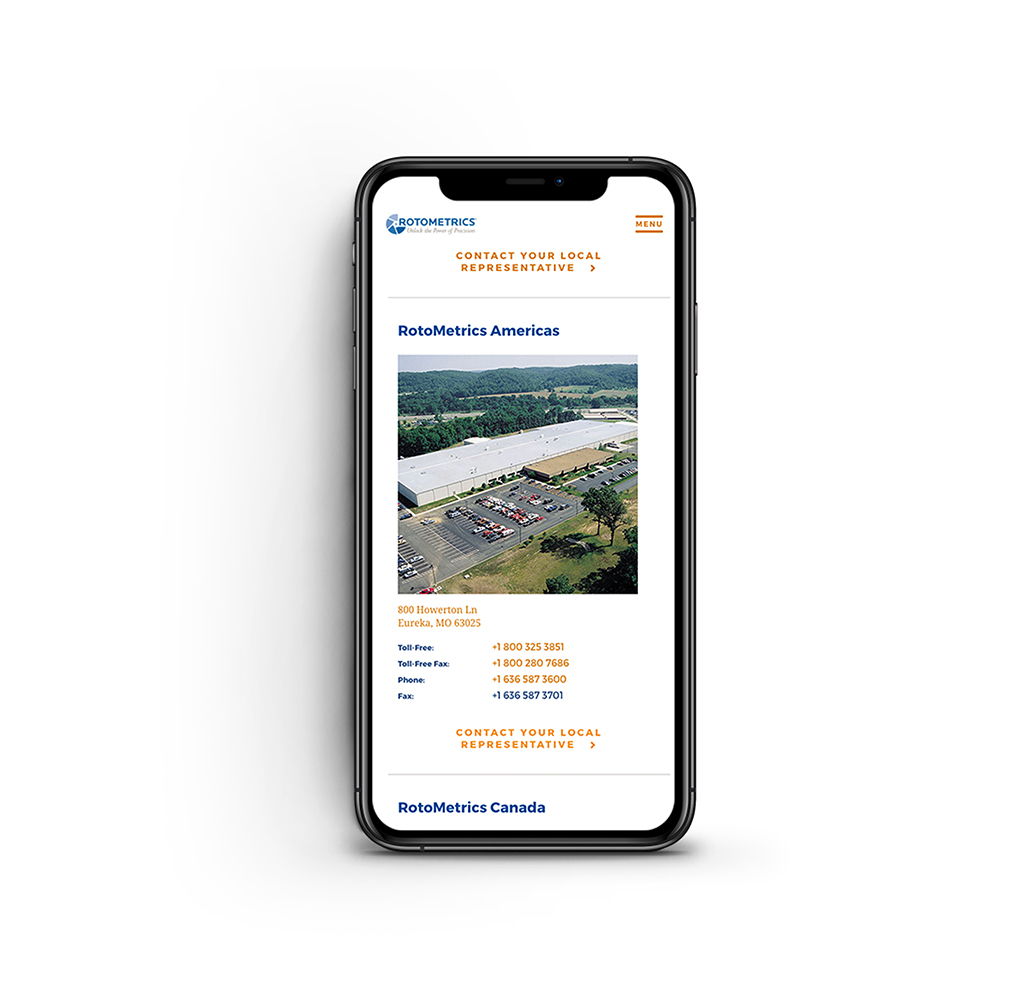 Search Engine Optimization
Search engine optimization plays a key role in any website project we take on, and RotoMetrics is no different. Our strategy for RotoMetrics has shifted over the years and included targeting and maintaining top spots for significant and high-value industry keywords, including very specific keywords to segments of their business. These rankings bring in valuable traffic from users who are highly motivated to make purchases, contributing to the leads our team continues to generate for RotoMetrics.
Testimonial
"Timmermann Group has been our social and web development partner for many years. They helped us redesign our website, optimize performance, integrate social and create a dynamic online experience that is second to none in the industry. The team has been excellent to work with, responsive to requests, creative in approach and excellent in execution. The numbers don't lie! Highly recommended."
– Keith Laakko, RotoMetrics
Results
The results we've generated for RotoMetrics are multifaceted but clear. We've continued to see growth and improvement for their business and our efforts, increasing engagement on social media and their website, generating more and better-qualified traffic, capturing valuable leads month after month. We look forward to seeing what the next decade has in store for their business and our partnership.

Communicator Award

Marketing Effectiveness