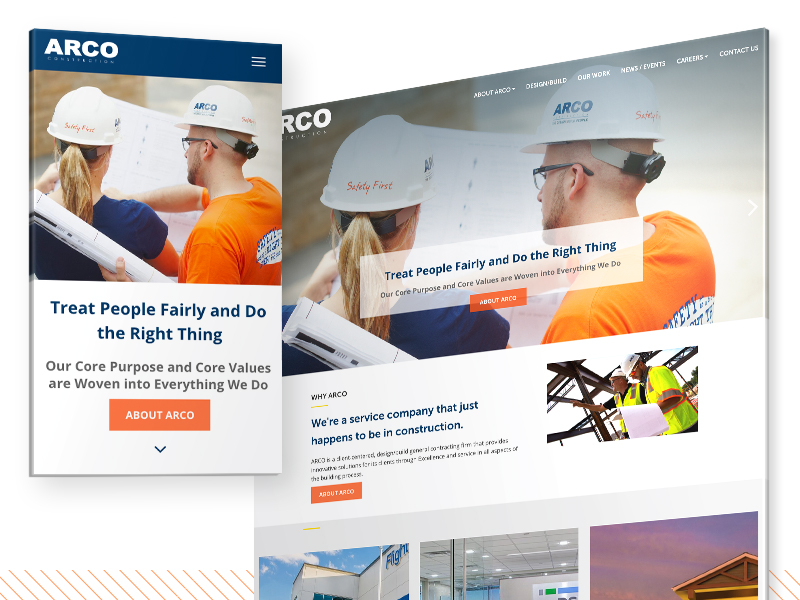 What Is
B2B Website Design?
B2B website design should be a cornerstone of your overall B2B marketing strategy. Most if not all of your best leads and prospects will visit your company website at least once, and likely multiple times, during their decision-making process before they choose whether to convert into a new customer. Many of them will use your website as a vetting tool to determine whether they even want to consider your firm. Therefore it is absolutely essential that you make the commitment to invest in a high-quality B2B website design for your business that positions your company as an industry leader that is the best choice to solve customers' problems. Your website serves as your company's 24/7 salesperson, so make sure that you are putting your best foot forward.
The first step in great B2B website design is to spend some time thinking about your ideal customers. What types of information are they seeking? What problems are they trying to solve? What are their motivations? Their frustrations? You'll want to explore every facet of your customers so that your team can visualize them. In fact, it may be helpful to identify a public figure such as an actor, athlete, or politician who embodies the qualities and characteristics you have identified to aid in this visualization effort. You will want to develop a customer profile, or user persona, for each main category of customer. This might include new customers versus existing customers, customers within different industries or verticals, or customers for different divisions of your company.
Once you have established these user personas, you next need to ensure that your new B2B website design contains content that is both captivating and relevant to their needs and concerns. Content marketing is important for any business, but it is especially so for B2B companies because of the typically longer sales cycles and higher price points. Make sure that your website's text and imagery addresses the pain points your customers are experiencing and provides a clear direction as to how your business can help. Don't forget that content marketing can also include things such as videos, infographics, downloadable white papers and product spec sheets. These types of content can be particularly impactful because many people prefer visual content over reading, or having the ability to download more thorough information to review later rather than reading on their computer or phone screen.
Another important consideration for your B2B website design content creation is search engine optimization (SEO). Many of your customers will begin their decision-making process by conducting a search online, so you need to build your B2B website with this in mind. Your SEO plan should include focusing on the appropriate keyword phrases, keeping in mind what phrases your customers are likely to search, which might differ from how you speak about your products internally. It also means adhering to best practices for how your website is designed and built so that your business is best equipped to be found and recognized by search engines as an authority.
Your B2B website design also needs to be built to be both responsive and scalable. Responsiveness refers to a website that is designed to display and function properly on all devices, including smartphones, tablets, laptops and desktop computers. In the B2B world, there is still a high percentage of online activity occurring on desktops, but with more than half of total online searches taking place on mobile devices, responsive website design is a must. You also want a website that is scalable for your company's future growth. A good B2B website design agency partner will help you build a new website that meets your present needs but also anticipates and takes into account your goals for the future.
Lead generation and customer acquisition in the B2B space can be a difficult, time-consuming, expensive effort. So it is of tremendous benefit to possess the ability to track and measure the performance of your marketing efforts to determine their effectiveness. Digital marketing, led by your website, offers unmatched ability to collect and track various data points and to use that data to make informed decisions about your future marketing–yet another important factor to keep in mind when planning your new B2B website.
Proper B2B website design that addresses the needs of your best customers, includes compelling content, and that ranks on search engine results, is a difficult yet crucially important component of your overall marketing plan. Working with a dedicated marketing agency partner that specializes in B2B website design will help you achieve your goals and grow your business. Your website should help you build brand awareness and trust, cultivate customer relationships, generate leads and increase revenue. The use of digital marketing technologies will only continue to increase, so make the investment now in industry-leading B2B website design to maximize your performance and results.