Xceed
Founded in 2019, Xceed Packaging provides simple and custom solutions for packaging, beverage containers, and point of purchase displays which allow their customers the creative freedom to design products to their exact specifications without sacrificing exceptional quality, speed and customer support.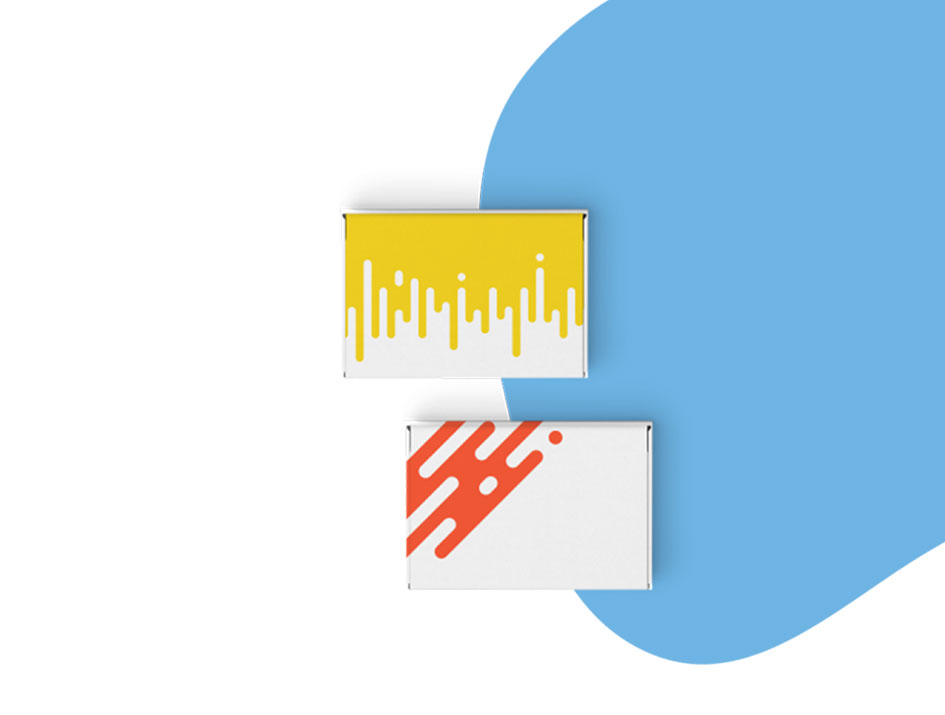 Challenge
After partnering with Timmermann Group on branding and website projects for sister companies like Boxes Inc. and Mid America Display, Xceed approached TG to help launch their new custom packaging solution. The new Xceed website needed to offer full e-commerce functionality that allows customers to easily design their own custom package, set up a user account, and place an order. Xceed also desired to integrate multiple third party applications to further enhance the online user experience. They'd also need to launch and develop an engaging presence on social media to help drive online sales and revenue and bring their products in front of potential leads by way of organic and sponsored search engine tactics.
Takeaways
For a new business, especially an e-commerce operation like Xceed, breaking into a crowded market and building a responsive and engaged audience is an uphill battle from the start. And retaining that audience? Even harder. If your site isn't designed with your consumer in mind, it's not doing its job. And if your social strategy isn't generating the right traffic for your site, same story. Building a successful and resourceful e-commerce platform that continuously generates leads and drives sales is simply not something you're going to get with a DIY website and a few Facebook followers. It takes much more (and Xceed is living proof of this). Today, Xceed's ongoing digital marketing efforts are generating multiple leads per day and more and more every month. And their site is seeing record traffic (and sales!) as a result. To learn more about how these strategies can be applied to help your own business reach its goals, contact Timmermann Group.
How TG helped
A company still in its infancy and looking to break into a crowded market, Xceed needed a scalable site that defined who they are and what they represent. It had to lay out their design and ordering process in the simplest, yet most precise, terms. And, of course, we had to find and inspire the right audiences.
Identifying User Needs
Software Integration
Social Media
SEO
PPC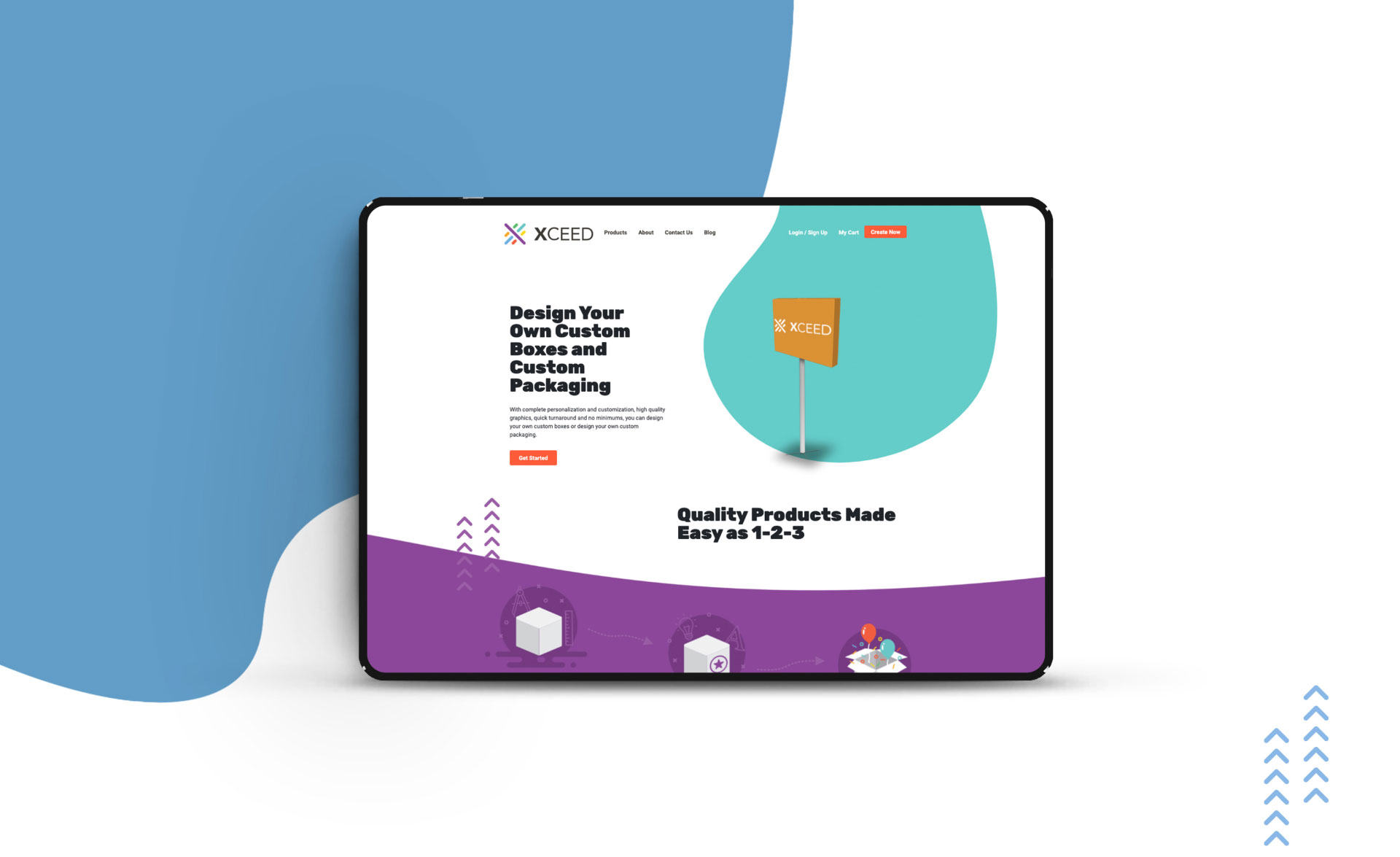 Identifying User Needs
We first developed a strategic plan for the new Xceed website, which included strong visual content to provide easy-to-understand instructions on how to place an order. We also identified different buyer personas and created distinct user flows to address the preferences of each–allowing customers the flexibility to immediately create a user account, design their custom package without an account, or to bypass the product build software and directly upload their specs.
Software Integration
We also integrated 3D rendering software so that customers can fully visualize how their product will look. We then integrated custom shipping functionality that automatically determines the size and weight of each shipment to provide dynamic pricing. Finally the website's ordering system automatically integrates with Xceed's printing software and provides real-time project status updates to the customer– so they know exactly when their project is completed and ready to ship.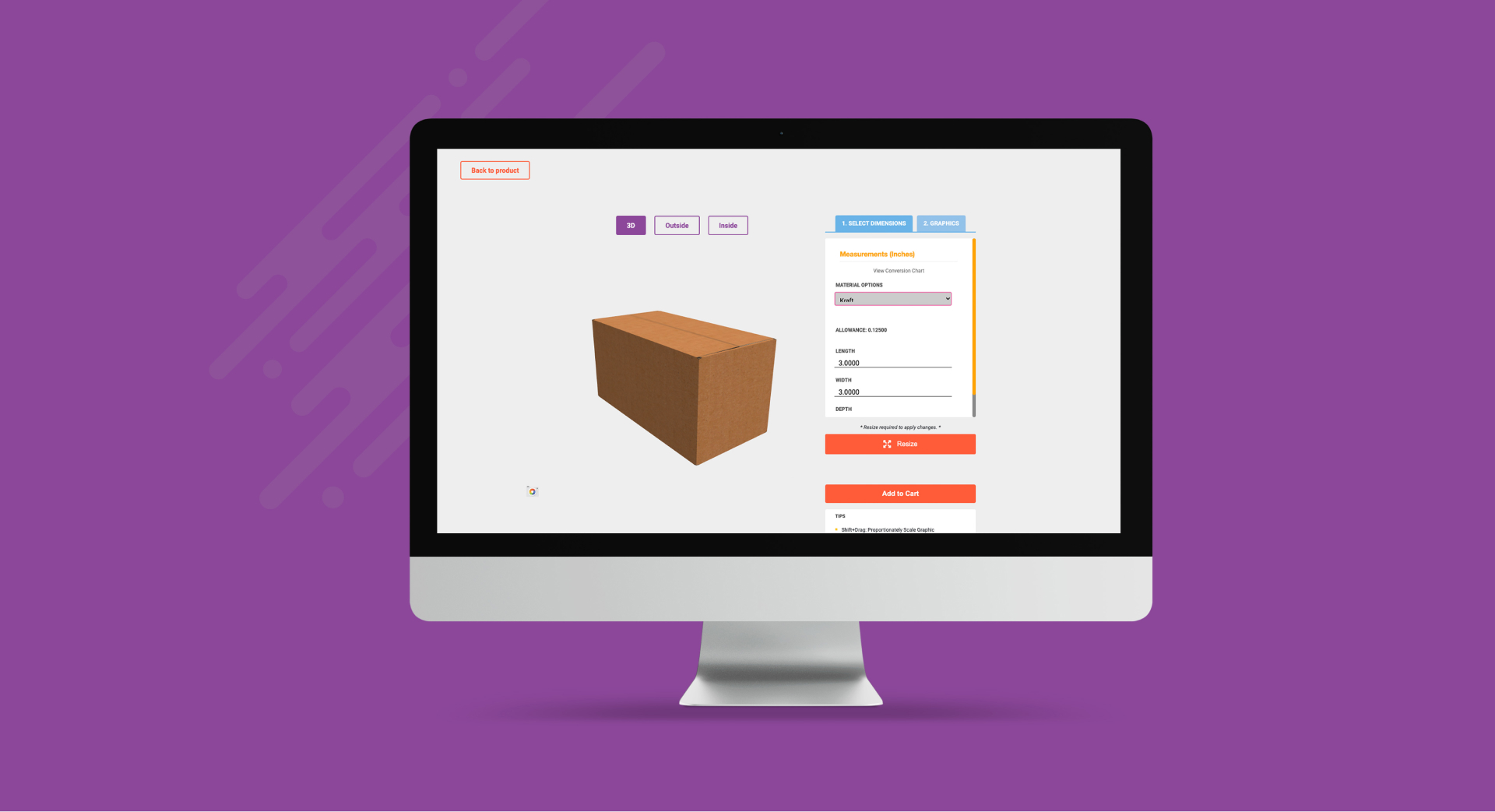 Social Media
In addition, we needed to enhance the influence of Xceed's social media presence. By managing paid social media efforts, we were able to grow brand awareness and generate sales following the launch of their new brand and e-commerce website. We built customer avatars for each of the client's potential audiences, created a content pool with a variety of ad creative and messaging crafted to engage different users in our target segments. We also designed multiple landing pages to better serve potential customers in their purchase journey.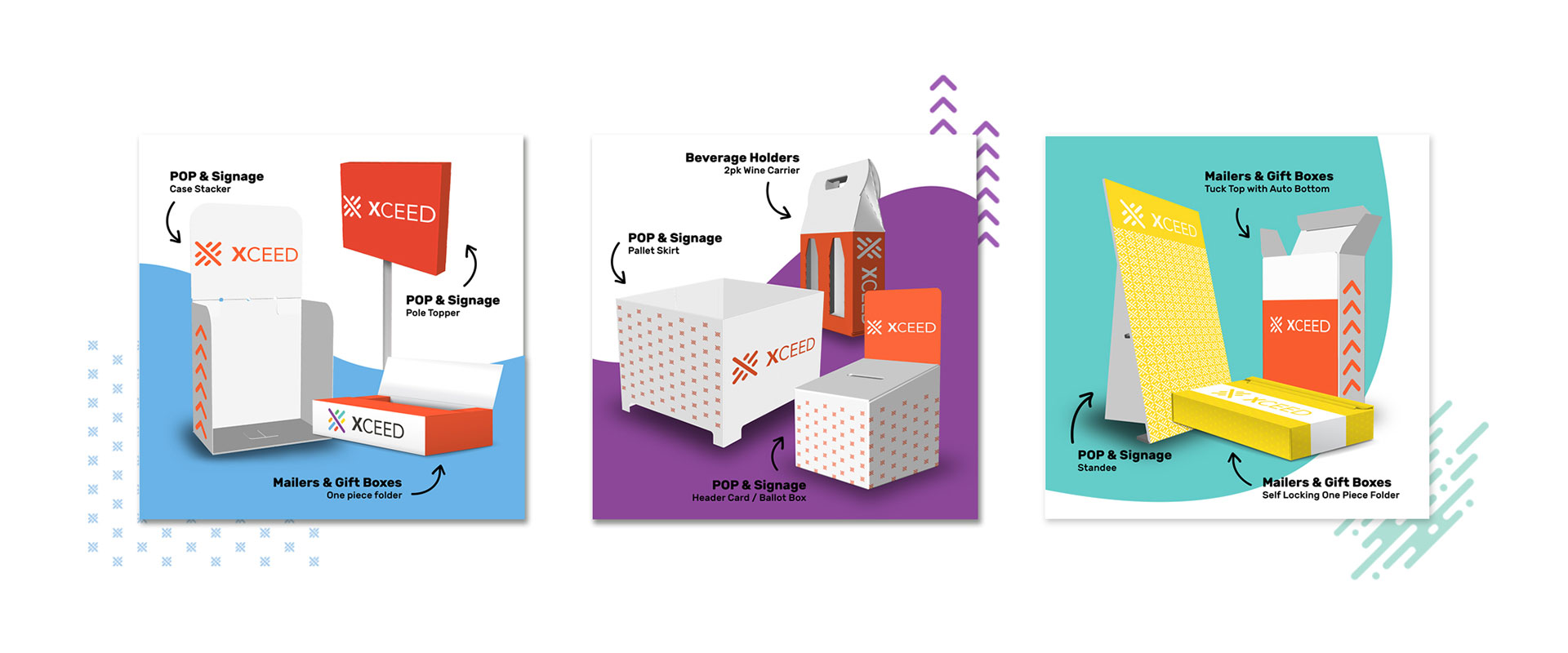 SEO
For a lot of B2B startups, the idea of search engine optimization might seem a little daunting given that there just isn't a lot of search traffic for their very specific target keywords. But to suggest that SEO doesn't matter, or that it's not worth the time and investment, is inaccurate. While Xceed's very specialized target keywords might not see a lot of monthly traffic by comparison, we had confidence that the leads that do use our keywords when searching would be far more likely to convert and become long-term consumers and advocates for Xceed's products and services.
PPC
On and off-page SEO efforts were essential in bringing the Xceed site some organic ranking potential, but we needed a way to supplement these efforts and bring the Xceed brand in front of prospective leads and buyers through a strategic search engine marketing strategy. Also known as "pay per click", search engine marketing allowed the brand to jump into the running for highly competitive keywords virtually overnight, draw relevant search traffic, and drive sales at a relatively low cost per conversion. Pay per click marketing can be extremely effective, but if you don't approach it strategically and with realistic and measurable goals in mind, it can also be an easy way to burn through ad spend dollars quickly. It's always a good idea to partner with an experienced PPC agency before jumping into any pay per click campaigns.
Results
Social media is now the leading source of website traffic for Xceed, accounting for nearly two thirds of all traffic. Advertising efforts have generated hundreds of viable leads since the site's launch. As Xceed launches new products and continues to grow their customer base, we're able to work with the client to produce new ad creative and audience optimizations regularly, allowing for regular experimentation and campaign scaling.

Since our SEO efforts began, Xceed has seen organic search traffic increase by nearly 800 percent. Pageview totals are consistently on the rise and the average user is spending nearly two minutes on the site at any given time. In addition, Xceed is noticing sizable gains in terms of Google rankings with several valuable industry and product-specific keywords clearing Google's coveted Top Ten (i.e. page one). Most recently, "PDQ Display Boxes" and "Mailer with Tuck Top" both entered the top ten ranks with more products seeming to follow suit each month.

And our PPC efforts are continuously turning out leads and sales as well. Every month, we see thousands of impressions and hundreds of relevant website hits all at a manageable and sustainable cost per click and cost per conversion rate.

Xceed was also honored by the the Academy of Interactive & Visual Arts (AIVA) with two W3 website awards from our website project:

W3 Awards – Gold
Website Features, Best Technical Achievement for Websites

W3 Awards – Silver
General Websites, Website Redesign
Testimonials
Since partnering with Timmermann Group, our follower base across Boxes Inc, Mid America Display and Xceed has more than quadrupled from the social media strategies implemented. We've quickly become a nationally recognized manufacturer through the collaborative efforts of both our team and theirs.
– Brittney Beermann, Marketing & Communications Manager
Timmermann group has been a valuable partner for Xceed, our custom packaging ecommerce division. They utilize their expertise in SEO strategy and website development while maintaining a calculated social media marketing effort. I would recommend Timmerman Group to any brand looking to raise the bar.
– Kyle Winkeler, Marketing Coordinator