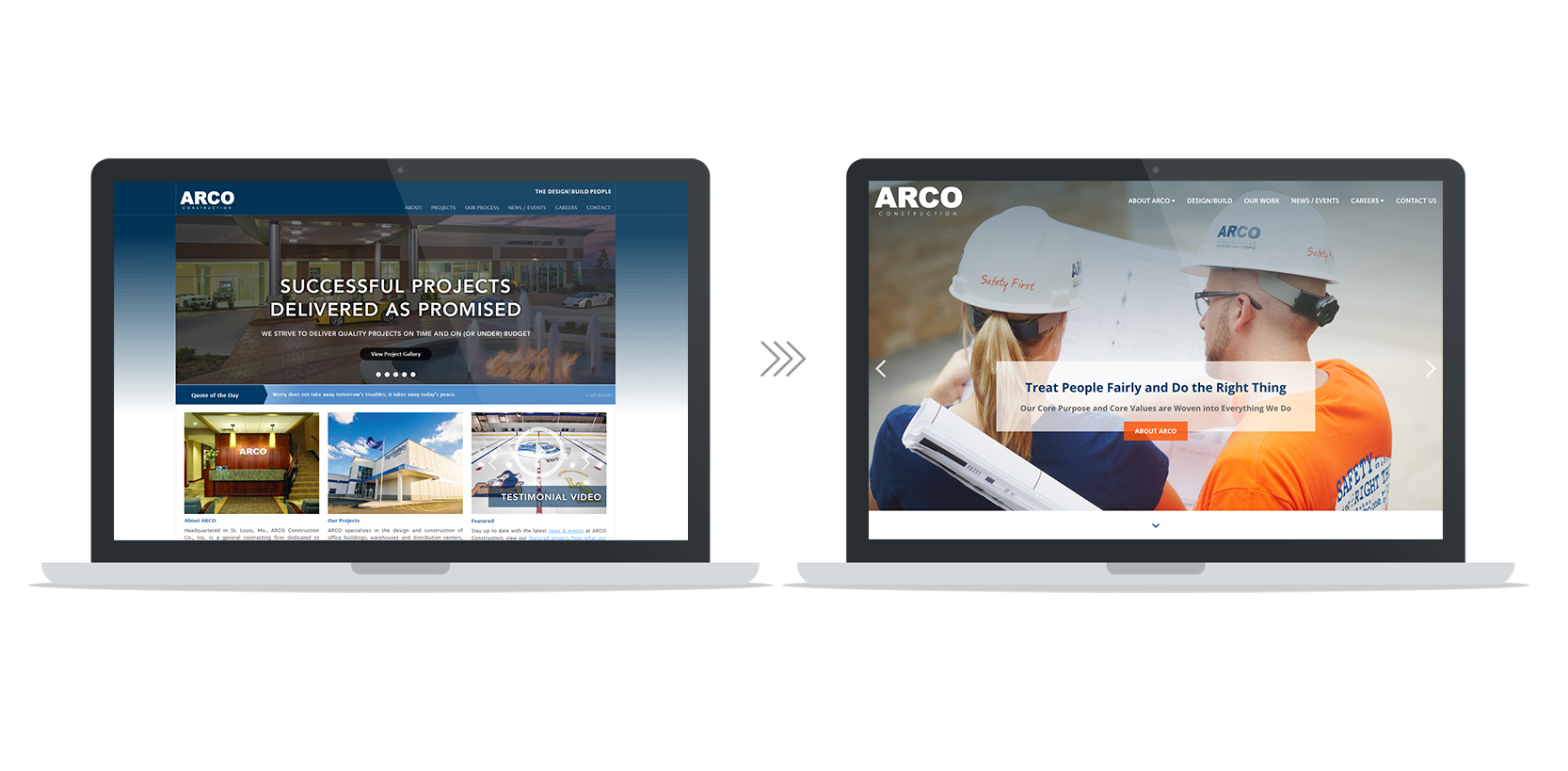 Client Situation
What do you do when you have a website that's good, but isn't quite good enough? It can be hard to put your finger on, but somewhere in the pit of your stomach, you know that your digital presence doesn't exactly reflect who you are as a company. That was the situation for ARCO construction, a St. Louis based construction firm with a national presence, who had a website that was fine but didn't match the superior standards of the physical properties they typically put their name on.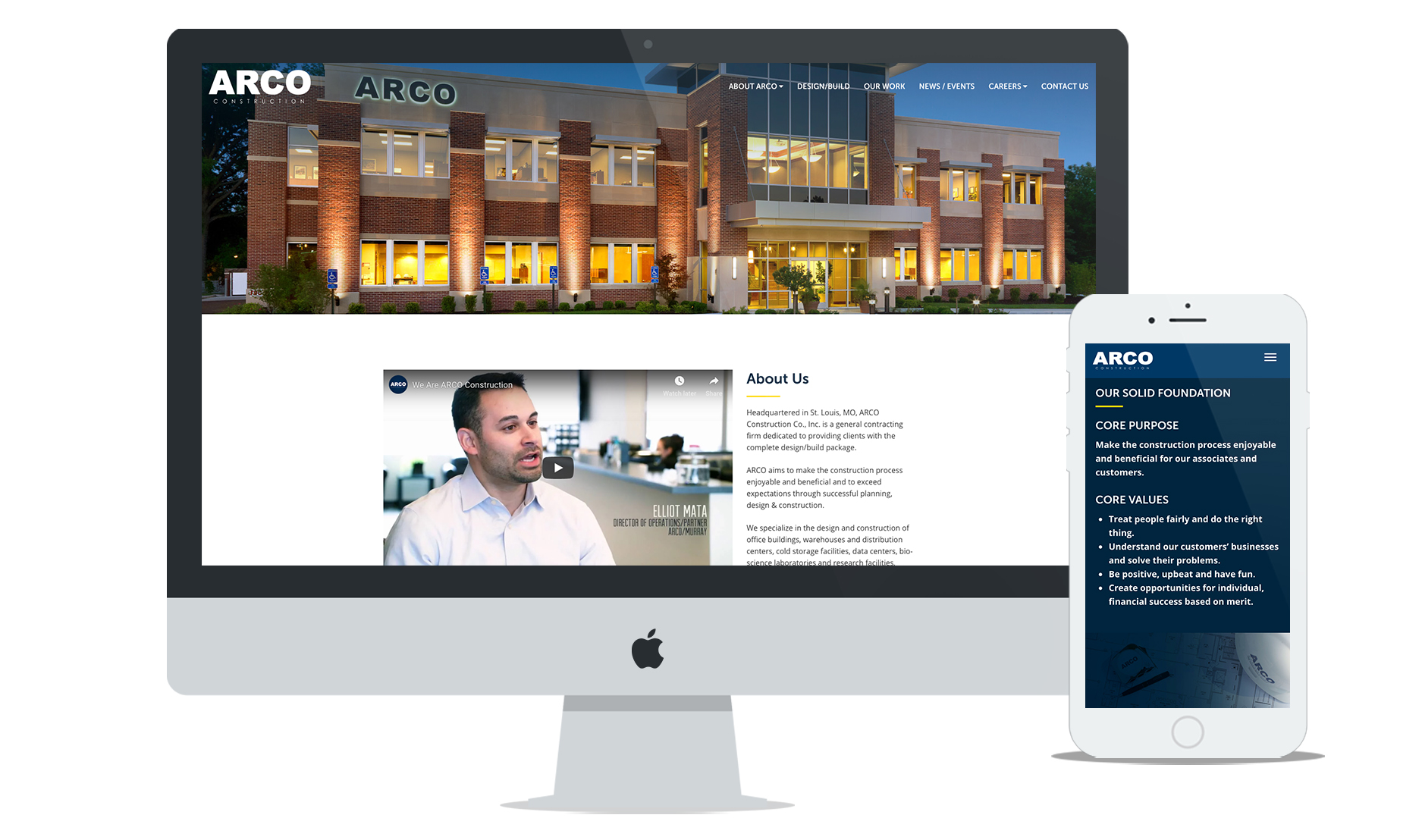 Points To Consider
When choosing a firm to redesign a website, selecting someone with experience in your industry can greatly improve your outcomes. Timmermann Group has 15 years of experience in digital marketing for contracting companies.
Why you want a new website design can be hard to define, but Timmermann Group specializes in analyzing data associated with digital marketing to identify whether or not a redesign is appropriate for you.
When establishing a reputation on a national scale it is important to have a digital presence that can act as a 24 hour a day, 365 days a year sales tool for your organization.
Never underestimate the power of culture when helping your company stand apart in the construction market.
Even if the majority of your leads and sales come from more traditional marketing methods, a website upgrade can be the key to opening up the floodgates to potential customers.
How TG Helped
ARCO Construction had very clearly defined goals when they approached the Timmermann Group, but those goals did not directly translate into "web speak." After all, ARCO Construction is an expert in building construction and Timmermann is an expert in construction web design, so it makes sense that our first step would be to translate ARCO's goals into an actionable strategy.
We started by performing an in-depth analytics audit of the current ARCO Construction website. By sifting through years of data about the site's performance, we were able to identify points of weakness and instances of great strength in how ARCO's digital presence was currently functioning. We then aligned that data with the areas that ARCO wanted to improve on their website.
Our strategy team then identified specific content that would inform the user's understanding of the ARCO brand and encourage them to engage with the company online. We determined that completed projects and the outcomes of those projects (awards, testimonials, honors) were critical buying triggers for ARCO's target customers. That information became the centerpiece of the website.
The design and development teams then worked together to bring those concepts to life. How does an ideal customer of a construction company use a website to qualify their buying decisions? Where do they want to click? How do they want to receive information? When and how will they finally make contact with ARCO Construction? The answers to these questions formulated our final approach and we began bringing our vision to life.
The end result features a comprehensive project gallery with a card-style layout that is easily sortable for an end-user.
We built an interactive infographic of the ARCO Construction process, to help eliminate any confusion and heighten transparency about what working with ARCO would be like for a potential customer. This removes barriers to entry for making contact with ARCO for a new project.
We then considered the implications of a new website for non-customer stakeholders like employees and subcontractors, developing carefully considered portals that address the needs of these users.
Finally, we helped retain and amplify any and all information that ARCO Construction wanted to port over from their previous site. Together we created a modern, mobile-friendly approach to ARCO without losing sight of their core business values.