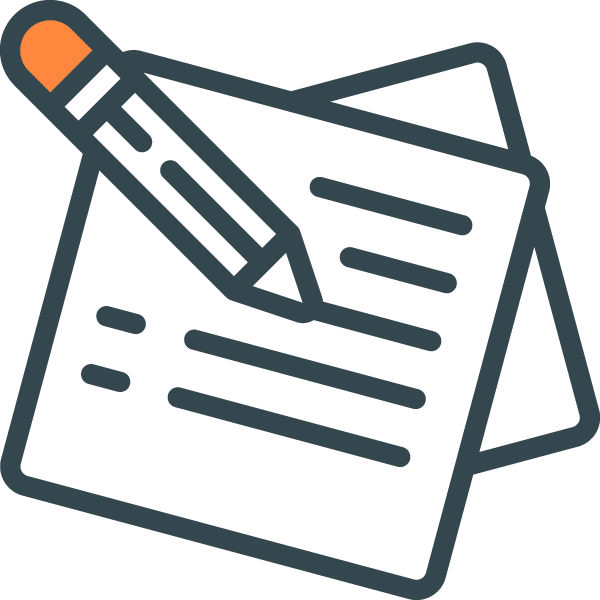 What is
Copywriting ?
Copywriting is every word, every sentence, every paragraph you read on a website, on a brand's social media, in an advertisement, on a blog. If digital strategy is the blueprint, copy is the bricks. Copywriting is about producing the words, it's about producing the right words in the right voice and tone. The right copy aligns with your business's goals and messaging, and it's implemented at every phase in the buyer's journey. The right copywriting can make or break your company's marketing efforts.
Effective copywriting allows you to speak directly to your users and communicate your intended message. Just like visual or user experience design, copywriting should tell a story and guide users through different journeys. It needs to provide users with essential information and cultivate conversation and discussion. Copywriting should be strategic, creative and focused. The best copy ensures that strategic messages are delivered and relationships with your audience are nurtured to encourage conversion. Mixing this kind of copywriting with the right strategy is what delivers results for your business.
Copywriting should always begin by identifying your target audience, understanding who they are and what their needs are, and then ensuring that you are writing copy with them in mind. Your copy should both address their concerns and compel them to take further action, the goal should be to get the reader to do something. Good copywriting helps your business demonstrate credibility and trust, so that consumers feel confident that your company can help them. Your copy should be engaging and tell a story that users can connect with and relate to. Use precise language and an active voice to best drive home your message. Focus your copywriting on the benefits your products and services provide for the consumer, rather than on facts about your company or the various features your products possess. Users are more interested in how you can make their lives better than they are in learning about you.
The difference between bad and good, or even good and great, copywriting often comes down to just one word or phrase. This is why it is so important and beneficial to your business to partner with a marketing agency that has experience and expertise in crafting the perfect copy to help your company tell its story, connect with consumers, and grow its business. 
Why Choose
Us?
There is no such thing as a blanket solution when it comes to copywriting. Just as no two businesses are the same, no two copywriting strategies are the same either. So our team doesn't take a one-size-fits-all approach. Our process is far more involved. Our in-house copywriters and strategists will work with you to uncover what makes your organization stand out from the competition and, incorporating the voice and tone of your unique brand, tell your stories in a way that will spark a reaction from your target audience. We are focused on producing the most effective custom content for your site, email marketing and social channels. With every piece of content we create with your consumer in mind, we are also leveraging the latest in SEO-friendly strategies and keyword awareness. We're not in the business of simply "writing for the sake of writing." If you're looking for creative and engaging copywriting, but don't know where to begin, let's talk.