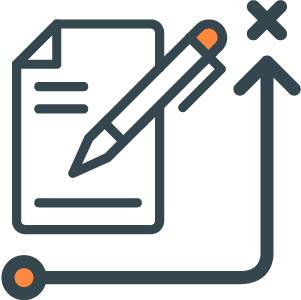 What is
Content Strategy?
Content strategy is the planning and development of a cohesive content marketing plan to ensure that every piece of content that is created for your business has a specific purpose and is aligned with your company's overall business goals and objectives. Your company's content strategy should influence and guide all of your content marketing efforts, and provide a solid framework upon which to build your brand. There are some important considerations that factor into a concise, successful content strategy versus one that is muddled and ineffective.
The first important component of a winning content strategy is establishing goals for your content marketing efforts. What are you trying to accomplish? You might wish to increase the number of qualified leads your sales team receives, increase brand awareness in your industry, launch a new product, or re-engage with previous customers. Each company's goals will vary, the important thing is to identify specific and tangible goals that you hope to achieve, and to then develop a content strategy designed to support those efforts.
Next, identify the target audience for your content, and make sure that your content strategy addresses their needs and frustrations, and creates content designed to speak directly to them. It is important to focus on the benefits and outcomes that your company provides its customers; users don't want to engage with content that talks about how great your company is or the many awards you've won. They are seeking a business that can solve their problem and improve their lives, so the bulk of your content needs to accomplish this. Also be sure that the language that you use, and the voice and tone that you adopt, keep your best customers at the forefront. Avoid using too much insider language or jargon that your customers won't understand.
Also keep in mind that your target audience will include users at all stages of the sales decision funnel, from awareness to consideration to decision. So your content strategy needs to accommodate each of these groups. Your top-of-funnel content might include more educational and informational pieces that don't include any hard sales message, but rather are intended to build brand awareness and credibility. Your middle-of-funnel content could include things like webinars, videos and whtie case studies that are more heavily branded and demonstrate how your company can solve the user's problem. Finally, your bottom-of-funnel content marketing could be things like emails, landing pages and product demos that include a direct sales message that are designed to convert now.
Your content strategy also needs to account for many different types or formats of content. Different users prefer to engage with different types of content, so you should plan to include things such as videos, infographics, podcasts, case studies, white papers, emails, social media, and many others. This may seem a daunting or perhaps even unnecessary step, but failure to create and promote a user's preferred content format could well mean the difference between gaining a new customer and losing them to a competitor.
Armed with a solid content strategy, you now need to determine how to both create and amplify the many pieces of content, in a variety of formats, that your business will need to be successful and achieve its goals. Working with a digital marketing agency that specializes in content strategy and creation is a great way to make sure that your content marketing is not only exceptional but that it is also consistent and correctly branded. Remember, creating content for the sake of creating content is not going to help your business, it is only going to eat up valuable resources. Commit to developing a vibrant content strategy that focuses on your business goals and your best customers, offers content in a plethora of formats, and demonstrates why your business and not your competitors is the ideal choice to solve users' problems.
Why Choose
Us?
We have an accomplished team of in-house strategists and copywriters who love uncovering the best ways to tell our clients' stories. Everything our team does in terms of content is done with a specific goal in mind. We want your content, told in your unique voice and tone, to engage your customers and drive them to an action. We are not just writing to meet a quota or fill up white space on a page. It's not an afterthought. Content is planned far in advance and presented in a clear and organized way that will make sense to your audience. We understand and appreciate that content is key when it comes to getting your page recognized by your target audience, and just as importantly, search engines. If you're looking to develop a custom content strategy, but don't know where to begin, let's talk.