icon Mechanical is a full-service mechanical contractor, engineering, and construction firm that prides themselves on their position as the "icon of the industry." With an outdated website built in 2010 and a strategic growth plan built for 2017, icon Mechanical needed to bridge the gap between their online presence and their superior service model in order to accomplish their future growth goals.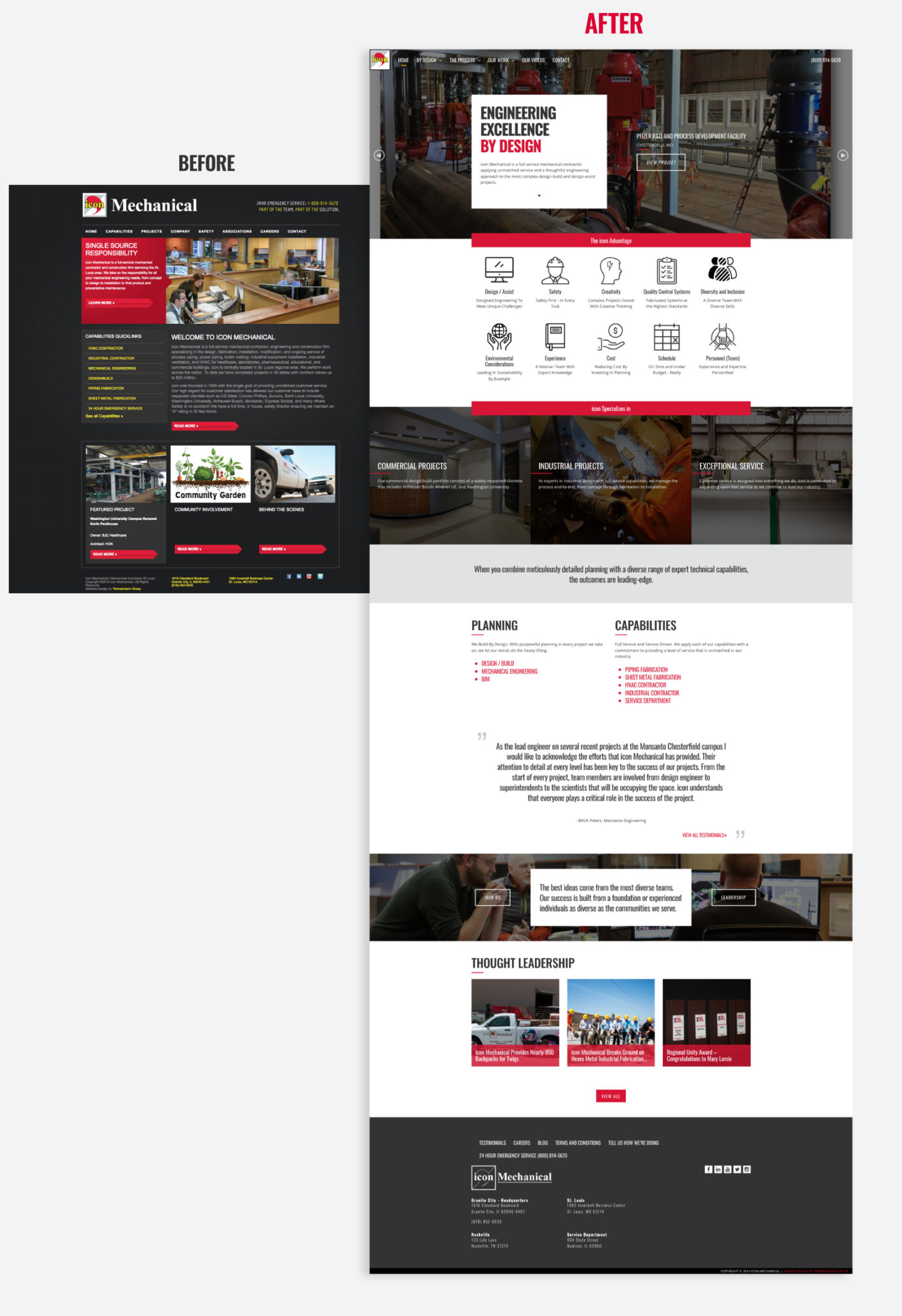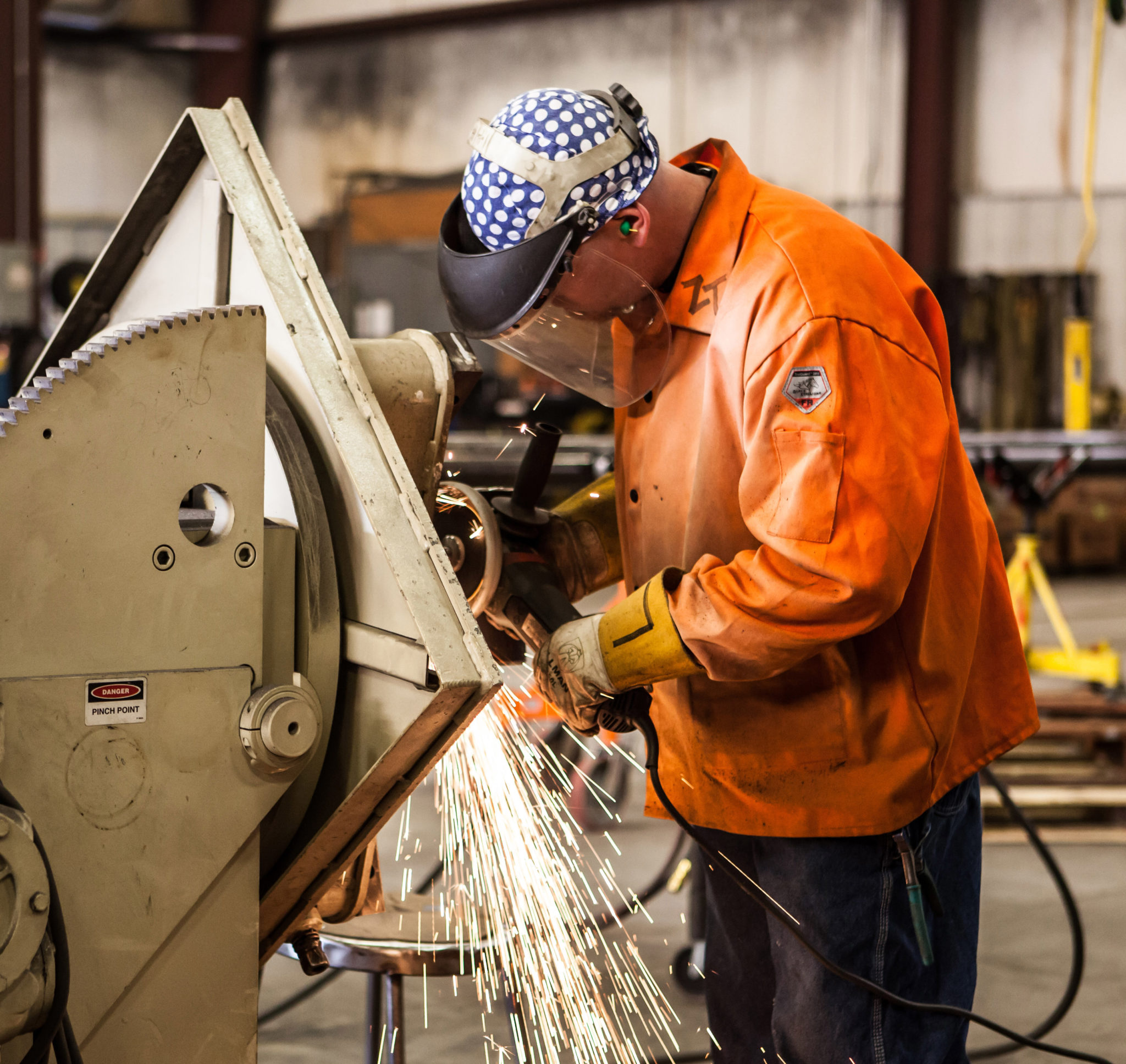 Points to
Consider
Never underestimate how your business looks online can influence a person's decision to work with you on a project. Even if a lead comes from traditional marketing channels, it is likely that someone will vet your company through your website before they sign a final contract. A great website makes a great first impression.
A website can be used as both a passive and active sales tool. With a custom WordPress website design, unique pages can be created to act as an online presentation deck for in-person meetings with potential clients.
The way your products and services are organized on your website can influence your ability to sell a specific to a broader audience. If something that is important to your competitive advantage is buried behind lots of clicks and irrelevant content, current and potential partners may not even know that offering exists.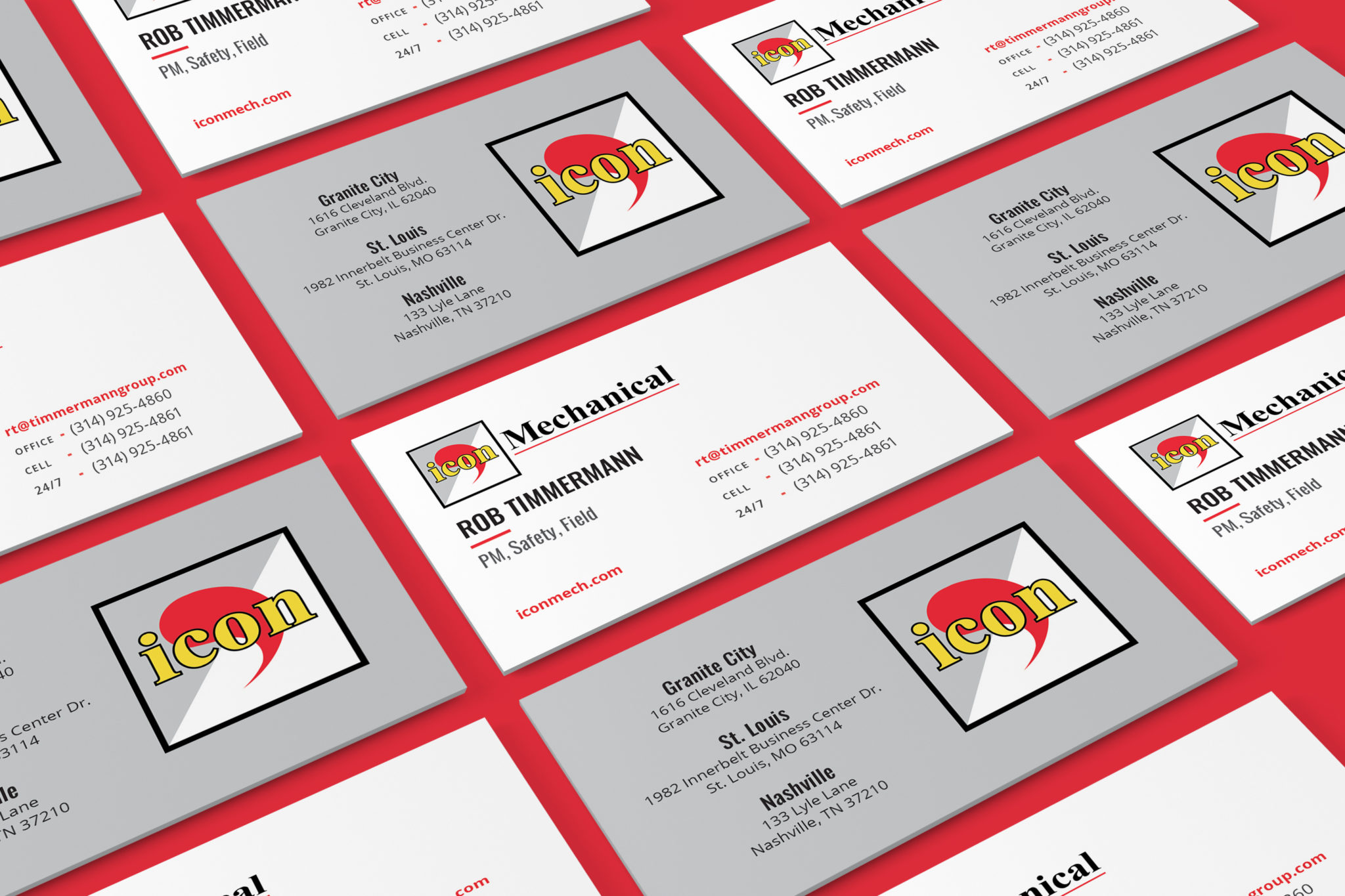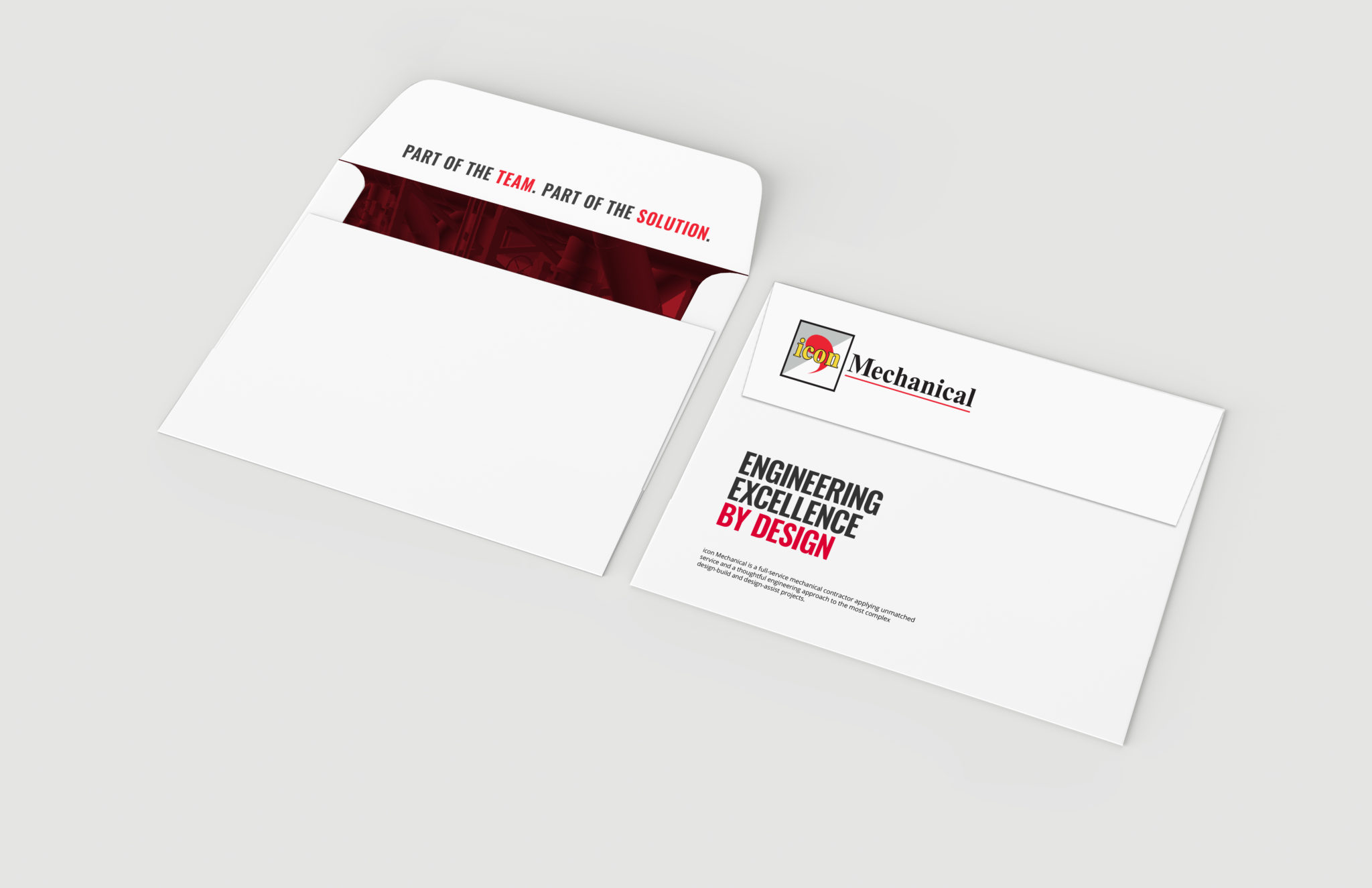 After constructing a strong base for the icon Mechanical website, Timmermann Group added additional bells and whistles that reflected icon Mechanical's creative and innovative approach to their work. Our B2B website design team built a microsite within the larger icon Mechanical website, to be used by the icon Mechanical sales team for in-person presentations. The page is versatile as it is still a fully-functional and engaging piece of web content even when navigated without a living guide.
Timmermann Group constructed a call to action plan that reflected the previously identified buying triggers for icon Mechanical clients. Those call to actions are visually highlighted throughout the icon Mechanical website and reflect the typical decision-making process for both new and returning mechanical construction customers.
As a part of icon Mechanical's growth plan, they identified the importance of engaging top-talent for new positions that would be opening up at the company. Timmermann Group took special care to construct a dedicated careers section of the website that would appeal to professionals fitting icon Mechanical description of an ideal candidate. The careers portal includes a cutting-edge application system and the ability for the icon Mechanical team to easily add new position descriptions as opportunities arise.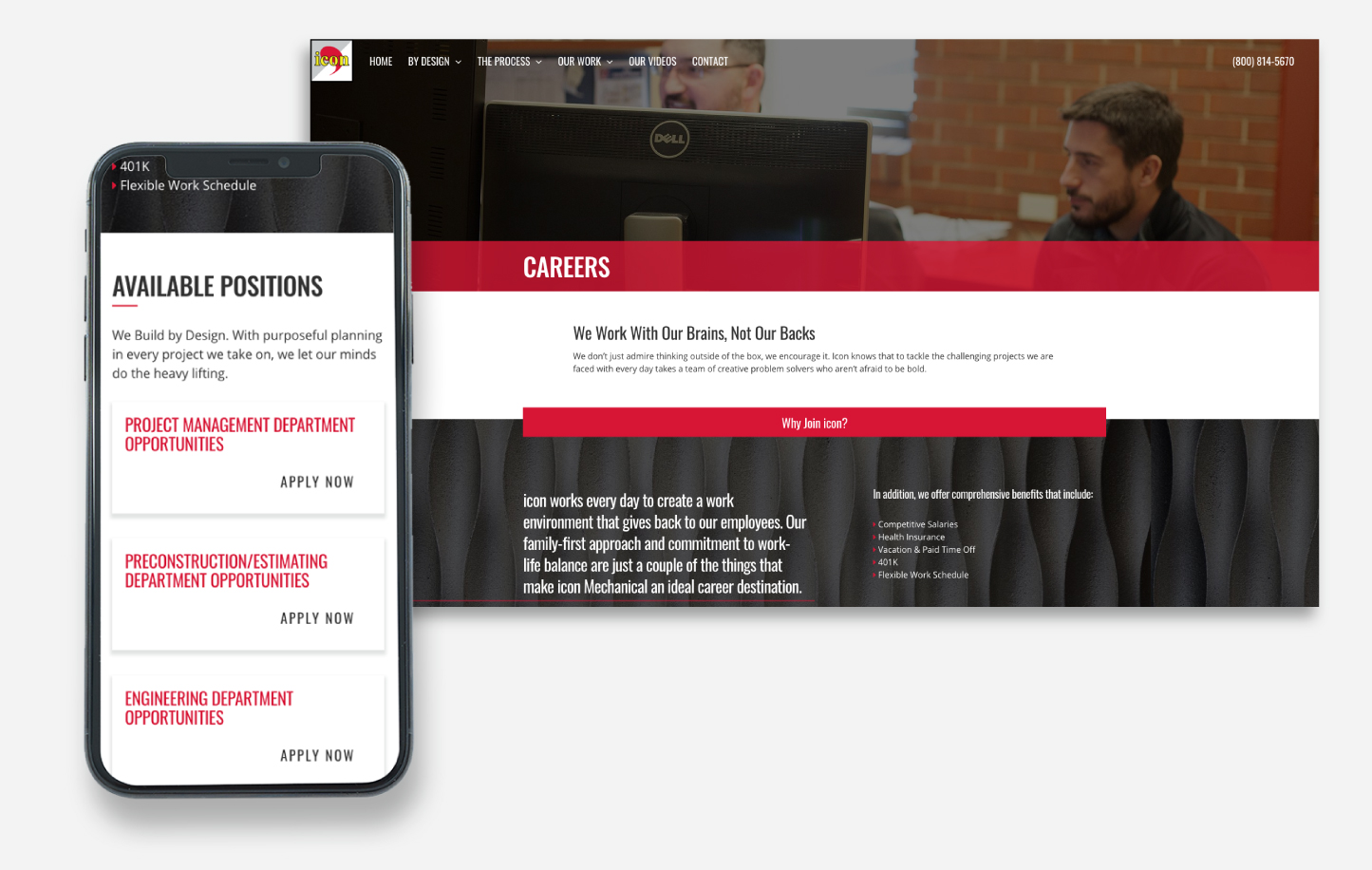 Finally, Timmermann Group also constructed a custom gallery to showcase the outcomes of icon Mechanical's work. Timmermann Group worked with icon Mechanical to identify existing visual assets and then created written content to better communicate the unique properties of icon Mechanical's projects within an easy-to-navigate portal. Timmermann Group also provided supplemental custom photography to maintain the elevated look and feel of the project gallery on every page of the website.
The end result is a website that works smarter and not harder. Its backbone is creative simplicity engineered with the end-user in mind; a philosophy that embodies icon Mechanical's approach to their work as well.