Happy Hips manufactures dog treats with a focus on hip and joint issues. In addition to their high-protein, grain-free formula, the treats contain glucosamine and chondroitin to help support joint health. Happy Hips products are distributed to grocery, big box and other mass retailers.
Because Happy Hips had previously been a part of a larger line of dog treats, it needed a new website that stood on its own and introduced the brand's new look. As Happy Hips is sold by mass market food and drug retailers, the team wanted the treats to stand out and be competitive in the limited space available in  stores, where only a few aisles are dedicated to pet needs. They needed to communicate this in the look of the treats as well as on the website. In order to anticipate customers researching products in-store on their phones, the website needed to embody a mobile-first approach to quickly educate and excite customers about the products and incite them to make a purchase.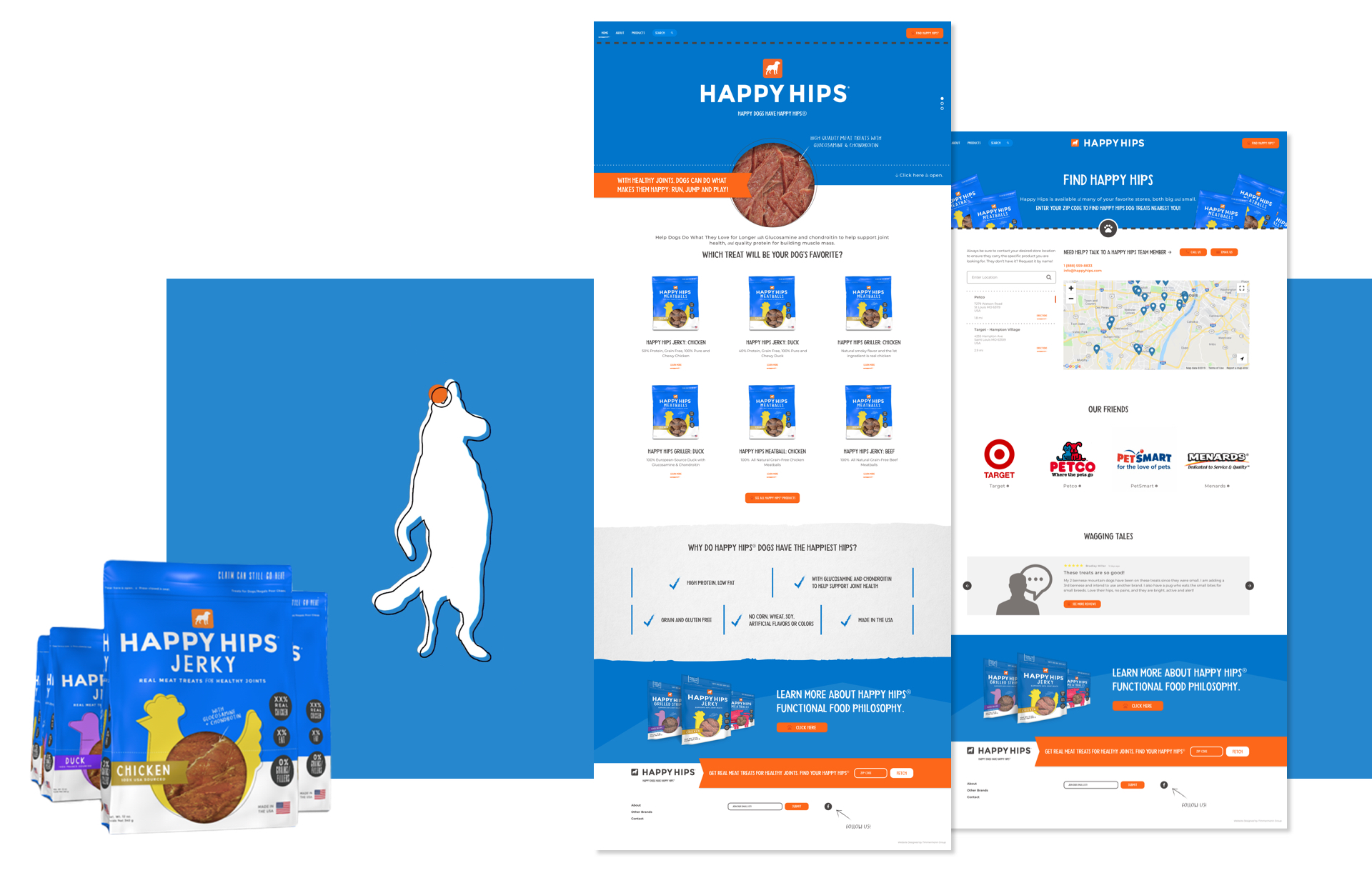 Timmermann Group began our process with a research and discovery period, during which we conducted stakeholder interviews with Happy Hips personnel, performed an analytics audit, identified goals and gathered research and insights. From this, Timmermann Group developed a strategy for the content and layout of the new Happy Hips website. After strategizing, Timmermann Group went to work designing the new look and website. The result is a redesigned Happy Hips that is fun and energetic, better communicates the brand's product offering, draws the attention of consumers and incites them to engage with and purchase from the brand.
Since launch, Happy Hips has seen consistent, stable growth. The new site has led to a 34% average increase in quarterly traffic and a 95% increase in quarterly goal completions through four quarters.
34%
Average Increase in Quarterly Traffic
95%
Increase in Quarterly Goal Completions Through 4 Quarters