Keeley Companies
St. Louis-based Keeley Companies includes six individual, family-owned operations all sharing a common goal: to be a single source for construction, infrastructure, technology, development, logistics, and wireless communications. For more than 40 years, companies under the Keeley umbrella have been focused not only on fulfilling the dreams of their clients, but giving every team member—every "Keeley'n", if you will—a chance to succeed and grow.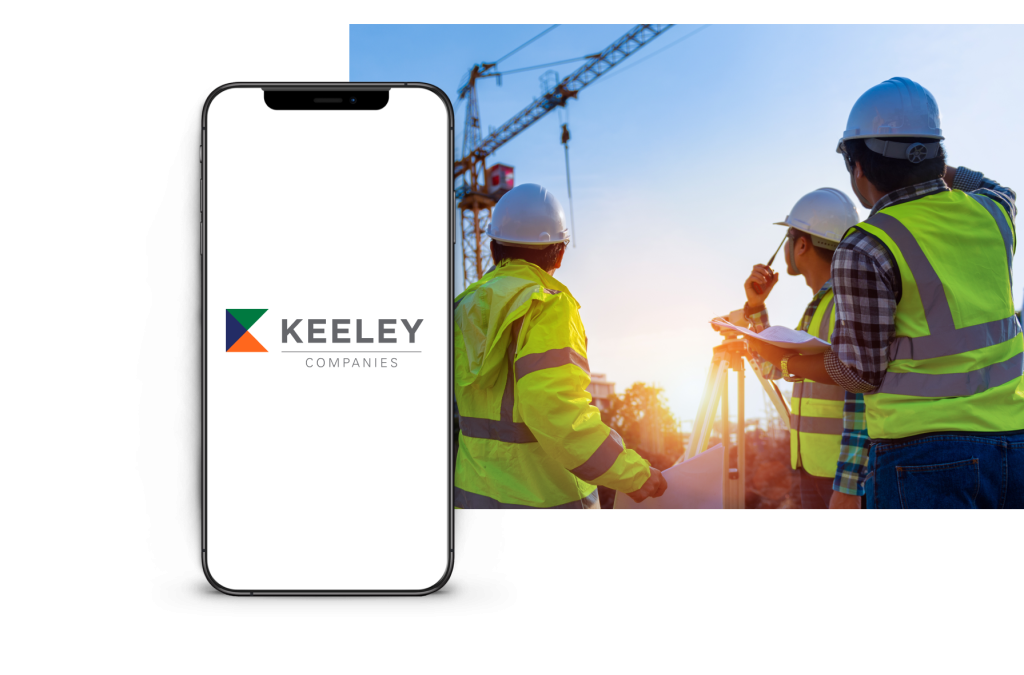 Challenge
While their project portfolio and list of satisfied clients continued to grow, new client acquisition came, in large part, via referrals or word of mouth marketing. Unfortunately, in the construction and infrastructure industry, these tactics will only take you so far. The team had built multiple brand websites already with no shortage of valuable information, but potential leads simply weren't finding it. To fix this, Keeley needed to develop and implement a comprehensive SEO strategy, something that would broaden their net and drive waves of new, organic traffic to their site.
Takeaways
Keeley Companies has invested in its internal marketing team which currently handles the majority of marketing efforts. However, when the team saw an opportunity to advance to involve a strategic digital partner to advance their SEO strategy, they took it. At Timmermann Group, we want to be an extension of your marketing efforts however we're able. In the case of Keeley Companies, this meant working alongside their established marketing team with a specific goal in mind: to boost SEO website traffic. We're proud of the relationship we've cultivated and the work our teams have collectively produced. As traffic and rankings continue to increase, we look forward to a long-lasting working partnership with the Keeley team.
How TG Helped
In order to give their site the SEO boost it needed, Keeley Companies sought the assistance of Timmermann Group. The relationship between Timmermann Group and Keeley Companies began modestly and evolved into a dynamic and ongoing partnership. Together, we sought opportunities to tweak or enhance existing on-page and behind the scenes aspects as well as develop new content and strategies that would effectively showcase the experience and expertise of the Keeley team.
Comprehensive SEO Audit
Technical SEO Updates
On-Page Optimization
Local Search Optimization
Blog Content Strategy Development
Comprehensive SEO Audit
Our initial services involved the conducting of a three-month SEO audit on Keeley's websites. Before we could offer suggestions for improvement or opportunity, we had to find out what was already working.
Analyzing existing site structures
Conducting keyword research
Building a keyword strategy
Cleaning up technical SEO aspects
Monitoring and reporting changes in ranking potential over the course of 90 days
We were able to have a much stronger handle on how to bring Keeley Companies closer to page one of Google's organic rankings.
Technical SEO Updates
Once we discovered where improvements could be made, it was time to get to work. Fixing the multiple technical issues with an existing website provides it the opportunity to rank on the first page of Google. And as is the case with any site, correcting broken links, canonical links, and redirect issues boosted the Keeley sites' domain authority, which remains an ongoing project that requires constant monitoring and frequent updates.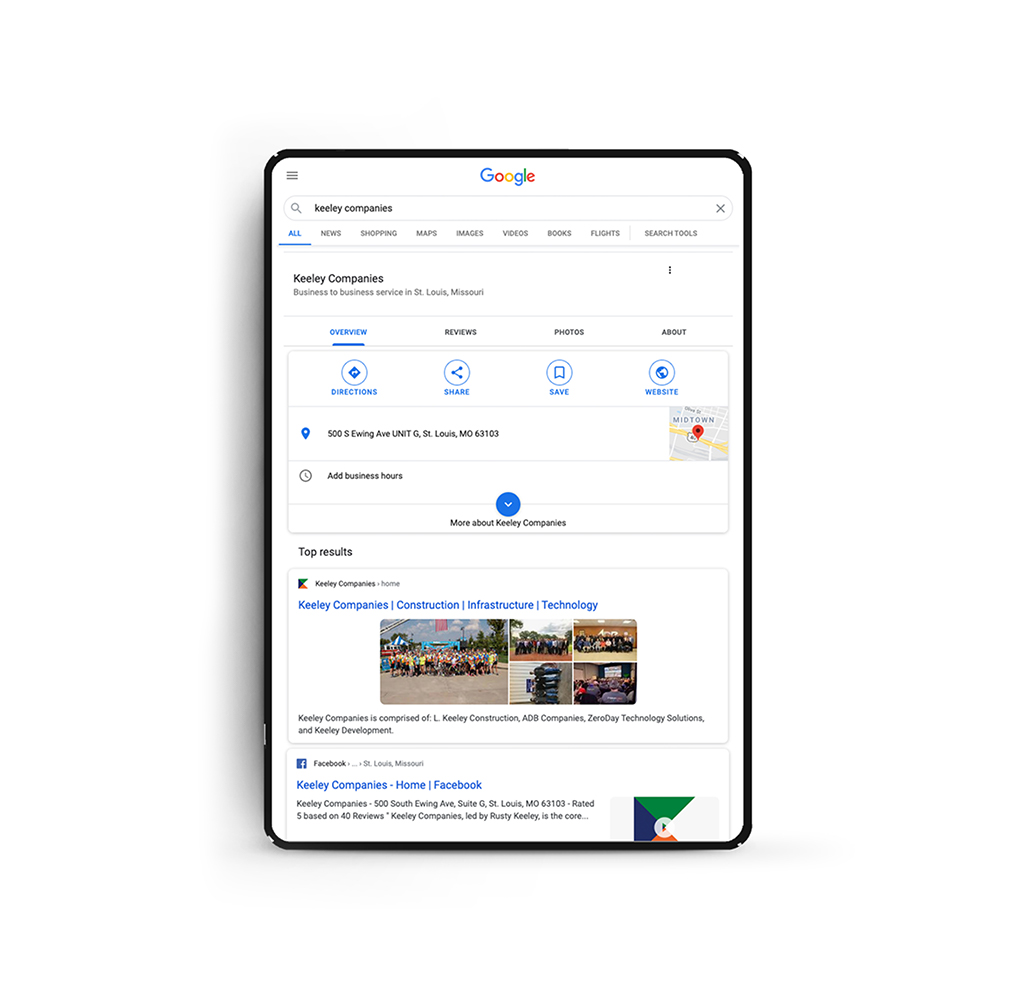 On-Page Optimization
While there was certainly no shortage of valuable industry information peppered throughout the Keeley sites, we were able to identify a series of opportunities to present this information in a more organized and optimized fashion. By updating H1s and H2s to highlight high traffic keywords, realigning how content is presented, and (in some cases) building entirely new pages from scratch, we were able to draw in even more organic traffic to the client's key landing pages.
Local Search Optimization
By tweaking Keeley's Google My Business descriptions and implementing strategies to more effectively call out their target market regions within the sites themselves, we were able to ensure that those in the surrounding areas searching for construction, paving, or infrastructure services found Keeley Companies first. By bringing Keeley Companies into the mix for St. Louis-area searches, we were able to boost local traffic even more.
Blog Content Strategy Development
Laying the groundwork for future organic traffic, the Timmermann Group content team ambitiously conducted keyword research for dozens of potentially high traffic blog topics. Each keyword was accompanied by a thorough content brief highlighting competitor analysis as well as a proposed content strategy and headline ideas for the Keeley marketing team. Once live, these blogs will be used for link acquisition, essentially enhancing Keeley's domain authority.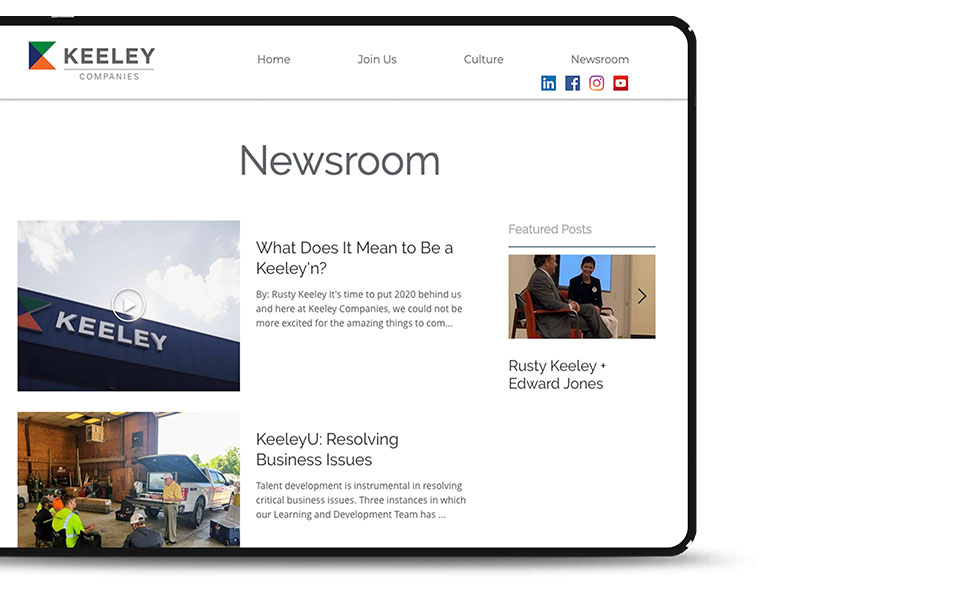 Results
883% Increase in Google Maps Views

In June of 2020, L. Keeley Construction experienced an 883% increase in Google Maps views.

17% increase in search views

As search views increased 17%, Keeley sites saw significant boosts in their rankings for valuable keywords. For example, L. Keeley Construction from being unranked (50+ positions) to top-five status for the keywords "civil construction" and "paving companies".

Top searches

In June 2020 alone, more than a dozen other keywords saw comparable organic boosts. In terms of local-specific keywords, Keeley now sits atop searches for "utility construction companies missouri" and in the top five for "utility contractors st. louis" and "fiber contractors st. louis".