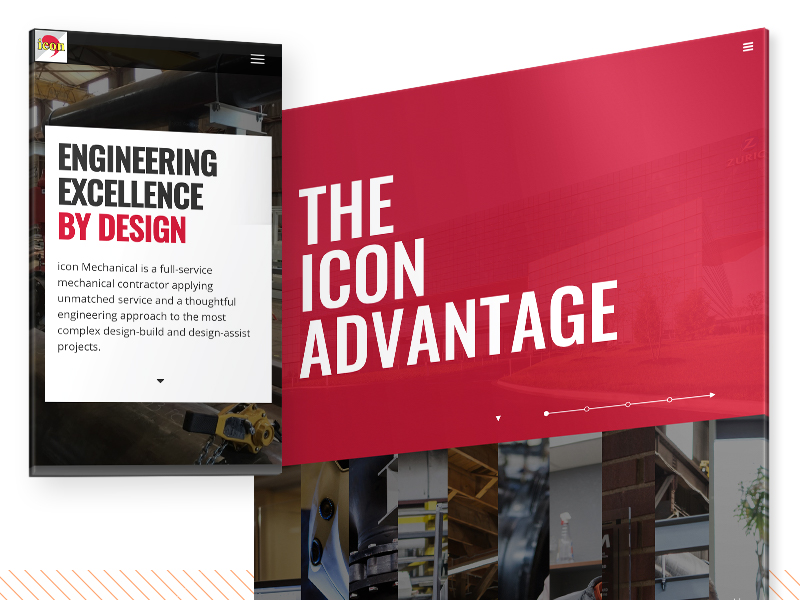 What Is
Contractor Website Design?
As the contractor marketing landscape has changed in recent years with an increased emphasis on digital, contractor website design has become paramount to your company's continued success. Relying on word of mouth and client referrals is no longer a wise strategy if it ever was. Today's consumers have a plethora of options when it comes to selecting a contractor, and they like to do their homework and research potential firms before making contact. Even if they were initially referred to your business by a friend or colleague, they are still going online to learn more about your company's capabilities and experience to determine if you would be a good fit for their needs. Accordingly, putting in the time and effort to develop a robust contractor website design is a wise investment in the future of your business. Potential customers will visit your company website to decide if they wish to include your firm in the bidding process or to engage in a project. If your contractor website doesn't properly position your business as being able to help them solve their problem, they are not going to consider you and will instead contact your competitors. Even if your company is the leader in your industry, if your contractor website design does not reflect this leadership, you'll never get the opportunity to speak with these prospects and prove this to them.
So, you've made the strategic business decision to invest in a quality contractor website design–now what? It is important that you identify reasonable, measurable goals for your business, and then design your new contractor website to help your company achieve these. For example, you may establish a goal of increasing qualified leads by 20% over the prior year. In this instance, you will want to ensure that your contractor website design will help you achieve this goal, by making it easy for users to complete a contact form or click your phone number to speak directly with a member of your team. Including content on your website that explains who your company is, what services you provide, and any industry certifications or accreditations that might be required will all help prospects and potential customers quickly and appropriately vet your firm online, and from there convert to qualified leads for your team to engage with.
Another key aspect of creating an effective contractor website design that helps your business achieve its goals is to make sure that the content on your new website speaks directly to your target audience by addressing their needs and by speaking in a language that they understand. For example, if your contracting firm focuses on commercial projects with budgets more than $1 million, then you'll want to focus your website's content on your firm's experience and expertise in this area. Include examples of your work, case studies, client testimonials, photos, and videos–anything that helps demonstrate your company's ability. This focused content will help you attract more of your ideal customers. It will also help you limit the number of inquiries you receive from users who may not be a good fit for your business. These types of disqualifying factors can include not only client budgets but also things like geographic service areas. Focused, compelling content also helps establish your firm's credibility with your best prospects; if they find your contractor website design's content to mesh with their needs and goals, they are much more likely to contact you, giving your company the opportunity to convert this prospect into a paying customer.
Having your company appear in search engine results pages is another key component of your contractor website design strategy. Creating great content not only helps build credibility and trust with your best prospects, but it also helps you rank more highly on search engines. When users are searching for a contractor to help with their project, they will likely visit the websites of only a few firms, and usually, it will be those firms who rank on the first page. Identifying popular, relevant keyword phrases that your prospects are searching for, and incorporating these phrases into your contractor website design content strategy, is crucial to your overall marketing and business success.
These days, many of your customers and prospects spend as much time remotely at job sites, in airports, or otherwise on the go. This means that they're not necessarily searching online on a large desktop computer at their desk. More likely, they're interacting with your contractor website on their tablet or smartphone. So your contractor website design needs to be responsive, which means that it will function and display correctly no matter what type of device a prospect is using. A good responsive website design should not just adjust the visual display but also take into account the site's overall content strategy, calls-to-action, and conversion pathways.
The growth and importance of digital marketing will continue to increase for contractors, so it is useful and important to understand how your new contractor website design is performing so that the appropriate adjustments can be made in the future to keep your site performing as a lead-generation machine. To best accomplish this, it is a good idea to utilize website and marketing analytics to track and measure data, and to then use this data to make informed business decisions about how to further optimize your marketing in the future. Working with an agency partner with experience in contractor website design is a wise decision to make sure that this important investment in your business sets your company up for success now, and also positions you for future growth, scalability, and adaptability so that your firm continues to be the market leader in the future.
- , Contractor Website Design