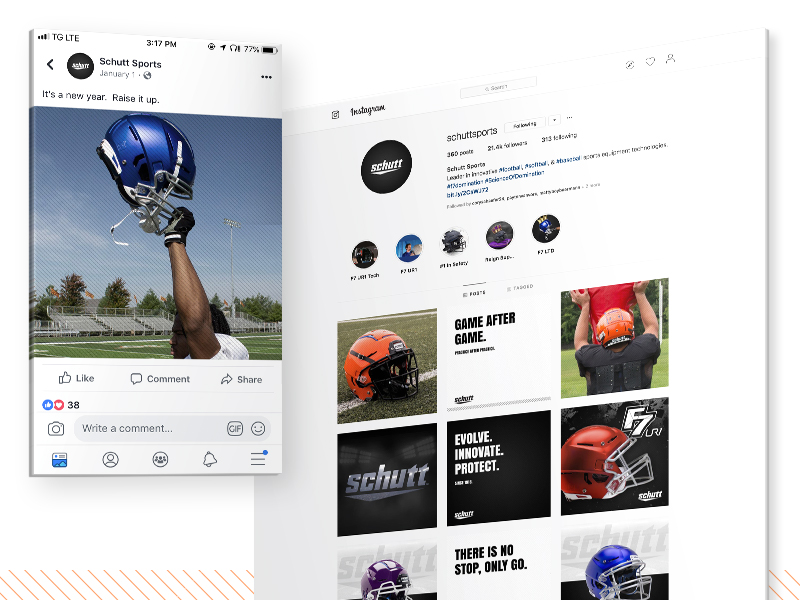 What is
B2C Marketing?
Marketing directly to end consumers, known as B2C Marketing, focuses on building personal relationships with individuals. Unlike B2B marketing, which often involves products and services that will be incorporated into the supply chain to produce other products and services, B2C marketing generally involves products and services intended for consumption by the end-user.
B2C marketing, like all other forms of marketing, has undergone significant and rapid change in the last several years. As multiple new digital platforms and technologies have become a huge part of people's daily lives, the rules of B2C marketing have changed. Gone are the days of running a: 30 television commercial or placing a full-page ad in a magazine and reaching millions of consumers in your target demographic. Now consumers have more options for news, information, and entertainment than ever before. B2C marketers must consider not just traditional media outlets but also the web, social media platforms, audio, and video streaming services, email and text message marketing, and many others. This audience fragmentation makes developing a cohesive B2C marketing strategy imperative for success.
Your marketing strategy should consider your business–what products and services you offer, and how those products and services benefit your customers. Focus more on the benefits to the end-user rather than on the features and attributes. Consumers care about how your business can help them and improve their lives, and this should help guide your B2C marketing plan. Also remember that, because they have so many options, don't like to have brand marketing messages forced upon them; rather they prefer to have a voice in how they engage and interact with brands. For this reason, in order for your B2C marketing efforts to be successful, you must always strive to build emotional connections with your customers. When people feel connected to and invested with your business, they are much more likely to purchase from you and to develop a strong sense of brand loyalty and trust.
So, how do you build these connections with your target market? It will require significant time and effort, but the short answer is to develop dynamic B2C marketing content that is relevant to people's lives and to then distribute this content via the platforms and technologies that your best customers prefer to engage with. A cornerstone of your content marketing efforts should be your company website. Consumers expect, in fact, they demand, that brands have high-quality websites. Your website needs to both explain your company's value proposition and build emotional connections with the user. And you must do this in a succinct, impactful manner. Your website serves as a hub for all of your B2C marketing efforts, so do not accept something that is 'good enough'. Make your brand's website the best in your industry; this is a crucial investment in your business.
Your B2C marketing should also aim to tell a story. This helps consumers visualize themselves using your product or service in their own lives. Your brand's storytelling can take many forms, from customer testimonials to case studies to reviews. It can include blog posts, videos, and social media posts. It will likely include all of these and more. Remember, your goal is to connect with customers on a visceral level so that they choose your business over your competitors. Another great way to further the emotional connection is through personalization. Using your customers' names in email marketing, or welcoming them back to your website, or sending personally curated recommendations based on previous purchases are all great ways to demonstrate to people that you value and care about their business, further establishing brand loyalty and trust.
Why is B2C Marketing
Important?
Creating and executing a well-planned B2C marketing campaign is important for many reasons. First, consumers are extremely busy and therefore easily distracted. People are bombarded with hundreds of marketing messages every single day. You must find a way for your marketing message to stand out and breakthrough this clutter. Thinking about who your clients are, what problem they are trying to solve, and what they care about are important steps to take. Then, you must deliver well-executed B2C marketing content that immediately resonates with consumers, so that they truly receive your brand message. The execution may be funny, uplifting, or designed to produce doubt in the consumer's mind. This will be determined by your brand's value proposition and how you wish to be viewed in the marketplace. The important thing is that no matter the specific approach, you are able to establish credibility and trust with your target audience.
Another reason that B2C marketing is important is that, typically, the buying cycle for consumer products is quite short. Once a consumer decides that they are in the market, they generally want to make a purchase decision quickly. If your company has properly developed and executed your marketing plan, you will likely have already established not only brand awareness but brand equity and credibility with these consumers, increasing the likelihood that they will choose your brand when they are ready to make their purchase. Once the transaction has occurred, you can build even more brand loyalty through customer-service follow-ups, special offers, and discounts, and loyalty/VIP programs specifically designed to keep your customers happy and coming back in the future.
Finally, strategic B2C marketing is important because, as mentioned earlier, consumers today have tons of options which makes selecting the correct marketing channels and tactics more difficult than ever before. Your business needs to have visibility to which of your marketing efforts are working well, and which aren't. Luckily digital marketing and media offer the opportunity to track and measure salient data points, turn that data into useful marketing insights, and from there make future decisions that optimize your B2C marketing efforts. This data can also help your company better understand who your customers are, and what motivates them. This leads to improved, more relevant marketing messaging, which helps build those all-important personal connections. Ultimately this ability to track, measure, and analyze performance leads to improved return on investment for your business, and also provides a roadmap for your future B2C marketing efforts.