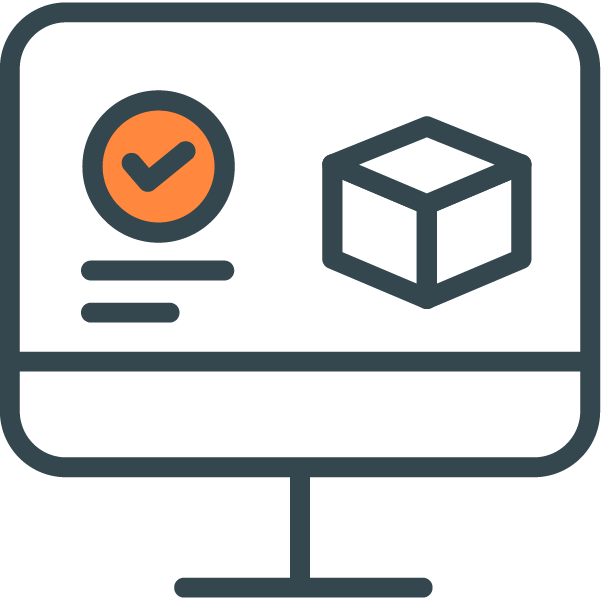 What is
Ecommerce Web Design?
The percentage of consumer purchases taking place online continues to increase, making ecommerce website design crucially important to your company's future success. There are many important factors to consider when embarking on your new ecommerce website project, so it is a good idea to work with an experienced digital marketing agency that is well-versed in ecommerce website design to make sure that your new site not only looks great but that it also functions properly and utilizes sound marketing strategy to help you achieve your business goals and objectives.
Before beginning the actual design of your new ecommerce website, it is important to first identify your company's ideal customers so that you can ensure that every single aspect of your new ecommerce website design caters specifically to their needs. Providing both your existing customer base and your best new customer prospects with a seamless, enjoyable user experience is paramount to convert website visitors into sales. As you and your agency partner work together to create your website strategy and content plan, make sure that every component of your site is geared toward serving your target audiences. This should include not only the content of your new site but also the call-to-action (CTA) buttons, contact forms, site navigation, and overall site usability. Be sure to test your site prior to launch to make sure that this important step in the ecommerce website design process is not overlooked or incorrect.
The primary goal of your ecommerce website is, of course, online sales. This may seem like a rather straightforward goal, but the wrong design decisions can prevent your new site from effectively converting website visitors. To begin, make sure that your company embraces a fairly minimalist, simplified visual design structure. It can be very tempting to include lots of exciting and creative visual flourishes in your website's design, but remember that the user's goal is to make a purchase. Anything that distracts from their ability to find and select products hinders this process. The product pages of your ecommerce website design should be clean and straightforward, with the focus squarely on the products that your company offers. Be sure to use high-quality photos that properly showcase your products, and incorporate plenty of white space to help the images stand out. It is also a good idea to showcase your products in an easy-to-follow grid format so that your customers can quickly and intuitively engage with your site to find the products that they wish to purchase.
This does not mean that your new ecommerce website cannot include content about your company and your brand. But this content should live on other pages of your website–not on the products pages. Keep your product pages focused on the online shopping experience with clean design and clear, compelling calls-to-action so that users are led through the buying process, whether that next step is 'add to cart', 'view similar products', or 'checkout'.
You also need your new ecommerce website design to be responsive, meaning that your site will function and display properly on all types of devices including smartphones and tablets. More and more online purchases occur on these types of mobile devices rather than on desktop and laptop computers, and today's consumers expect to be able to complete their transactions on whichever type of device they prefer. Failure to account for responsive design in your ecommerce website project will lead to a far lower sales conversion rate as many users will leave your company site and opt to purchase from a competitor.
Quality ecommerce website design also means focusing on how your site functions for the user. Consumers expect the buying process to be quick and easy. Be sure to include a shopping cart icon throughout your site so that users are constantly reminded of which products they have selected. This simple design addition has been shown to noticeably increase ecommerce conversion rates.  Also, include customer reviews and testimonials on product pages; this provides a sense of comfort for new customers who may not be as familiar with your brand and products and lessens the chance for cart abandonment or buyer's remorse.
When a user is ready to check out, it's best to keep this process as simple and streamlined as possible. Only require the user information that is absolutely necessary, and make everything else optional. Be upfront with information about shipping, taxes, and anything else that might affect the final pricing. One of the main reasons customers abandon their online shopping carts without completing their purchase is because companies surprise them with additional fees late in the buying process. Also, be clear about which types of payment your business accepts and which you do not. It is always a best practice to allow users to create an account with your company, or to make a purchase as a guest. Forcing consumers to register on your site is another sure way to lose sales to cart abandonment. Finally, make it very clear to users that your website offers total security and consumer privacy to alleviate any potential concerns. This should include things like an SSL certificate and a stated online privacy policy.
Investing in an engaging ecommerce website design can be one of the wisest decisions you make to grow and improve your business. But it's important that your site is designed and built properly so that it helps your company achieve its business goals. By creating an ecommerce website design that focuses on your best customers, provides clear and complete information about your product offerings, and offers an engaging, seamless user experience, you will be well on your way to making your new ecommerce website the cornerstone of your digital marketing efforts. 
Why Choose
Us?
We know that for a growing number of companies, online sales represent a huge percentage of revenue. We want to make sure that your site is equipped to safely and securely handle online transactions of every kind. Your site should be organized and professional and your consumers shouldn't have to worry that their information is going to be compromised. Our in-house team of programmers will go above and beyond to ensure that your site is the perfect sales tool for your company. If you're looking to develop a custom e-commerce website, but don't know where to begin, let's talk.