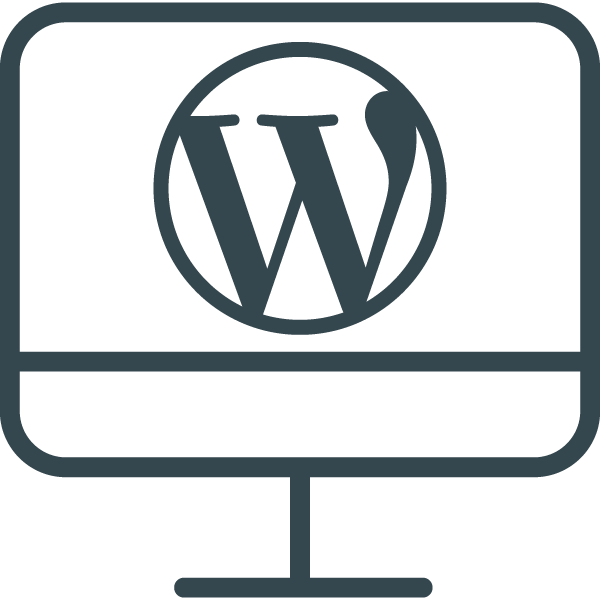 What is
WordPress Web Design?
WordPress website design is one of the most popular, and most effective, website platforms for businesses. Originally conceived as a blogging platform, WordPress has evolved to become an outstanding choice for building your company's new website. There are several reasons why you should consider utilizing WordPress website design for your next website project.
First, WordPress is an open-source platform, which means that the underlying code that drives WordPress functionality is free and available to web developers all over the world. This leads to continual improvement and optimization of the WordPress platform. Unlike proprietary website design software that restricts options and can be quite costly, WordPress website design offers virtually limitless options so that your website can adapt and scale alongside your business.
Second, WordPress offers the ability to build a website that is fully customized to the specific needs of your business. This is an important consideration to note. You may have heard of WordPress themes; these are pre-built WordPress websites that are already designed and developed. The only options you have are to add the specific words and images to your site. Besides these design and layout limitations, WordPress themes are also generally a poor choice for a business website because they typically are unsupported which means they are prone to breaking and have a short shelf life, usually not more than a year or two. A custom WordPress website design, on the other hand, is created from the ground up to include everything you want and need, and nothing that you don't. The design features and functionalities are geared toward helping you accomplish your business goals, and a custom WordPress website design will have a significantly longer lifespan, often for several years or longer.
Next, WordPress has a wide variety of available plugins. Much like add-on options when purchasing a new car, plugins improve and enhance the performance of your website. There are plugins that offer full ecommerce functionality, aid in your search engine optimization (SEO) efforts, and elevate your online photo galleries, among many others. You digital marketing agency partner will be able to recommend which plugins are best for your company's new WordPress website design.
One of the best features of WordPress websites is their content management system (CMS). The CMS is where you are able to control the content that appears on your site. WordPress makes it easy and intuitive for users of all technical skill levels to add, delete, and revise content including text and images. This ability not only helps prevent your website from becoming stale and outdated, but it also gives you a high degree of control over your website. While you may choose to have your marketing agency make updates for you, you won't be forced to do so and will maintain the ability to make updates and changes in-house.
WordPress website design, properly executed, will also aid your SEO efforts. In this highly competitive environment, making sure your company's website can be found when users are searching relevant keyword phrases is paramount to success. Your new WordPress website's code and meta information make it easy for search engines to read and understand what your website is about, which will help your website to rank more highly for your trophy keyword phrases.
Because WordPress website design best practices are constantly evolving, it is a good idea to work with an agency partner that is experienced with WordPress website design. There are regular updates issued for both the WordPress platform and for the many associated plugins, and it is necessary to install these updates to keep your site running smoothly without any issues. Your agency partner will also be able to help with your website's security features to prevent malware attacks, hacking attempts, and other security concerns. Finally your agency partner will help maintain your website as your business grows and evolves.
There are literally millions of businesses utilizing WordPress website designs to support their marketing efforts, and the platform's popularity will only continue to increase. But as with so many things in life, there is a correct way to approach WordPress websites and many incorrect ways that can lead to frustration. Your digital marketing partner will be able to help you outline the right approach that will help you achieve your goals and improve your business. Learn more about how a new WordPress website design can help your business now and for many years to come.