The Simon Law Firm
The Simon Law Firm is a personal injury and business litigation law firm that realizes the success of a large firm with the personal touch of a small firm. Since 2000, they've been achieving some of the largest verdicts and settlements nationwide.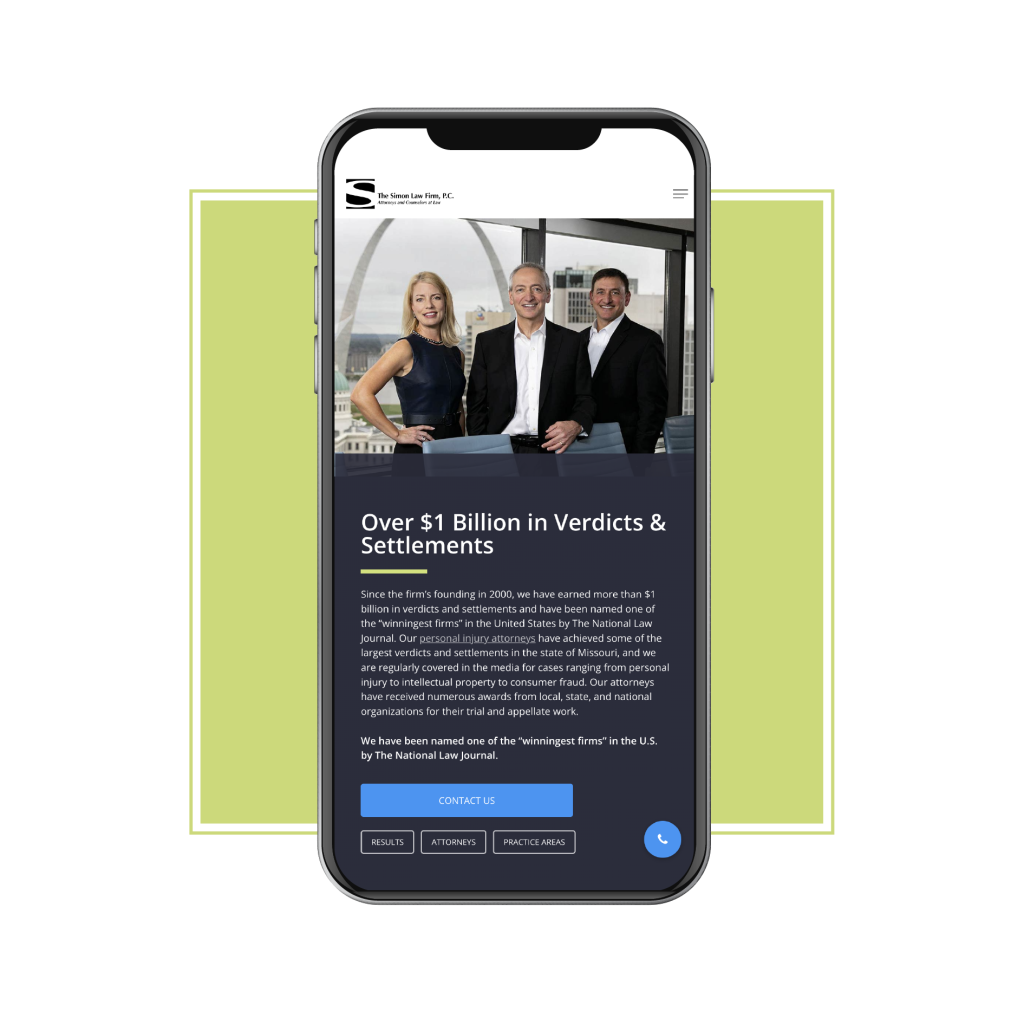 Challenge
After being with a different agency for several years, they were consistently disappointed with the results of their SEO investment. They approached us tired of throwing out unqualified leads monthly, spending too much on referrals and not landing on Google's front page. Their goal of being St. Louis' #1 personal injury law firm seemed unattainable.
Takeaways
When The Simon Law Firm approached us, we were excited about the challenge of delivering on their goals. So, after a thorough audit of their current SEO landscape, our team got to work on custom SEO keyword research, web content creation and custom site optimizations.

We aimed not just to get them on the front page of Google but to convert actual, qualified leads to benefit their firm's growth. After implementing our strategy, we saw a considerable increase in organic traffic that now contributes to 60% of their overall web traffic and a healthy lead pipeline.
How TG Helped
Their main goal was to increase organic and direct traffic to their website to convert them into qualified leads. Every day they were not on the front page of Google; their less established competitors were capturing viable leads.
Custom SEO Strategy
Increase Conversion Rates
Generate Organic Web Traffic
Custom SEO Strategy
To increase their organic traffic to capture qualified leads, they had to rank on the front page of Google as quickly as possible. Although we took a ground-up approach, we audited their current strategy and then crafted a custom SEO strategy with more diverse, higher-value keywords. We then incorporated custom content pages to add value to their clients and their Google rankings. Finally, we actively monitored page rankings, and web traffic as well as making ongoing optimizations to maintain the upward rankings momentum.
Increase Conversion Rate
We started working with them in March 2021, so you can see that their conversions were basically flatlined until we implemented our strategy. It's important to note that we tracked conversions using pre-established Google Analytics goals, therefore this flatline is not indicative of a new data baseline.
Generate Organic Web Traffic
Over 60% of their website visitors currently come from organic search.
Results
Within a year of engagement, The Simon Law Firm website started performing better than before working with Timmermann Group. They saw a 42% increase in organic sessions with a higher-than-average organic conversation rate of nearly 5%.
We also achieved front-page rankings for the following trophy keywords: "law firm st louis", "auto accident lawyer st louis" and "st louis medical malpractice attorneys"  with significant ranking increases across the board for multiple other trophy keywords.
Testimonials
"Timmermann Group has helped The Simon Law Firm climb toward our goals and has a strategic plan and recommendations each step of the way. The knowledge that each of the team members has is a great asset to our firm."
– Angela Louis | Director of Administration