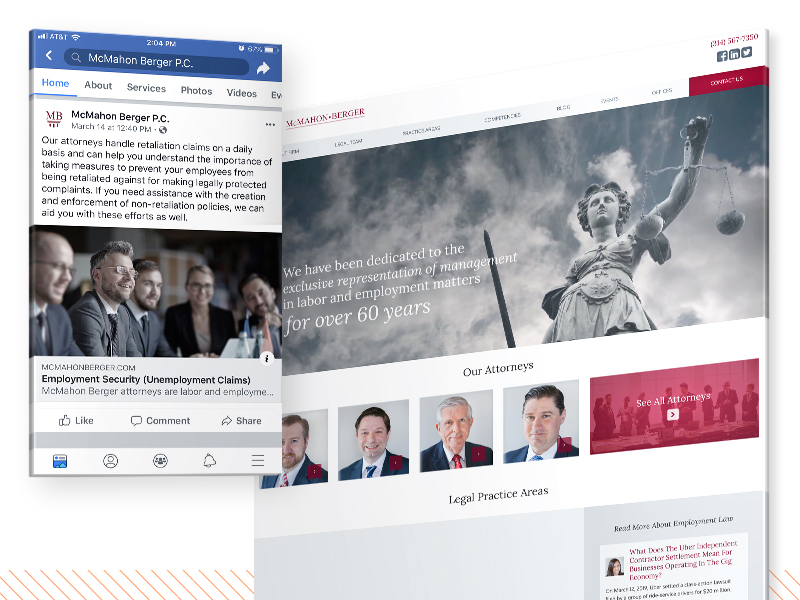 What is
Law Firm SEO?
Search Engine Optimization (or "SEO") is the process of getting Google and other search engines to rank your website on the first page of the search engine's results when a user types a specific search term or keyword. The more optimized your website becomes, the higher you'll rank in organic (i.e. free or unsponsored) search results. This is especially important in the law firm sector. For example, when someone Googles "law firm nashville tn" or "car accident lawyer orange county" wouldn't you want your firm's name to be one of the first listings they see? Of course!
If only it were that easy.
Getting ranked on a site like Google is, unfortunately, highly competitive and rather difficult. Remember, for any given search term, only ten websites can be featured on Google's first page. And every lawyer in the world wants to be listed there just as much as you do. It's basically the Internet's sacred ground, and entering that club is no easy undertaking.
Google takes a lot of variables into consideration when deciding which websites to feature on its highly coveted first page of search results. Factors such as page speed, mobile-friendliness, backlinks, domain authority, and website content are all taken into consideration as Google calculates which sites are deserving of being in the top ten and which sites will be buried on a latter page that the average user will likely never see.
Is it a perfect system? Not really. Keep in mind, Google is not in the business of ranking law firms. They're in the business of ranking law firm websites. Even the best law firms can fall victim to being unranked if their websites aren't optimized just right. Keep in mind, just because you're not ranked higher doesn't mean you're doing anything wrong. It just means your website could be optimized better. Basically a higher ranking means more visibility, which means more leads, which means more clients.
Why is Law Firm SEO
Important?
Chances are that someone in your community is doing a Google search for lawyers in the area as you're reading this. The question is, are they finding you? Or are they finding your competitors? This is where law firm SEO comes in. Your website has the potential to be the biggest 24/7 lead generator you'll ever have…but only if people see it. Do not miss out on a potential opportunity because your site has been relegated to page nine instead of page one. By optimizing your website for search engines, you exponentially increase the size of your potential audience and pool of potential leads.
Ranking on the first page of Google is an invaluable signal of credibility for your law firm. It's basically an endorsement from arguably the world's most trusted website. And once you make the initial investment in your site, the increased traffic and leads you generate from Google will not cost you anything extra. Unlike a pay-per-click campaign (e.g. GoogleAds), you won't owe Google a penny no matter how many people click on your listing. You simply won't find a better cost per lead than that. And since rankings are earned and not sold, you're not going to be forced out or outbid for your top spot by a more powerful firm with deeper pockets.
Google is not going anywhere and in terms of lead generation, a search engine optimized site is more valuable and cost-effective than any TV or radio spot you'll ever pay for. It's the best way to get your law firm in front of potential clients who are actively looking for your services.
Why Choose
Us?
At Timmermann Group, we are focused on delivering strategy and implementation when it comes to building an effective SEO campaign. We'll work with your team to customize the perfect law firm SEO plan for your firm and we'll be there to help you carry it out. Timmermann Group has a proven track record working with law firms and we'd love the chance to partner with yours. Let us transform your website into an SEO-optimized 24/7 lead generator so that people needing your services are finding you (not your competition).