Sunrise Tours
Sunrise Tours is a St. Louis-based, family-owned and operated travel company that arranges and books group tours of popular destinations throughout the United States and around the world. Catered predominately at the 50+ demographic, every trip is all-inclusive and features a professional tour manager/guide. In addition to St. Louis, Sunrise tours has offices in Kansas City and Indianapolis (these three cities are also departure cities for every Sunrise Tours event).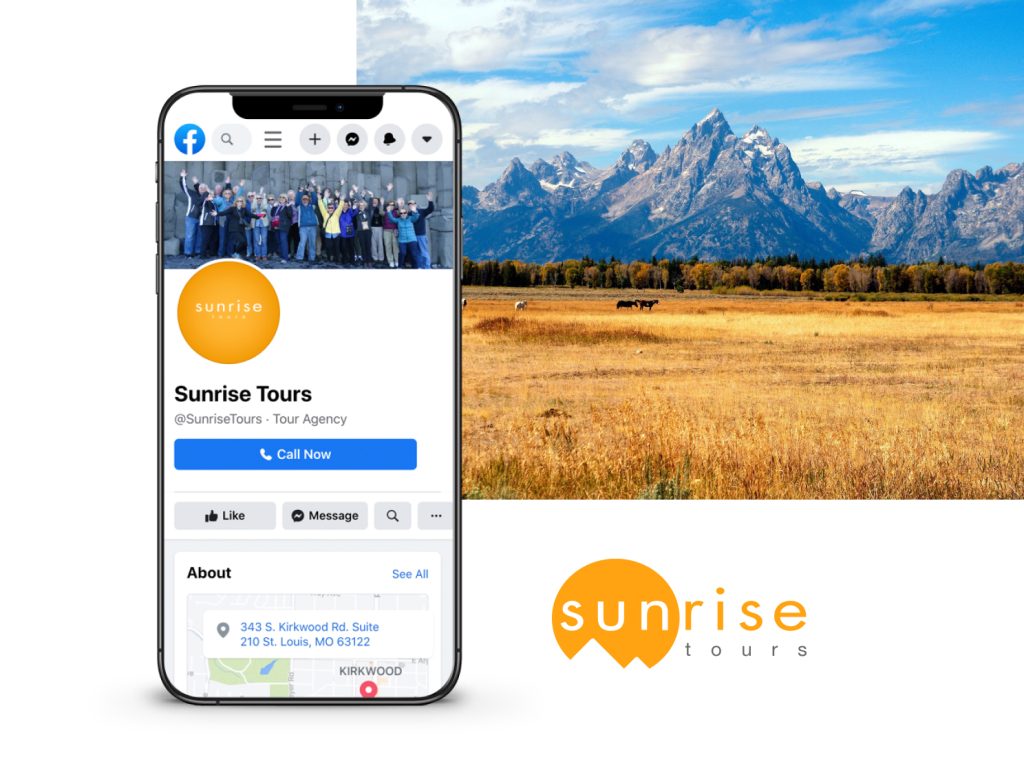 Challenge
Sunrise Tours relied heavily on repeat business and repeat customers in the past, but word of mouth marketing only goes so far. Sunrise Tours needed a way to reach a broader audience, attract new leads, and convert more sales. They had a Facebook presence and maintained an organic and spirited relationship with their most loyal followers, but that wasn't cutting it. They needed something bigger.
Takeaways
Word of mouth marketing can be an excellent way to grow your business, but it's not enough (especially in a market as competitive as that of the travel industry). And while social media is certainly a vital tool in terms of digital marketing, it's not going to do much without a coherent and goal-oriented strategy behind it. Sunrise Tours offered an excellent product, maintained a lively presence on social media, and had swarms of satisfied (and often repeat) customers. But by using all of this to their advantage, and enhancing their presence by way of targeted advertisements, Sunrise Tours was able to attract new customers, elevate their profile within the crowded market, and boost their bottom line.
How TG Helped
Sunrise Tours began their social media partnership with Timmermann Group in late 2019 with aspirations of using their Facebook presence to drive website traffic, connect with potential travelers, and generate and track qualified leads.
Audience Building
Improved Creative Assets
Goal Tracking
Audience Building
We started our social media efforts by building a series of cold audiences based on the makeup and demographics of existing Facebook followers. We ran a series of conversion-focused campaigns at users within a 100-mile radius of St. Louis. In addition to promoting upcoming trips, we used the platform to promote regional travel shows at which Sunrise Tours would be present. Those who clicked through to the site and filled out a general inquiry form were sent the latest Sunrise Tours catalog.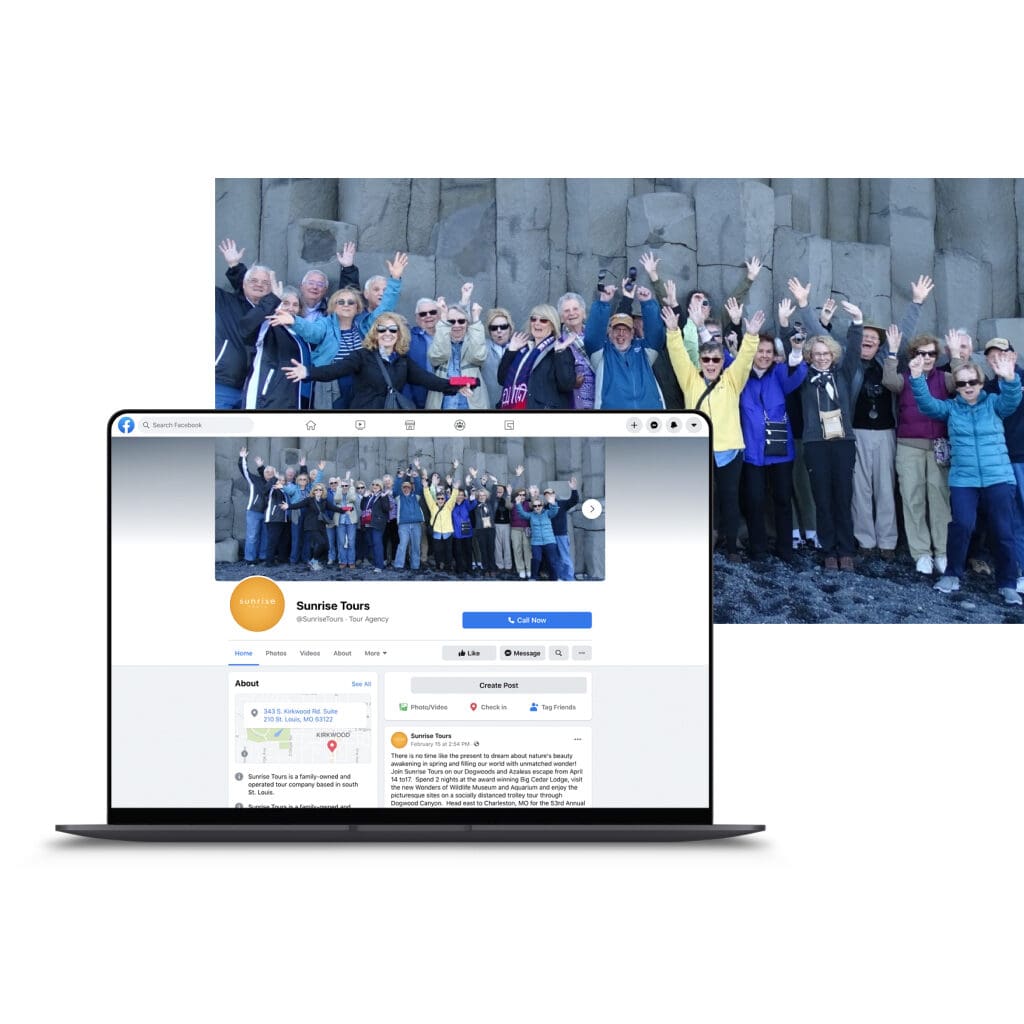 Improved Creative Assets
While breathtaking sceneries and skylines made up much of their channel's visual component, we aimed to embrace opportunities to reinforce the Sunrise Tours brand. Our design team crafted a collection of branded creative assets that gave sponsored and organic posts a more cohesive and polished look.
Goal Tracking
Prior to our partnership, Sunrise Tours' social media wins were measured in terms of likes, comments, and shares (and typically by existing and repeat consumers). In order to get a better grasp on exactly how effective our social efforts could become, we leveraged Google and Facebook Analytics to monitor specific user actions (reservation requests, phone number clicks, contact form submissions, booking form downloads, etc.)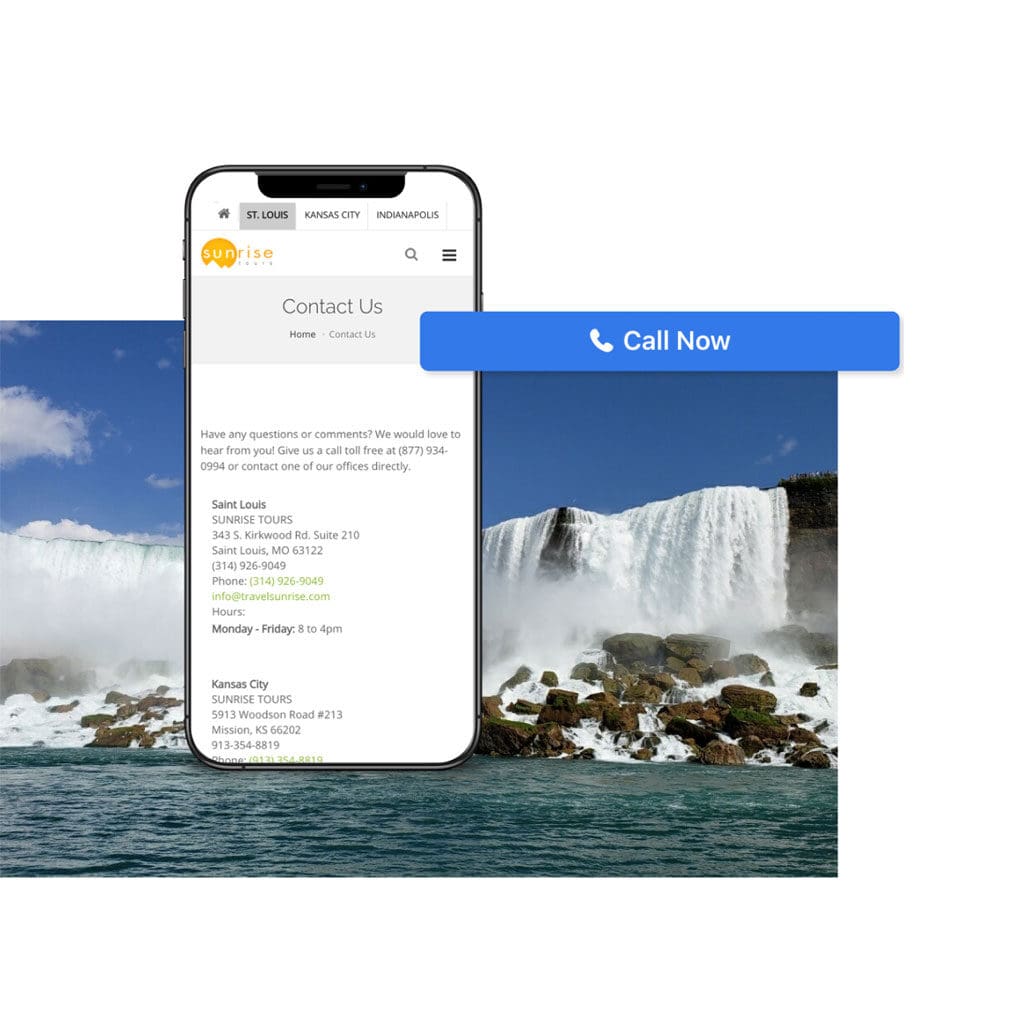 Results
Our collaborative efforts in rejuvenating the Sunrise Tours Facebook page sparked an 82 percent increase in Facebook impressions as well as a steady increase in website traffic. Sunrise Tours cited an overall increase in catalog requests, and most importantly, bookings as well.