CertaPro Painters®
CertaPro Painters® and Timmermann Group: A Masterstroke of Social Media Strategy
Since 1992, CertaPro Painters® has been transforming the residential and commercial painting service industry. As the largest residential painting contractor in North America, they remain committed to delivering personalized service to every customer through locally owned and operated franchise locations.
In 2021, CertaPro Painters® partnered with Timmermann Group, seeking to bolster their already successful residential customer base and expand their social media footprint towards commercial audiences. The ultimate goal? To raise brand awareness, enhance post engagement, and paint a more vibrant picture of their services on social media.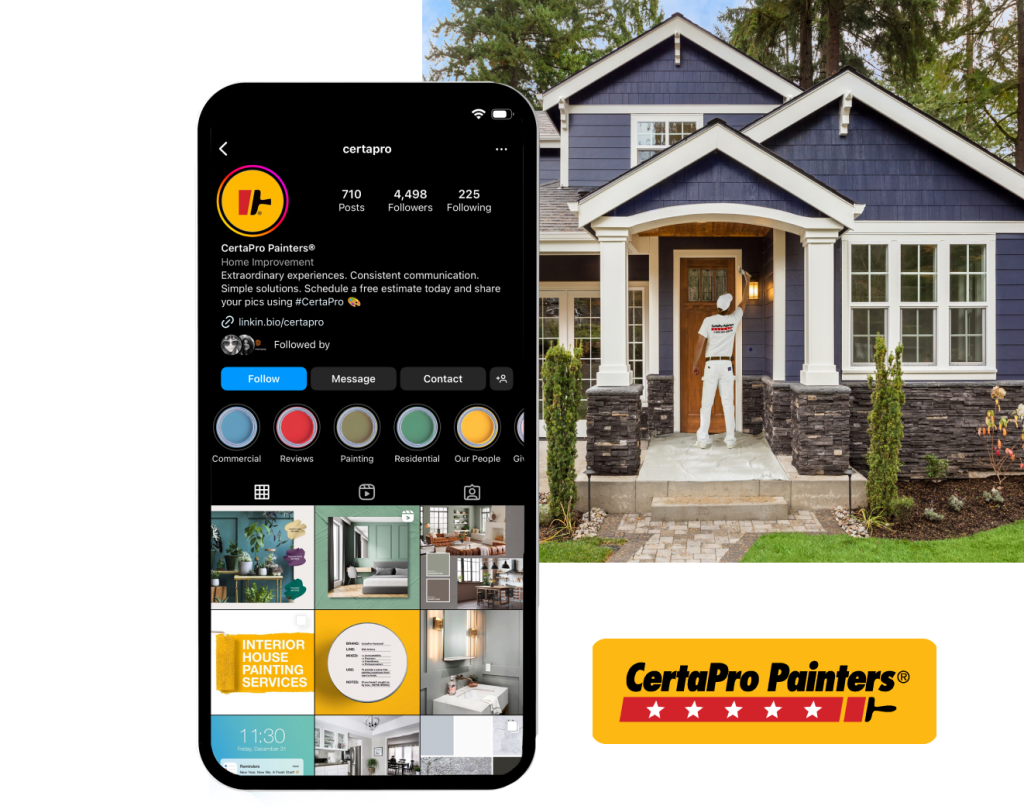 Developing A Colorful Social Strategy
Timmermann Group curated a strategy to grow CertaPro Painters®' social media engagement and following across Facebook, Instagram, Pinterest, and LinkedIn. By producing tailored messages and eye-catching, inspirational graphics, the plan was to present CertaPro Painters® as the go-to experts in both residential and commercial painting services.
This strategy was not only about showcasing the broad capabilities of CertaPro Painters® but also about highlighting the local franchises that add a personalized touch to their services. In this way, the brand was projected as both professional and relatable, making it memorable for all painting and related service needs.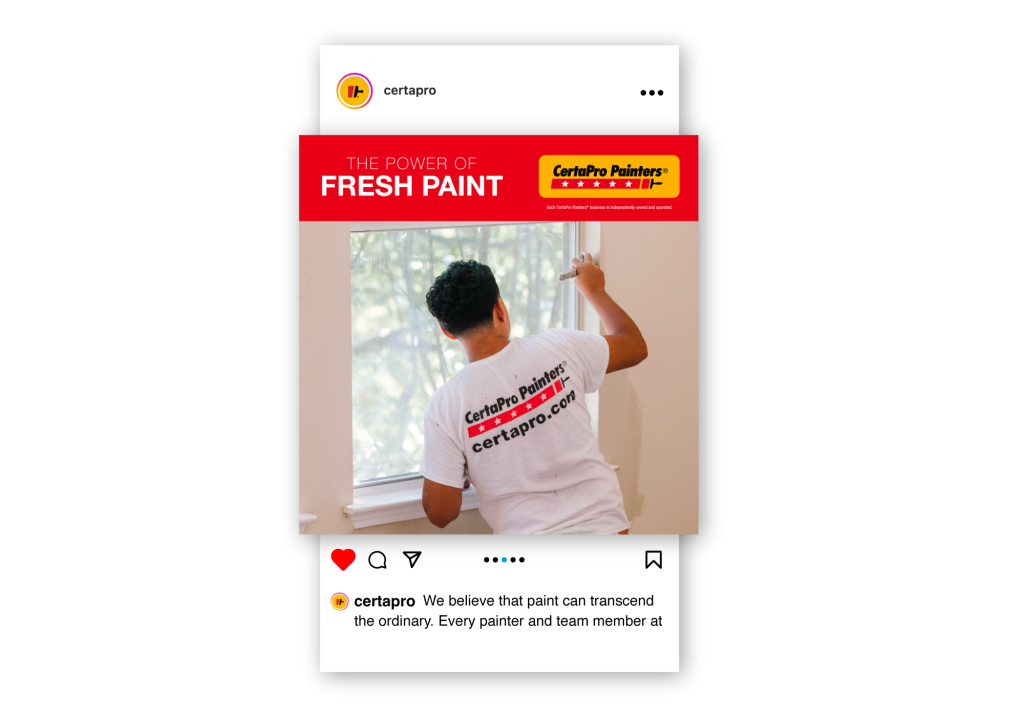 Brushing Up Social Media Platforms
Facebook: Timmermann Group revitalized CertaPro Painters®' Facebook page by enhancing graphics and developing messages that resonated with their audience. A focus was placed on balancing interior and exterior services based on seasonality and amplifying the services of specialized franchises.
Instagram: Capitalizing on Instagram's emphasis on visuals, professional photos, and captivating graphics were used to engage the desired target audience. Posts included inspirational color palettes, transformational before-and-after photos and videos (branded as CertaGloUps), and dynamic carousel posts.
Pinterest: Pinterest was leveraged to inspire homeowners and residential clients with mood boards and seasonal color palettes, cementing CertaPro Painters®' position as color design leaders in the industry.
LinkedIn: To reach a more professional audience comprising office owners and facility managers, relevant ads and messages were circulated on LinkedIn. These campaigns highlighted commercial services and company news, showcasing the brand's diverse service offerings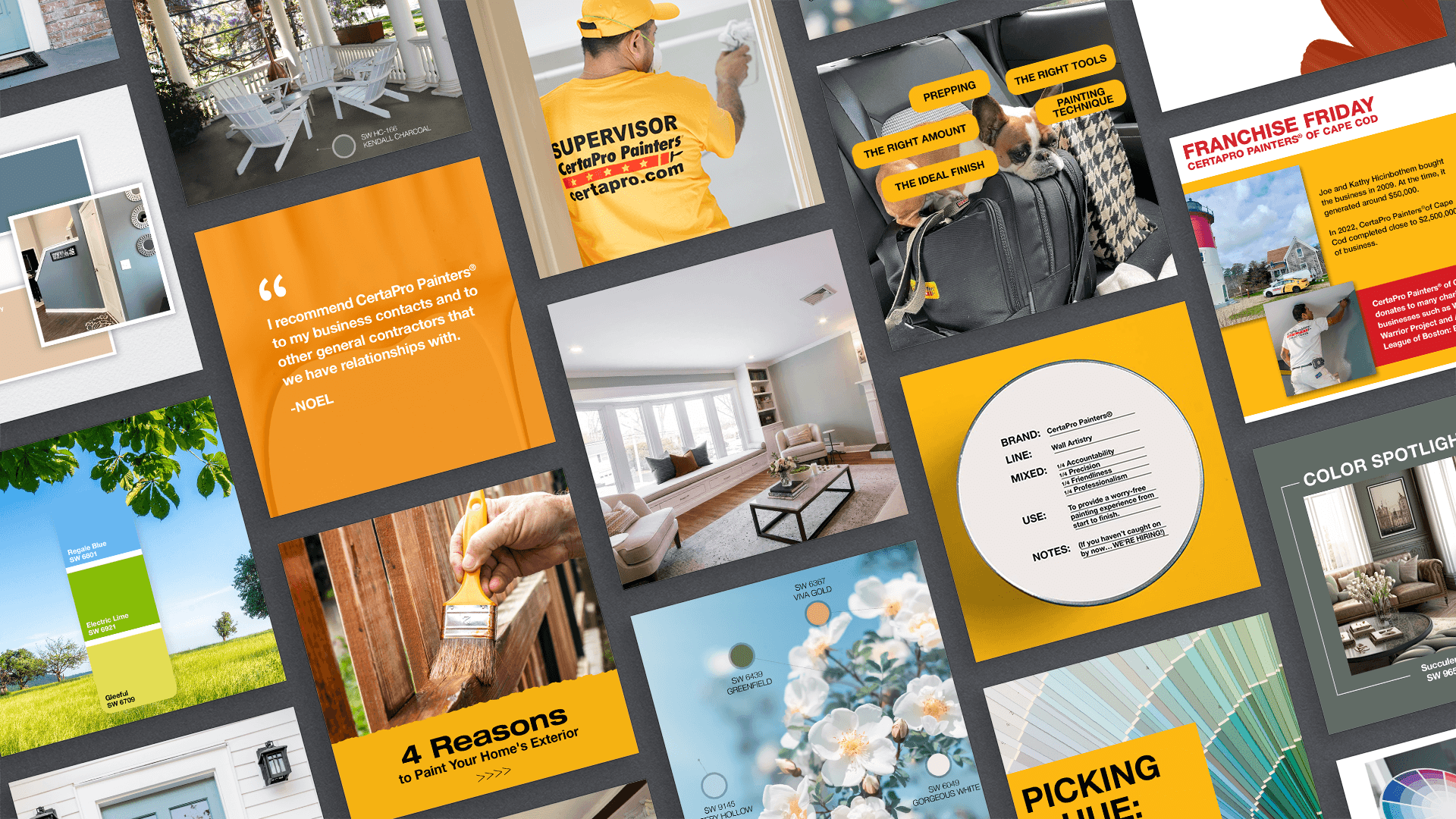 The Canvas of Success
The collaboration with Timmermann Group brought CertaPro Painters® an exponential increase in reach and engagement across all social media platforms. The success was measurable.
Facebook

Facebook saw over 2,000 new followers, 96 million impressions, 60,000 page views, and 1.2 million post engagements.

Instagram

Instagram attracted over 25 million impressions, 27,000 profile views, and 5,000 engagements.

Pinterest

Pinterest enjoyed over 1.4 million impressions, 26,000 engagements, and 61,000 repins.

LinkedIn

LinkedIn observed over 180,000 impressions and 15,000 engagements.

Goal Completions

The website saw over 1,500 goal completions directly from social media interactions.
A Lasting Impression
Following this immense success, CertaPro Painters® continues to work with Timmermann Group to refine and enhance their multi-channel social strategy, creating a larger impact for the company. This partnership has led to creative innovations such as introducing social media stories and an increased role in content creation for franchisee social channels.
The collaboration has also extended to CertaPro Painters®' National Conference, where Timmermann Group provides live coverage and content creation for both internal and external audiences. Furthermore, CertaPro Painters® has commissioned Timmermann Group to develop a custom social media webinar for their internal social media ambassadors, which is a testament to the value and expertise of Timmermann Group in social media marketing.
Conclusion
For service-based companies like CertaPro Painters®, keeping your brand top-of-mind for current and potential customers is essential. The right social media strategies can make your brand more accessible and effective. Whether you're managing a national brand, a franchise location, or a small business, navigating the constantly evolving platform of social media can be challenging and time-consuming.
The success of CertaPro Painters® serves as a testament to the power of partnering with an experienced social media marketing agency like Timmermann Group. They can help you focus on your business and customers while they ensure your social media marketing is done right.
Testimonial
"We enlisted the services of Timmermann Group in May 2021 in order to elevate our brand's social media presence. Since then, they have helped develop a strategy and create modern graphics that are aligned with our goals. The Timmermann Group team is always quick to adapt to our changing needs and provide in-person support at events as needed, which has been a huge asset for our internal team."
– David Hennessey, Digital Marketing Manager