Hughey Law Firm
The Hughey Law Firm is a South Carolina-based law firm specializing in personal injury claims with much of their business stemming from cases pertaining to injuries sustained by residents of nursing homes or assisted living facilities. Other practice areas include: wrongful death, catastrophic injuries, slip and falls, product liability, and worker's compensation. The three-person team works with, primarily, residents of Charleston but do extend services throughout the state of South Carolina.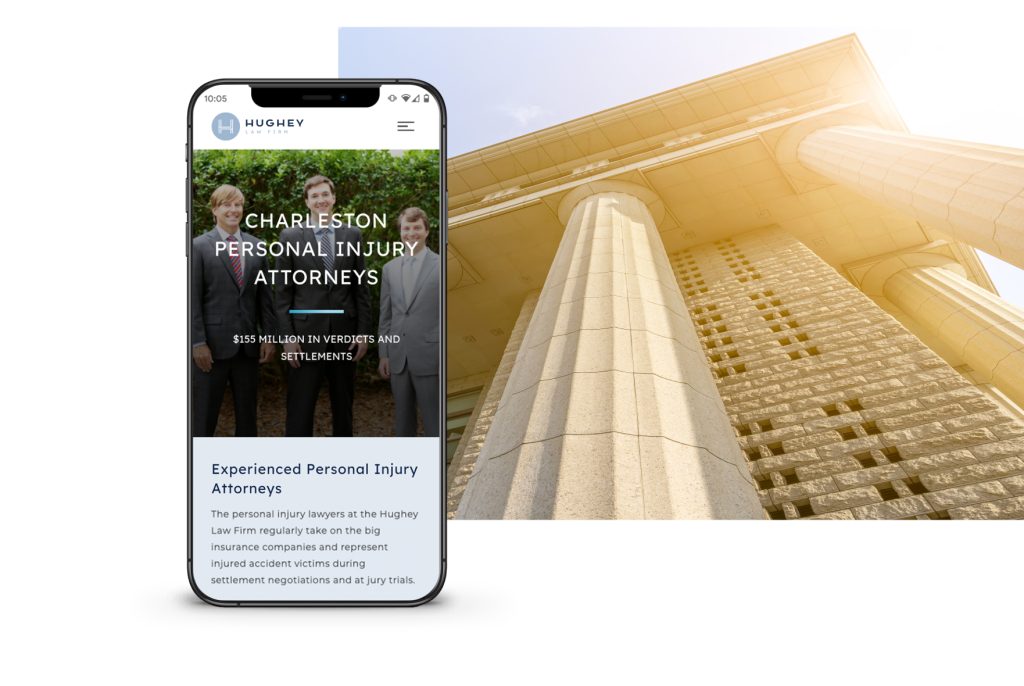 Challenge
Hughey Law Firm's website had the right SEO components, the right infrastructure, and the right content. Despite this, the site wasn't getting the job done. That is to say, it was not churning leads in the way that a prime law firm website should. In terms of the user experience, the site was in desperate need of an upgrade. Hughey Law Firm needed a site that could constantly turn traffic into leads and leads into clients.
Takeways
For law firms in particular, the importance of an attractive and user-friendly website cannot be understated. Your website is an argument in favor of your business. It must be a reflection of who you are, and the values you represent, as a firm. Your site needs to be professional, sleek, and informative. You may only have a few seconds of screentime to convince a potential client why your services are superior to those of your competition, and you simply cannot afford to lose this connection due to a crowded or overcomplicated site. By polishing and enhancing your site and your brand at large, you're setting yourself up for years of success.
How TG Helped
Since the structure of the Hughey Law Firm site was already in place, and SEO was already working in their favor, we just needed to give visitors a more user-friendly and visually-appealing experience with clear calls to action (and it needed to be navigable from all devices). We aimed to ensure that potential clients didn't become discouraged when visiting the site. It was decided that, apart from a website redesign, a top to bottom rebranding effort was in order.
Logo Design
Branding
Website Design
Logo Design
Our rebranding efforts began with a fresh new logo; something that would stand out from the waves of competing firms in the area. The logomark is the single most effective tool in the recognition and identification of any business.
Branding
Our team conducted an in-depth analysis to determine how Hughey Law Firm needed to be represented visually. In addition to developing a new logo, we assembled a comprehensive brand style guide outlining all essential brand assets and identity standards.
Website Design
Lastly, it was time to put everything together in a way that site visitors could find the information they needed quickly and easily. A new UX/UI interface allowed us to display the existing content in a clearer and more concise fashion. With a complete redesign, we were able to highlight key attributes of the business and draw users to take action without getting lost in a sea of content.
Results
This was not a start from scratch website build like other clients. It was important that we preserved the integrity of the site in terms of sitemaps and content. By enhancing it with a fresh new look, we were able to more adequately appeal to the average user. With a site that is easily accessible, scannable, and navigable from all devices while remaining distinct from the competition, Hughey Law Firm is taking steps necessary to convert online leads into satisfied clients.