Your website needs to effectively convey your firm's expertise and what sets you apart from your competition, but that's only the beginning. We can work with you to design and develop a site that blends cutting-edge digital technologies with timeless design elements to demonstrate your credibility and elevate your business.

Law Firm Web Design Services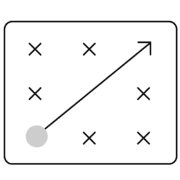 Strategy
If you're looking at revamping your law firm's website, you surely have one end goal in mind: attract clients and boost revenue. This is the difference between building a website and building a successful one. To get the results necessary to boost your law firm's brand and stake in the market, you must have the right strategies in place throughout every step.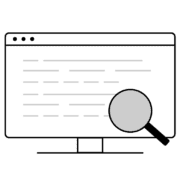 SEO
Search Engine Optimization (SEO) should be a huge focus for your law firm's website. Potential clients are searching for your legal services right now, but if your site isn't drawing the attention of Google, it's not drawing the attention of these leads either. And trying to optimize your current law firm site will be easier said than done, which is why it's often best to start from scratch with specific SEO goals in mind.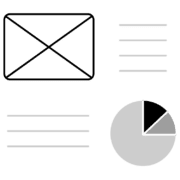 Information Architecture
Information architecture determines how information on your law firm's website content will be structured and housed. With a focus on your law firm's and your client's goals, you'll need to set up proper information architecture, sitemap, and strategies for how clients can best find the information they need.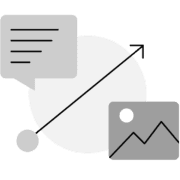 Content Strategy
Deciding what goes on each page of your law firm's website might sound like a simple task, but there are a lot of factors to consider: user experience, lead generation, organic SEO, and more. Without a focused content strategy, you lose an opportunity to influence your site visitors effectively.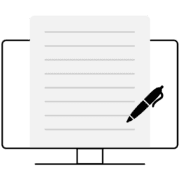 Copywriting
Compelling, informative copy completes the framework established by the content strategy. Copy communicates essential information about your law firm and the services you provide your clients. This is also the time to explicitly state what sets you apart from competing law firms.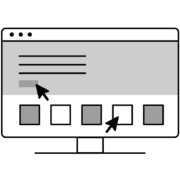 UI/UX Design
User experience (UX) and user interface (UI) are huge considerations of how users interact with your website. With good UX and UI design, users navigate your website with clear paths to convert.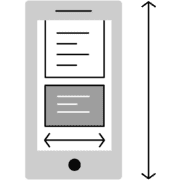 Responsive Design
It's almost certain that your clients will be viewing your site on screens of all sizes: phones, tablets, desktops, laptops, etc. Responsive design ensures that your law firm's website looks great and operates efficiently, no matter how accessed.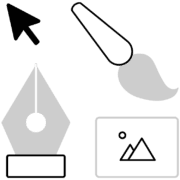 Visual Design
An unattractive website is a quick way to make a bad first impression. Excellent visual design is important in communicating your legitimacy and credibility to every potential client who visits your site.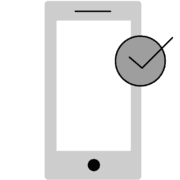 Mobile-First Mindset
Over the years, more and more web traffic has migrated to phones—and your law firm's website is no different. It's important to have a responsive design and consider that many of your prospective leads will only ever see your site from the palm of their hand. This is why you need to be just as focused on your law firm's mobile design.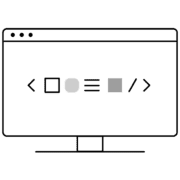 Web Development
Web development can be nebulous, so we'll crystalize it for you: We're talking about full-stack development with a custom content management system. We ensure that your law firm's website looks good on the front and back end and that it's usable by you and your team.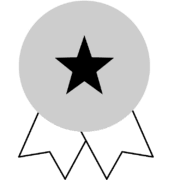 Superior Performance
The finest strategy, user design, content, art direction, and development will do nothing for your law firm's website unless it's performing just as you need it to and without interruption. In addition to a thorough Quality Assurance process during each step in our web design process, we test each site thoroughly for speed, accessibility, performance, and reliability.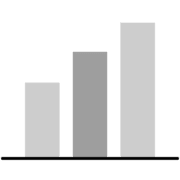 Analytics
It's our goal to build your law firm a website that inspires leads to becoming clients. And to do so, we must see how your site's visitors interact with the website. These statistics are readily available and integral to advancing your law firm's digital strategy.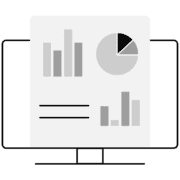 Results Monitoring
After designing a website to achieve your law firm's goals and setting up analytics tracking, it's time to monitor the results of your website. Our goal is to report on the results your law firm's new website is generating and make proactive recommendations for ways to further capitalize on or amplify those results.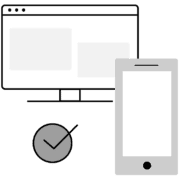 Support & Optimization
We know that things can come up after the launch of your law firm's website—copy changes or edits, new photos or blog posts, and updates to your CMS or plugins, just to name a few. That's why we offer ongoing website support and optimization on all our web design projects after the website's launch. We intend to partner with you throughout the construction of your new website and well into the future.
Law Firm Website Design Case Study
How to Find the Right
Law Firm Website Design Agency
Building a website representing your law firm will be a huge undertaking, and you must be comfortable with the agency you pick to take on such a project. So how do you find the right team? Here are a few tips to help you find the perfect law firm website design agency.
Look for an agency that:
01
Acts as a partner to your law firm
The right law firm website design agency will guide and advise you throughout the planning, design, development, and launching stages. The right agency will encourage feedback throughout the process and never leave you or your team in the dark. It's important to know what you want to achieve with your website and to find the team that can best help you reach these goals.
02
Doesn't outsource their work
Plenty of agencies tend to outsource certain aspects of your law firm's website design—including development and SEO—to third-party vendors. This can cause build delays and spell disaster post-launch when the site needs support. To ensure that you're getting the most out of your website and that it is completed accurately and efficiently, you'll want to work with an agent directly involved in every step of your site's development.
Many agencies specializing in law firm website design will claim to "follow best practices," but few live up to it. When deciding between agencies, ask them to define the claim as it relates to their business. And any agency worth your time and resources should be able to explain its best practices policy and exemplify it throughout the process.
04
Approaches design strategically
When all is said and done, if your website isn't easy to navigate and consistently driving leads, no amount of flash or flair is going to fix it. This is why your firm needs to find an agency focused on designing and implementing the perfect website that does exactly what you need it to at all times.
What you can do to prepare for your search:
It's important to have at least a general idea of what you're looking to spend on your law firm's website. Keep in mind that your website, if built correctly, will be one of, if not the leading generator of leads for your law firm. This is a worthwhile investment and not something you'll want to cut corners or cheapen in any way. Come to the table with a figure in mind, but make sure it is realistic (for you and the agency) and enough to get you the product your firm deserves.
Surely you already know the importance of doing thorough research. This is your chance to see what other law firm websites your agency has created and to decide early on whether or not the agency's views align with yours.
Again, do your research. Find out what other firms have said about their own websites. And while you'll certainly want to see the reviews on the agency's site, make sure to investigate Google reviews, as well, as these tend to be more unfiltered and honest.
Frequently Asked
Questions
Why is a Law Firm Website So Expensive?:
A lot goes into building a law firm website, and a quality team will devote the time it takes throughout every stage. Your goal should be to have a website at least as great (preferably better) than your leading competitors, which means making a financial investment on par with what they've already done. While discount agencies might allure you with promises of a better website for a fraction of the price, it just doesn't work like that. As with everything in this world, you get what you pay for.
How can you ensure you get a good ROI on your law firm's website?:
It all comes back to giving your site's visitors a positive experience and layout out clear goals for your site. Speaking specifically to law firm websites, your goal should be to generate client leads. You need to trust that your agency will build a site that will do just that. It isn't worth the investment if your site isn't consistently generating leads and making your law firm money.
What Is Law Firm Website Design?
Law firm website design is very important to the success of any law firm these days for many reasons. First, when people need legal advice or assistance, they typically go online to find an attorney or law firm to help them. Second, people are generally looking for legal help, so your law firm website design needs to rank on search engine results pages. Third, there are few industries as competitive as the legal profession. Investing in a high-quality, engaging law firm website design is a great way to stand out from the competition, establish your firm as qualified to help, and ultimately attract new clients. But it is important, especially in the legal world, to not just put up any old website and think you're covered. Precisely because you work in such a competitive industry, you need to make the strategic decision to work with a qualified marketing agency partner experienced in producing effective law firm website design that helps you achieve your firm's goals.
Many law firms select a marketing agency that only specializes in law firm website design. These companies claim to be experts at creating websites specifically for the legal profession. But what they deliver is far from what you're likely expecting. These websites are typically templates; these agencies only change the basic design to match your firm's logo and color scheme. Everything else, including the site's layout, functionality, and usability, is the same for every website they build. Because of this plug-and-chug approach, they can offer law firm website design at a lower price. But as is often the case, you get what you pay for.
No doubt your law firm expects your investment in your new website to improve your business by attracting new and better clients and aiding with talent acquisition efforts. New client inquiries, growth in billings, and return on investment are all likely metrics that your firm will be paying attention to. To properly and effectively help your firm grow and prosper, you should invest in a fully custom law firm website design. This from-the-ground-up approach will allow your law firm to create a new website that is exactly what you want and needs it to be, a site that stands apart from the rest of the cookie-cutter law firm websites and helps you improve your firm's bottom line.
Content creation plays a prominent role in any successful website build but is particularly important for law firm website design. People searching for legal help are usually anxious, confused, and stressed. They are seeking legal representation that they can trust. So your website's content–including the words, images, and functional aspects–must demonstrate your firm's expertise while simultaneously putting the client at ease. Your new website is an ideal way to accomplish this important task. Through copywriting, photography, blog posts, videos, and other forms of content marketing, you can prove to the user that your law firm has the experience and resources necessary to provide top-notch representation and help them resolve their legal issues.
Robust content offerings will also help your law firm website rank more highly on search engine results pages. Remember, people searching for a law firm need immediate help, so they will likely not scroll through the results pages to find a firm to help them. They will likely contact law firms that appear higher in the search results. Working with a dedicated agency partner that understands content marketing and search engine optimization, especially for the legal industry, will help ensure your law firm doesn't miss out on opportunities to attract new clients. It is important to note that your SEO efforts should include keyword phrases that your clients are likely to search for, which may be different than the legal language you might use internally to describe what your law firm does.
Once your firm has incorporated content marketing and SEO into your law firm website design plans, another key aspect of your new site is to make it easy and comfortable for users to contact your firm. This can include an easily clickable phone number, a short contact form that will be emailed to your team, and/or an online chat feature to speak with potential clients in real time. It's best to offer multiple options, as different people prefer to engage differently. Accommodating all types of communication helps ensure that they will reach out to you so that you can directly demonstrate your ability to help them.
Another important step is tracking the performance time of your law firm's website design efforts. These days the capability exists to track and monitor almost any type of online user behavior or action, and properly analyzed data will help your law firm make better-informed decisions on how to invest your future marketing dollars. Your agency partner should be able to help you create a beautiful new website that is functional, helps your firm grow, and can be optimized in the future to keep your law firm at the forefront of your industry.