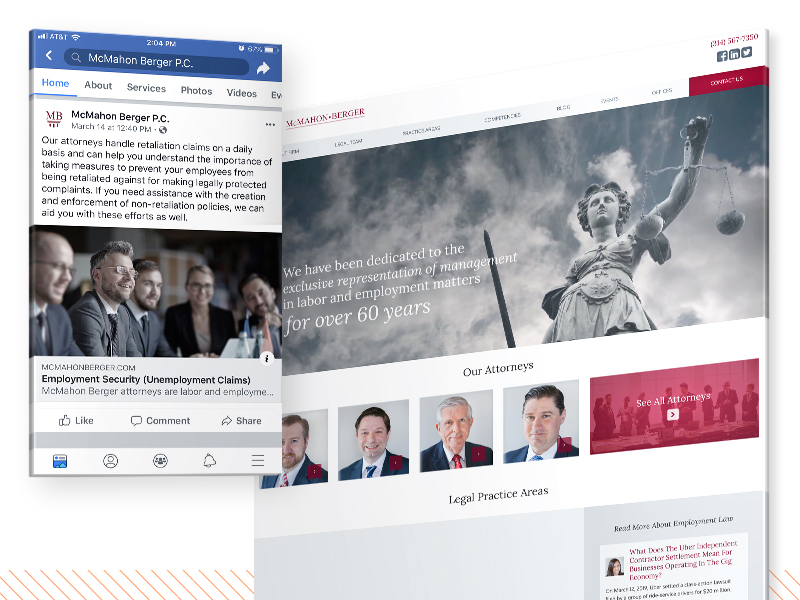 What Is
Law Firm Website Design?
Law firm website design is very important to the success of any law firm these days for many reasons. First, when people need legal advice or assistance, they typically are going online to find an attorney or law firm that can help them. Second, people generally are looking for legal help right now, so your law firm website design needs to rank on search engine results pages. Third, there are few industries as competitive as the legal profession. Investing in a high-quality, engaging law firm website design is a great way to stand out from the competition, establish your firm as qualified to help, and to ultimately attract new clients. But it is important, especially in the legal world, to not just put up any old website and think that you're covered off. Precisely because you work in such a competitive industry, you need to make the strategic decision to work with a qualified marketing agency partner that is experienced in producing effective law firm website design that helps you achieve your firm's goals.
Many law firms select a marketing agency that "specializes" in law firm website design. These companies claim to be experts at creating websites specifically for the legal profession. But what they actually deliver is far from what you're likely expecting. These websites are typically templates; the only thing these agencies change is the basic design to match your firm's logo and color scheme. Everything else, including the layout, functionality, and usability of the site is the same for every single website they build. Because of this plug and chug approach, they are able to offer law firm website design at a lower price point. But as is so often the case in life, you get what you pay for.
No doubt your law firm expects the investment you are making in your new website to improve your business by attracting new and better clients and also aiding with talent acquisition efforts. New client inquiries, growth in billings, and return on investment are all likely metrics that your firm will be paying attention to. To properly and effectively help your firm grow and prosper, you should choose to invest in a fully custom law firm website design. This from the ground up approach will allow your law firm to create a new website that is exactly what you want, and need it to be, a site that stands apart from the rest of the cookie-cutter law firm websites out there, and helps you improve your firm's bottom line.
Content creation plays a prominent role in any successful website build but is particularly important for law firm website design. People who are searching for legal help are usually anxious, confused, and stressed. They are seeking legal representation that they can trust. So your website's content–including the words, images, and functional aspects–all need to demonstrate your firm's expertise while simultaneously putting the client at ease. Luckily, your new website is an ideal way to accomplish this important task. Through copywriting, photography, blog posts, videos, and other forms of content marketing, you have the opportunity to prove to the user that your law firm has the experience and resources necessary to provide top-notch representation and to help them resolve their legal issues.
Robust content offerings will also help your law firm website rank more highly on search engine results pages. Remember, people, searching for a law firm likely need immediate help, so they will likely not scroll through pages and pages of results to find a firm to help them. More likely they will contact law firms that appear higher in the search results. Working with a dedicated agency partner that understands content marketing and search engine optimization, especially for the legal industry, will help ensure that your law firm doesn't miss out on opportunities to attract new clients. It is important to note that your SEO efforts should include keyword phrases that your clients are likely to search, which may be different than the legal language you might use internally to describe what your law firm does.
Once your firm has incorporated content marketing and SEO into your law firm website design plans, another key aspect of your new site is to make it easy and comfortable for users to contact your firm. This can include an easily clickable phone number, a short contact form that will be emailed to your team, and/or an online chat feature to speak with potential clients in real-time. It's best to offer multiple options, as different people prefer to engage in different ways. Accommodating all types of communication helps ensure that they will reach out to you so that you then have the opportunity to directly demonstrate your ability to help them.
Tracking the performance over time of your law firm website design efforts is another important step in the process. These days the capability exists to track and monitor almost any type of online user behavior or action, and this data, properly analyzed, will help your law firm make better-informed decisions on how to invest your future marketing dollars. Your agency partner should be able to help you not just create a beautiful new website, but also one that is functional, helps your firm grow, and can be optimized in the future to keep your law firm at the forefront of your industry.