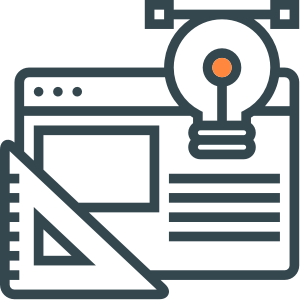 What is
Graphic Design?
Graphic design is the process of communicating messages and ideas through visual content. It incorporates graphics, images, colors, fonts & typography, and visual layout to create aesthetically appealing designs that also serve a functional purpose. Effective graphic design should be guided by your company's marketing strategy and focused on solving a problem. As with all aspects of your marketing, graphic design should be rooted in both projecting the image your business aspires to and in addressing the needs of your customers. Properly executed, graphic design elevates your brand image to help build meaningful relationships with consumers. This in turn generates brand loyalty and increased sales for your business.
When many people hear the term 'graphic design', they immediately think of a company logo. Logo design is certainly an important piece of a business's visual identity, but it is only one part of the equation. Graphic design should inform every visual aspect of your business including company signage; print marketing materials such as brochures; business cards, letterhead & other business collateral; company website and other digital marketing; and product packaging. Your business and brand needs to communicate your value proposition consistently and cohesively to the marketplace, and a strategic graphic design approach is required to do so.
It is important that you work with a graphic design partner that has knowledge and experience in both traditional and web-based, or interactive, design. This is because what works well in a print piece does not always effectively translate to the web, and vice versa. Each element should be designed for the medium in which it will exist, as well as for each medium's specific target audience.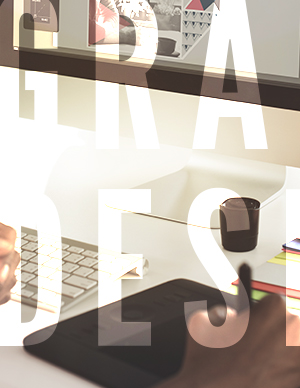 Why is Graphic Design
Important?
Graphic design establishes visual identity to your brand. This is important first because it helps develop your company's overall branding, and also because it helps your brand stand out from your competitors. More than ever in today's hectic world, you must fully capture consumers' attention to inform them about your products and services. And you must do it quickly. Compelling graphic design helps you accomplish this.
Good graphic design focuses on the needs of your customers and provides a quality user experience (UX). Whether working on a new website, brochure, social media post, or product packaging, a good designer strives to create something that connects with people emotionally, and inspires them to take action. The graphic designer creates each individual element with purpose, but also takes a holistic view of the project to ensure that all information is displayed harmoniously. This focus on the end user is in keeping with graphic design's mandate to solving a problem. Good UX leads to positive perceptions of your brand, which in turn leads to greater brand equity, trust, and sales. Bad UX, on the other hand, can engender negative perceptions of your brand and result in losing customers to your competitors. This is why it is necessary for your business to work with a graphic design agency partner to help you visually tell your brand story in a way that connects with customers and improves sales.
Why Choose
Us?
We have a talented team of in-house graphic designers who, with vastly different backgrounds and experiences, each bring a different style and eye to the ever-growing Timmermann Group portfolio. We utilize a custom approach to every design project we take on in a collaborative effort to artistically and accurately convey the values represented by your company. An integral component of Timmermann Group's unique brand strategy development processes, our designs are versatile and created with the intent that they be used across multiple digital and print marketing platforms. Our team would love to partner with yours to create, elevate and define your company's brand identity. If you're looking for graphic design that will take your brand to the next level, let's talk.