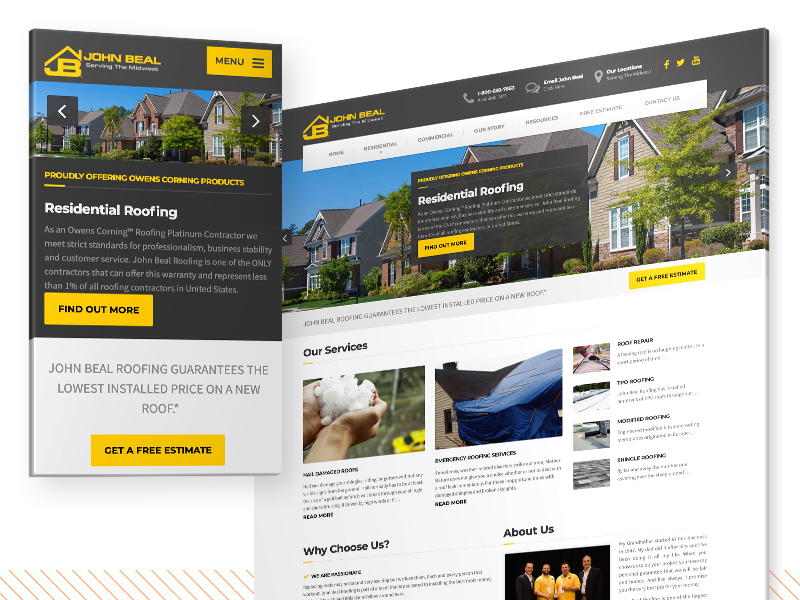 What is
Roofing SEO?
SEO, or "Search Engine Optimization", is essentially the process of getting your website noticed by Google and other search engines. The better your SEO, the higher you'll rank in organic (i.e. free or unsponsored) search results. What this means for your roofing company is that when a potential customer heads to Google to search for things like "Roofing Companies Near Me" or "San Antonio Roofing Contractors", they're finding you first.
Unfortunately, ranking on Google is easier said than done. It is highly competitive, and for good reason. Keep in mind, every other roofer in the world wants their own name on Google's first page just as much as you do. A high ranking website is basically Google's way of telling potential customers what roofing companies are the most credible.
So how does Google decide who gets those coveted top spots? This is where it gets complicated. Google has a very particular and ever-changing algorithm that evaluates factors including but not limited to page speed, mobile-friendliness, backlinks, domain authority, and website content. To put it another way, a roofing company with a thorough and user-friendly website comprised of content catered specifically to those in the market for new roofs will rank higher than a website that is shoddy, slow and largely uninformative.
That's not to say that one company's roofs are superior to the other's by any means. In fact, that may not be the case at all. Remember, search engines only rank the quality of a roofer's website and domain–not the quality of their craftsmanship or customer service level.
In theory, all ranking on the first page of Google means is that customers are far more likely to come across a high ranking roofing website as compared to the low ranking site. This increased visibility puts the high ranking site at a major advantage when it comes to closing the deal.
Why is Roofing SEO
Important?
To put it simply: People trust Google. They trust it to give traffic updates, buy movie tickets, deliver weather forecasts, find the best sales, turn on the lights, and answer every random question imaginable. So it shouldn't come as a huge surprise that they're trusting in Google to find the best roofers as well. In the eyes of your consumers, a high ranking page on Google is the ultimate signal of trust and authority.
A website that ranks on the first page of Google is the best lead machine you'll ever use. Unlike GoogleAds (which naturally favors Google's paying clients), organic search is not a pay-to-play club. Your competitors can't just pay the folks at Google a bunch of money in exchange for your spot on the first page. That valuable real estate is simply not for sale. A medium like radio or TV, in contrast, has only a small amount of commercial inventory available, which will often go to the highest bidder. And once it's gone, it's gone.
And because ranking on Google is not a saleable commodity, it will also yield you your best ROI. While developing and maintaining your website will certainly be a fair and necessary financial investment on your end, your high ranking website is essentially free. You don't need to pay Google for the web traffic it generates. In theory, millions of people could click that link and it won't cost you a dime.
So consider this next time you're scouting neighborhoods searching for storm damage in hopes of chalking up your next sale. These homeowners are likely way ahead of you and are already Googling roofing companies in the area. The question is, are they finding you? Or are they finding your competition?
Why Choose
Us?
Timmermann Group is a full-service digital marketing agency focused on delivering strategy and implementation. We won't just come up with a roofing SEO plan, drop it off and wish you the best of luck. We want to partner with you every step of the way. Timmermann Group has a lot of experience and a proven track record working with roofing companies. In fact, our president, Rob Timmermann, used to be the owner of his own roofing company, which is a major factor as to why we're so involved in the industry today. And it's actually Rob himself who spearheads our SEO efforts, so you can be confident that our team will find the best insider strategies to get your roofing company's page discovered by search engines and by customers.