What is WooCommerce and Why Do You Need It?
To ensure their websites are beautiful, functional and profitable, a growing number of e-commerce business owners are turning to WordPress for it's user-friendly interface and popular plugins such as WooCommerce. WordPress helps you create and maintain a user-friendly website for your business, provide a built-in blog, and offers a number of helpful content management features, including plugins, themes, and widgets. Each plugin and widget has its own unique capabilities, so you can choose the ones that work best for your needs. But, WooCommerce is arguably one of our favorites and for good reason!
WooCommerce is an especially popular WordPress plugin designed to provide an easy-to-use, online business solution to e-commerce websites. Currently, there are over four million active WooCommerce installations on WordPress, as many businesses, both small and large, have chosen to use it to power their websites. Similar plugins, such as Shopify and Easy Digital Downloads, only have active installations in the thousands. 
Why, exactly, has WooCommerce gained such extreme popularity among business owners? What does it do that other e-commerce plugins don't? And what do you need to know about WordPress and WooCommerce to use this plugin to your advantage?
All businesses must have an online presence to stay relevant and competitive in the modern era. Social media profiles and SEO have become vital strategies for online marketing, but you shouldn't forget about your business's website. Simply having one isn't enough to set you apart from your competitors, and an old, outdated website that's difficult to use isn't doing you any favors. As a business owner, you have to make website design a priority, because a great website design can drive results and, ultimately, conversions. Which is exactly what makes WooCommerce such an important asset.
What Is WooCommerce?
WooCommerce is a popular WordPress plugin for business websites, and for e-commerce sites in particular. Just like WordPress itself, the plugin is open-source, meaning that it is free for anyone to use, access, and modify. WooCommerce supplements an e-commerce web design, allowing online merchants to integrate e-commerce support directly into their WordPress sites. It's easy to use and provides a variety of features — including customization options and even more add-ons and extensions — that make it all the more functional.
Essentially, WooCommerce facilitates and simplifies the entire process of selling your business's products and services, whatever they may be, on your WordPress-powered website.
How Does WooCommerce Work?
The way WooCommerce works is actually fairly straightforward. Because it is a plugin and not an entirely separate platform, you must have a WordPress site to use it. After creating your WordPress site, you can install the plugin and connect it directly to your site. After changing the settings to your liking and inputting your product information, WooCommerce provides e-commerce storefront functionality to your site.
Because of its extensive customization options, WooCommerce works differently for every website. The plugin supports many other extensions and add-ons, which is exactly what enables you to tailor WooCommerce specifically for your needs. The ability to create a unique plugin is part of why WooCommerce has become such a popular e-commerce solution.
What are The Benefits of WooCommerce?
In addition to the customization options available, there are many other appealing features drawing business owners to WooCommerce. Not only is it free to start using, but it's also highly accessible and user-friendly, whether or not you're already familiar with WordPress web design. WooCommerce offers analytics tools, countless different themes, detailed documentation and support, forums and online communities, and store optimization options.
Some additional benefits and features of WooCommerce include:
Data Control: You retain complete control over all of your business's data, including everything from customers' information to metrics related to your store's performance. With other plugins or third-party applications, if they were to close or discontinue their services, you would lose all of your data, which is information you need to continually improve your business.
Friendly to Mobile Devices: WooCommerce is mobile-friendly, so all of your customers can use your online store regardless of what device they use to access it. More and more customers use their mobile devices to make online purchases, and the number of mobile e-commerce transactions is only expected to grow. If your e-commerce plugin, and therefore your online store, doesn't support mobile users, you could be missing out on potential sales.
Product Control: With WooCommerce, you have complete control over your products. You can sell any type of product, at any time, tag and categorize them however you like, and create as many variations of each product as you want to.
Shipping Options: You can also customize your shipping options and rates. You can allow customers to pick up an item, charge a different rate for local shipping than you would for distant shipping, add extra charges for heavy or strangely-shaped items — whatever works best for your business. You can even auto-detect a customer's general location to give everyone personalized shipping options.
Shopping Cart Features: WooCommerce even lets you customize your shopping cart. You can add coupons, offer different payment methods, set a default currency, and more. This simplifies the entire checkout process for customers and business owners alike.
Simplified Tax Management: Taxes are an inevitable part of any business, but the WooCommerce plugin allows you to handle taxes directly in your store. You can automatically calculate sales tax based on location, set custom tax rates, and control the taxes associated with your shipping costs.
Generally, WooCommerce offers more features than other plugins. Some are geared toward selling a specific type of product, such as how Easy Digital Downloads focuses on digital products, which narrows the scope of what the plugin itself can do. Others, like Cart66, don't offer customization to the same extent and try to limit the need for and use of add-ons. Others are better suited to small businesses, like WP EasyCart, which can be too limiting for medium, large, or growing businesses. Even when comparing WooCommerce to extremely similar plugins, such as Magento, it still wins because it is endlessly customizable, free to start using, and more user-friendly than its competitors.
Is WooCommerce Free?
WooCommerce is free to install, set up, and get started. It's an open-source project, so its code is readily available to anyone who wants to access it. Further, many developers modify the code to suit their own needs, so the updates are free to install and use as well. However, you'll likely need to include different themes and extensions, or integrate with other tools and platforms to tailor WooCommerce to your needs — which you might have to pay for. The price depends on the add-on; while some are free to use, others can cost as much as $250. The right tool, though, may just be worth the cost — especially compared to other e-commerce platforms that charge annual fees or carry other costs out-of-the-box.
WooCommerce Themes
WooCommerce themes determine how your store will appear to your visitors. There are thousands of different themes to choose from, both in the WordPress Theme Directory and from independent creators. Some themes are free to use, but you have to pay for others.
While finding a great theme at no cost may sound perfect, there are a few things to be aware of before committing to a free theme. Because they're so easily accessible, it's likely that many other websites are already using that theme. Further, many free themes have limited features and functionality, aren't updated frequently, and have no technical support if you have an issue. Premium themes, on the other hand, are more unique and customizable, are updated more often, and provide technical support if you have a problem. A free theme may work if you're just starting to create your online store, but for established, large, or growing businesses, a premium theme is well worth the investment.
Some of the most popular WooCommerce themes include:
WooCommerce Extensions
WooCommerce extensions are precisely what make the plug-in so effective and efficient. They offer extra functionality, highly desirable features, and customization options that simplify the process of creating and running an online store.
There are hundreds, if not thousands, of different WooCommerce extensions to choose from. Some of them are free, and you have to pay for others, but just as with themes, you'll get more features and support with premium extensions. A free plug-in may work well for beginners, but it's worth investing in higher-quality tools if you're trying to grow your e-commerce site.
Some of the most popular WooCommerce extensions available include:
How To Use WooCommerce
WooCommerce is fairly simple to install, set up, and use, especially if you're already familiar with WordPress. However, there are several steps you have to take before installing WooCommerce, and a few things to keep in mind as you go about the installation process.
First of all, you must have a website on WordPress to use WooCommerce. Remember, it's a WordPress plugin, so if your site is powered by a different publishing platform, you won't be able to use WooCommerce. Secondly, you must have a self-hosted website with your own domain name. Finally, your site must have a theme that's compatible with WooCommerce. Once that's taken care of, you'll have everything in place to begin the installation process.
Step 1: Install WooCommerce
There are three different ways you can install the WooCommerce plugin:
Option One: You can create a free account on WooCommerce.com, or use your existing WordPress account to sign up. You can choose to:
Use the pre-installed solution from the website
Auto-install WooCommerce on your existing WordPress site
Or download the zip file and manually install it yourself

Option Two: You can download the WooCommerce plugin.
Go to your WordPress website
Go to your Dashboard, then select "Plugins"
Then select "Add New", and finally, "Upload"
Select the downloaded WooCommerce plugin, hit "Install", and select "Activate."
Option Three: You can search for the WooCommerce plugin directly in your WordPress site.
In your website, go to your Dashboard and select "Plugins"
Select "Add New" and then "Search Plugins"
In the search bar field, search for "WooCommerce"
Select "Install" and finally, "Activate"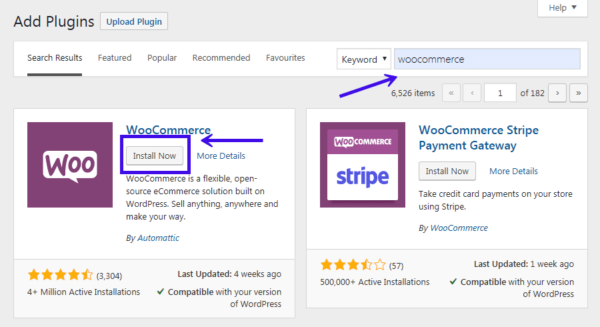 Select whichever method is easiest for you.
Step 2: SetUp WooCommerce
No matter how you decide to do it, once you activate the plugin, you will be taken to the WooCommerce Setup Wizard. While you don't have to use the wizard to set up your WooCommerce extension, it does simplify the process greatly.
Step 3: Create Payment Options
First, the wizard will ask for information about your store, including:
The location of your store and the currency you'd like to use
What types of products and/or services you sell
And whether or not you sell your products in person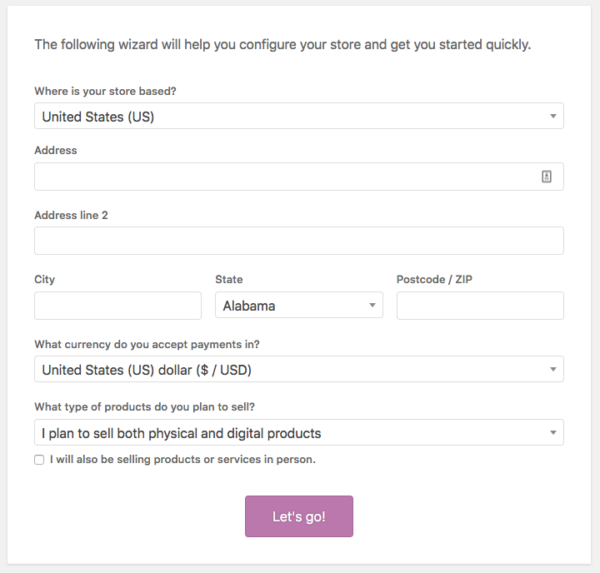 Next, it will ask about payment methods. The screen you see next will depend on whether or not you sell your products in person. If you do not sell your products in person, you'll be shown Stripe and PayPal.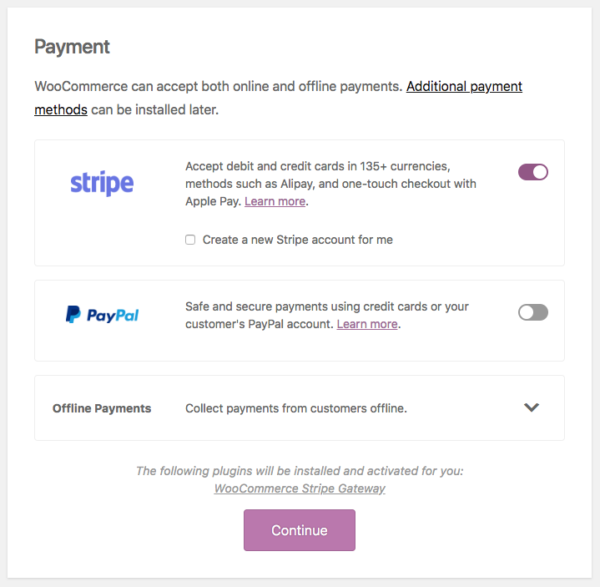 If you do sell your products in person and you live in Australia, Canada, Japan, the United Kingdom, or the United States, you'll be shown Square, PayPal, and Stripe.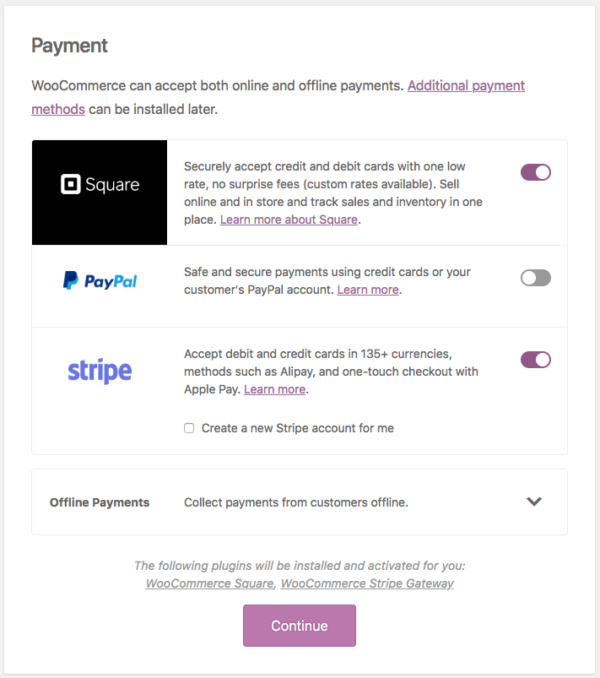 If you live in Austria, Denmark, Finland, Germany, the Netherlands, Norway, Sweden, or the United Kingdom, you'll also be shown Klarna.

If you live in Australia or New Zealand, you'll also be shown eWAY.

If you live in South Africa, you'll also be shown Payfast.

You can easily choose which payment methods you accept by sliding the button for each method either on or off. Your selected methods will be installed and activated automatically upon selection. You can always go back and uninstall payment gateways you no longer use, or install additional gateways you initially didn't want.
You can also choose to accept offline payments; if you do, you'll see another menu. You can use the same on/off toggle to choose whether or not you want to accept check payments, bank transfer payments, or cash on delivery.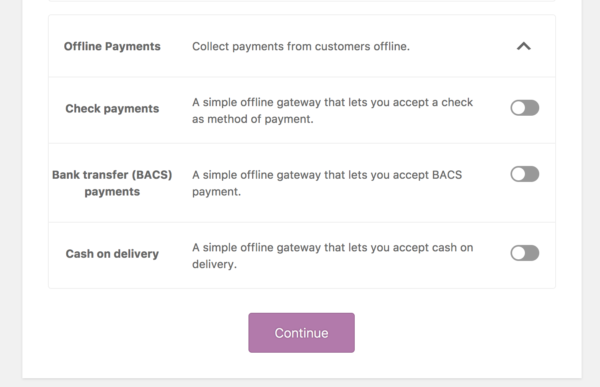 Step 4: Create Shipping Methods
After deciding on your payment gateways, you'll have to configure your shipping settings.
First, check the box to print shipping labels at home (note: This feature is only available to business owners in Canada and the United States).
Then, select a unit of measurement for both product weight and product dimensions.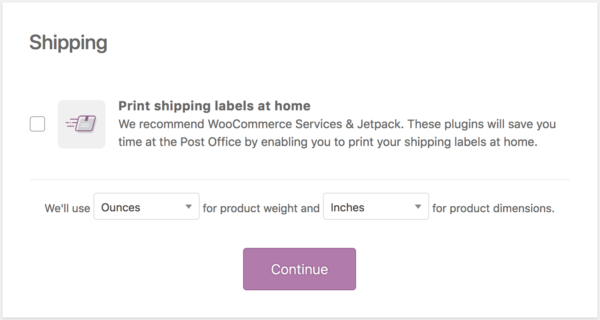 Step 5: Add Recommended Plugins
Next, WooCommerce will suggest additional plugins and extensions for you to download.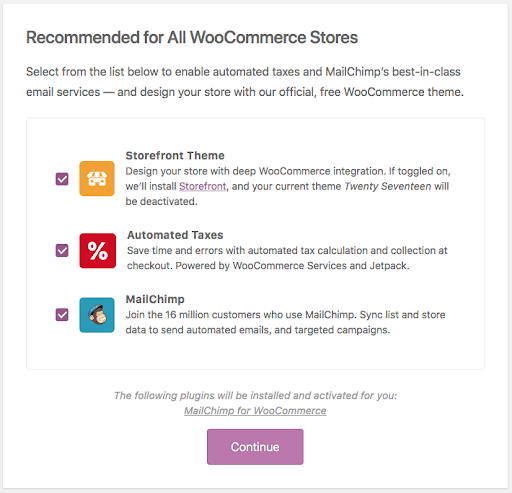 It will show three plugins that are recommended for all WooCommerce stores:
Storefront Theme: This online store theme will replace whatever theme you currently have installed.
Automated Taxes: This plugin will automate tax calculation and collection for customers at checkout.
MailChimp: This extension will help you send automated emails and targeted campaigns to your customers.
Simply select the box next to each add-on you want to install. The wizard will automatically install whichever plugins you choose.
Note: If you select Automated Taxes, you will be required to connect your WooCommerce store to Jetpack.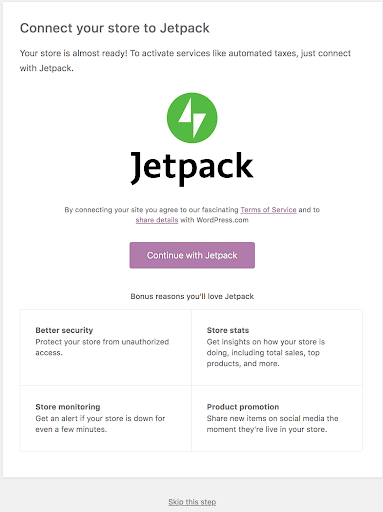 Depending on your location and responses to the wizard's previous questions, you may be shown additional plugins to install. If you choose to install any of these other suggested plugins, the wizard will activate them automatically.
Step 6: Final Steps
After installing the recommended plugins, the Setup Wizard is complete. You will be given the option to:
Sign up for the WooCommerce newsletter
Select the "Create a Product" button
Use the Built-in Product importer to upload your existing products via CSV
Review and change your settings
Watch the WooCommerce Guided Video Tour
Or read the WooCommerce Getting Started guide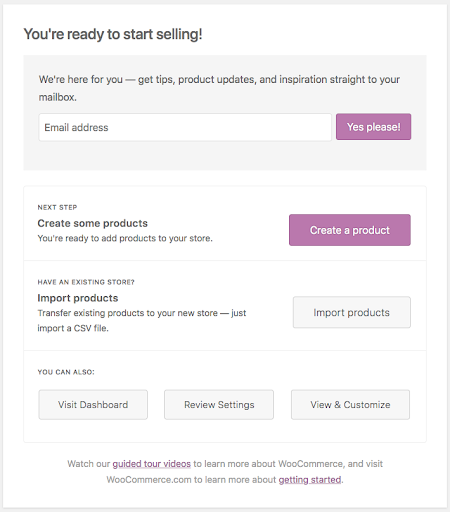 All of these are optional; select the steps you're interested in doing, and then you're ready to use the WooCommerce plugin.
If you skipped the Setup Wizard or want to make changes after you've completed it, you can rerun it at any time. On your WooCommerce Dashboard, simply go to "Help," then select "Setup Wizard."

WooCommerce Help and Support
If you have questions or need help with WooCommerce, there are several different ways you can get help.
Search WooCommerce's documentation.
You can enter your question in the search box at the top of their How to Get Help page, or use a search engine to research solutions to your problem.

Verify everything is up to date.
Make sure your issue isn't due to outdated software, themes, or plugins.
Go to your WordPress Dashboard and select "Updates" to see if anything needs to be updated.
Note: WooCommerce recommends that you make any necessary updates before contacting their support team.
If you have purchased a WooCommerce product and want to make sure it's up to date, make sure all of your WooCommerce keys are activated. See the Managing WooCommerce.com Subscriptions page for in-depth instructions.

Check for conflicts.
Conflicts with your theme or plugins could be the cause of your technical issue.
Enable a default WordPress theme to see if your theme is the root of the problem. If this solves the issue, your theme is probably the cause.
Temporarily deactivate all plugins, except WooCommerce and the plugin that's causing problems. Reactivate your plugins, one at a time, to see if a particular one is the source of the problem.
Note: If your theme or plugin comes from a third-party source, you must contact the developer for assistance. WooCommerce only provides technical support for the products they create.
Contact Woo Support.
If you're unsure of how to resolve your issue, and you've verified that your software is updated and none of your plugins are conflicting with each other, you can always submit a ticket with Woo Support.
WooCommerce may be simple to set up and use, but it's a powerful e-commerce tool that can help you take your online store to the next level. It doesn't just make it easier to sell your products and services; it also empowers you to do so in a way that complements the aesthetic and structure of your website. Great website design and a highly functional e-commerce store are exactly what you need to build your business, and its online presence, successfully.