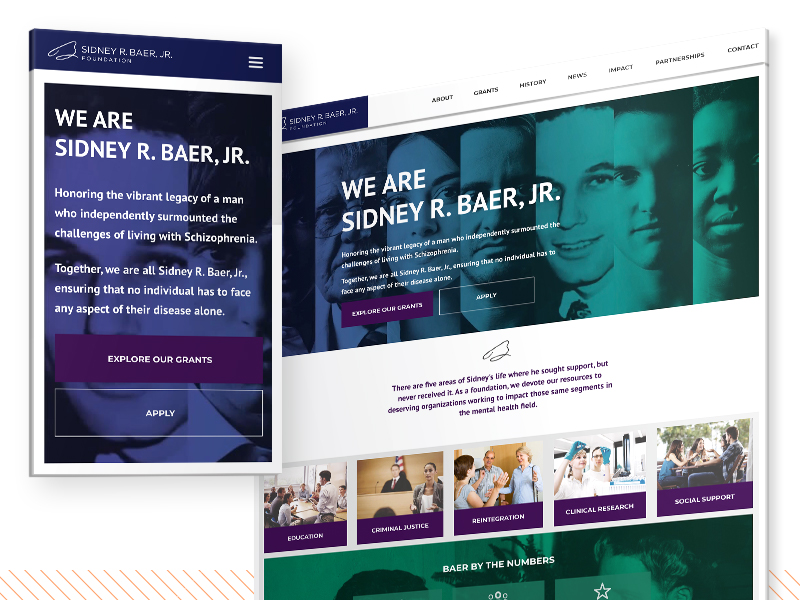 What Is
Non Profit Website Design?
Nonprofit website design is one of the most important, impactful, and cost-effective methods for a nonprofit organization to accomplish its goals and to fulfill its mission. Your website provides you with the opportunity to tell your organization's story in a compelling manner, engage and build meaningful connections with your target audiences, and to successfully compel each audience to take appropriate further action–including requesting service, registering to volunteer, and making donations to support your organization's mission.
The typical major obstacle to a successful nonprofit website is a concern about budgets. This is certainly understandable, considering the tight financial constraints in which so many nonprofit organizations operate. However, it is useful to approach your new nonprofit website design project not as a cost or line-item expense, but rather as a long-term investment in your organization's ability to serve the community. This is more than just semantics or a shift in mindset. In today's digital world, it's a necessity. Your nonprofit website is where many users will first become aware of your nonprofit, it is where they will learn about the services you provide and how those benefit and improve the community, and it is where and how they will choose whether to take action to support your organization and cause. As such, make sure that you aren't simply searching for the cheapest solution to your nonprofit website design project, but rather that you are searching for the best solution.
An early step in successful nonprofit website design is identifying the various audiences that your website needs to communicate with: these will likely include individuals and families who would benefit from your organization's services, individual donors, corporate and high net worth donors, volunteers, potential employees, and perhaps others. As you identify each of these audiences or user personas, think about what types of information and content will connect and resonate with each. Then, also think about what types of content would be most effective to reach each type of user. For example, an infographic that explains the process in which your organization helps people might be the best way to engage with people who need your help. A well-produced video that showcases real success stories could be the perfect way to connect with donors, provide evidence of your nonprofit's success, and encourage them to financially support your mission.
Creating amazing content ensures that your website properly and compellingly tells your nonprofit organization's story. Remember that your nonprofit website is telling that story all the time. You never know when someone might visit your website, or how they were directed there. Thus, user awareness will vary from having zero prior knowledge of your nonprofit organization all the way to full awareness as someone who already volunteers, donates, or receives assistance. Your content offerings, therefore, should include information that explains and educates, as well as information that entices action. Users who have little or no knowledge of your organization's mission and services will likely need to learn more about you before they feel comfortable engaging further, while other users visit your site have already determined that they would like to donate or volunteer. Crafting content for all types of users, for all levels of awareness and knowledge, is crucial for truly effective nonprofit website design.
To further entice users to take action, and to make your organization's investment in a new nonprofit website as effective as possible, you also need to determine how each various audience or type of user will interact with your website. Often referred to as user journeys or user pathways, the purpose here is to map out the desired steps that each type of user will take on your website, and then through a combination of content, visual design, and calls-to-action lay out a roadmap to get there. This is a very important aspect of nonprofit website design, but unfortunately is also one of the most commonly overlooked. Working with a digital marketing agency partner that has experience with successful nonprofit website design projects is a good way to make sure that this is incorporated into your digital marketing strategy.
Your new nonprofit website design project should be viewed as a marketing hub to which all of your organization's other marketing efforts can direct people, further enhancing its utility to your organization. This aids not only engagement with users but also brings greater visibility and accountability to each of your individual marketing efforts, both online and offline. One of the best things about digital marketing is the ability to track and measure a multitude of data points, and to then analyze this data into actionable insights and recommendations about how to further optimize your nonprofit website design and other marketing efforts in the future. Your marketing agency partner will be able to help you determine which data points to track, and how to properly analyze and leverage this information to make optimal decisions.
Embarking on a new nonprofit website design project is a significant undertaking, but it needn't be a daunting one. Working with a marketing agency partner to develop a strategic plan that focuses on your organization's goals will help ensure that the investment you are making is a sound one, and one that pays dividends for years to come.