Designing a website for a manufacturing business is no easy task, but we're up to the challenge. Together, we'll design a website that effectively showcases the capabilities and experience of your manufacturing company in a way that inspires prospective clients to take action; a site that blends cutting-edge digital technologies with a look, feel, and brand uniquely your own.
Manufacturing Website Design Services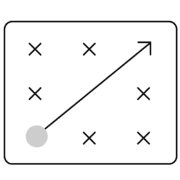 Strategy
Strategy differentiates a successful, lead-generating manufacturing website from a site without direction or purpose. Without a specific and unique strategy for your manufacturing company's site, you're potentially risking both valuable leads and manufacturing revenue. For your manufacturing company's site to get the results it needs, you must build and adhere to the right series of strategies and digital marketing solutions.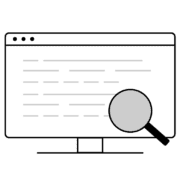 SEO
You're likely well aware of this, but finding the right leads for a manufacturing business can be next to impossible. This is why your site must be optimized for search engines. Believe it or not, there are people searching for your exact services right now. And if Google isn't recognizing your site as a trusted resource for this audience, you will be left in the dark while your competition reels in these valuable leads from online marketing.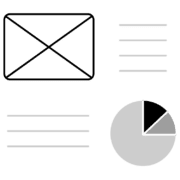 Information Architecture
Information architecture is the process of determining how to arrange and organize the information on your site (and it's easier said than done). We can guide you through our sitemap-building processes to ensure that every of your site's visitors knows precisely how to get the information they need.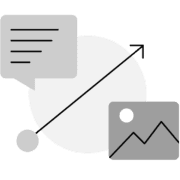 Content Strategy
With so many variables to consider— user experience, lead generation, organic SEO, etc.— deciding the content layouts of each page within your manufacturing company's website can be an uphill battle. This is why we'll take the time to carefully build out each page and ensure our strategies align with your company's manufacturing goals.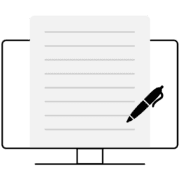 Copywriting
We'll then fill out our content strategy by adding compelling, informative copy designed to establish your credibility as a leader in the manufacturing industry. This is your chance to layout exactly what sets your manufacturing company apart from the pack.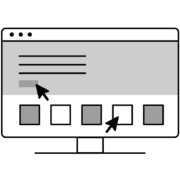 UI/UX Design
User experience (UX) and user interface (UI) are huge considerations to take as they pertain to how users interact with your website. With good UX and UI design, users navigate throughout your website with clear paths to convert.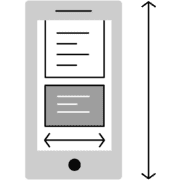 Responsive Design:
You can be sure that users will visit your site from a wide array of devices; phones, tablets, desktops, laptops, etc. And you have to be sure that your site will look great and perform appropriately in every scenario.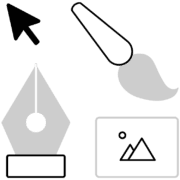 Visual Design
Finely tuned and search engine optimized manufacturing websites won't make an impact if they don't also look appealing. Visual design is all about making a good first impression on every potential lead who visits your site.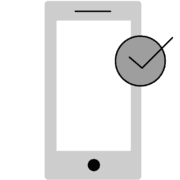 Mobile-First Mindset
As more and more web traffic is accessed via mobile phones, you need to ensure your manufacturing company's site performs just as well on an iPhone as on a desktop. Remember, many leads will only ever see your site from the palm of their hand, and you simply cannot afford to risk losing them.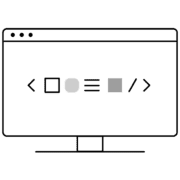 Web Development
Web development can be a nebulous term, so we'll crystalize it for you: We're talking about full-stack development with a custom content management system. We make sure that your manufacturing website looks good on the front end and the back end, and that it's usable by you and your team.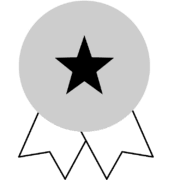 Superior Performance
Undoubtedly, you want to provide the best-manufactured product for your customers. And this is why you meticulously examine every step of the manufacturing process to ensure that all components work together seamlessly. We do the same thing for your website. From strategy to user experience design to content to art direction and development, we perform a thorough quality assurance process to ensure you are getting the most out of your site.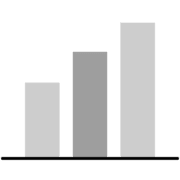 Analytics
In order to set measurable goals for the future, we have to see how manufacturing leads are interacting with your site. How many site visitors is your website attracting? How are they getting there? How long are they staying? By examining each piece of data, we can learn the best strategies for future growth.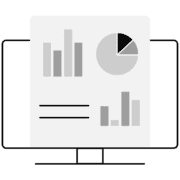 Analayisis
After designing a manufacturing website and monitoring analytics, we need to dive into results. We'll partner with you to not only give you the statistics but also help you analyze them so that you can set more aggressive goals and amplify your manufacturing site's results.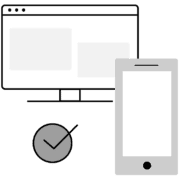 Website Support & Optimization
Unlike other agencies, we will not just hand you the keys to your site and wish you the best of luck. We know things will come up that need to be revised or tweaked– copy changes, updated photos, CMS plugins, etc.—and we're happy to help you.
How to Find the Right Manufacturing Web Design Agency
Creating the perfect website for your manufacturing company is a major commitment and it's important that you're comfortable with and confident in the agency you select as a partner. So how do you find the right digital marketing agency? Here are a few tips:
Look for a web design company that:
01
Acts as a partner to your company:
The right digital marketing agency will guide you through the multiple steps of planning out your company's manufacturing web design. The right web design company will welcome and encourage feedback and won't leave your team in the dark at any point.
02
Doesn't outsource their work:
Too often, agencies will outsource various aspects of their website building processes to third party vendors, including web designs. This can cause unnecessary delays and can damage the lines of communication on which your team is depending. In order to ensure you get the best possible product with the least amount of downtime and/or interruptions, find an agency for which all of the key players are on the same team.
03
Follows best practices:
This one can be tricky. "Following best practices" may have different meanings for different agencies. Should your web design company claim to follow best practices, follow up by asking their definition as well as concrete examples. An agency worth your time will be able to provide either without hesitation.
04
Approaches design strategically:
Your manufacturing company deserves a site that not only looks great but generates results. If your website isn't constantly generating manufacturing leads and driving sales, it's not doing its job. Find an agency that designs your site with that end goal in mind.
What can you do to prepare for your search?
Know your budget: Come to the table with at least some idea of what you're willing to spend on your website. You may end up spending more or you may end up spending less, but having a starting point that is realistic for you and the agency is the first step. Mind you, if done correctly, your manufacturing company's website is going to be key in driving sales for years to come. This is not something on which you'll want to cut corners or cheapen in any way.
Your agency should be able to provide you with a portfolio of their best work, but don't stop there. Do your own research and contact a few of their previous customers to really learn about the agency you choose.
Surely you'll visit the web design company and their website, but don't stop there. We suggest investigating Google reviews for a true, unfiltered look at what previous clients have said.
Frequently Asked Questions
Why is manufacturing web design so expensive?
Whichever agency you choose is going to spend a lot of time and effort to ensure your website is the best it can possibly be. Your goal should be to have a website just as good (preferably greater) than your leading manufacturing competitors. While you'll certainly find your share of agencies or freelancers willing to build you a website on the cheap, it's going to be very hard for one of these discount sites to compete with the major industry players.
How can you ensure you get a good ROI on your manufacturing website?
Everything we've stated thus far comes down to one key aspect: giving your site's visitors a positive experience. For manufacturing sites in particular, your site should be producing leads. If your agency can't promise this— and back up that promise with examples of other successful sites— then it's time to move on.
Learn More About Manufacturing Web Design
Digital marketing has become essential to success in the manufacturing industry, and the most important component of this is quality manufacturing web design. Your company website plays a vital role in the success of your business, whether you realize it or not. Your firm might manufacture best-in-class products, but without a functional, easy-to-use website you risk missing out on valuable new prospects and leads. Make the strategic decision to invest in your business through an equally best-in-class manufacturing website design.
Manufacturers have long relied on referrals, word of mouth, and existing customer relationships to generate the bulk of their business. Perhaps they have supplemented these efforts by attending industry trade shows and producing and mailing an annual product catalog. Outside of these basic marketing efforts, the sales team was left largely to its own devices to generate leads and new business. And for a long time, decades, in fact, this was a largely successful approach. But times have changed, and so too must your online marketing efforts in order to remain successful. Now, your customers are going online to find solutions to their problems. They are searching for a manufacturing partner with demonstrated expertise and experience. And they are largely basing their decisions on the information they are able to find about your business online, beginning with their perceptions of your manufacturing web design.
Accordingly, you need to ensure that your website clearly and comprehensively speaks to your target market, addresses their needs and concerns, and demonstrates that your company can provide the right solution to help them. The best way to accomplish this is to incorporate a robust content marketing strategy into your manufacturing web design. Creating exceptional content allows your business to demonstrate thought leadership in your industry, boosting your firm's credibility. In addition to your website's copywriting, your content marketing might include infographics that visually demonstrate your company's processes, immersive 3-D video tours of your manufacturing facility, recorded webinars that touch on important trends, robust case studies that explain how you were able to help a client with a similar issue, and so much more. There really is no limit to what your content marketing offerings may include. The important thing is to create each piece of content, no matter the format, with your best customers and prospects in mind. This will allow your business to engage with people at all stages of the buying decision funnel so that when the time comes for them to make a purchasing decision, they choose you over your competition.
Content marketing will also aid your manufacturing web design's search engine optimization (SEO) performance. Including relevant keyword phrases in your content will help your website rank highly on search engine results pages. Of course, there is more to successful SEO than just a well-built website, and you should work with a dedicated agency partner to create a plan to optimize your search marketing efforts. Content marketing will also help your business generate leads because, by providing valuable content to users, you have the opportunity to strategically ask for their contact information in return. Users will readily provide their name and email address in exchange for information that will help them do their jobs. Just be sure to be judicious in how you apply such 'gated' content so as not to alienate the user.
Remember that a younger generation is advancing into higher-level roles within many organizations, and many now have decision-making authority. This younger audience expects not only that your manufacturing website provides them with the information they are seeking in a visually attractive, easy to use manner, but they also expect to be able to seamlessly access this information on their choice of device. This means that responsiveness must be part of your new website manufacturing design. Responsiveness refers to a website's displaying and functioning appropriately on all devices including desktop and laptop computers, tablets, and smartphones. A qualified website agency partner will help create a new website that incorporates best practices to ensure a great user experience no matter how they choose to interact with your brand online.
Finally, it is important to establish goals and key performance indicators (KPIs) for your manufacturing website and digital marketing efforts, so that your team can determine what is working well, as well as identify areas that require more attention and improvement. Your manufacturing marketing website partner should be able to help you with marketing analytics to take raw data points and transform them into meaningful, actionable marketing insights, as well as provide recommendations for improving your future digital marketing efforts. Armed with such information, your business will be well-positioned to reap the benefits of your new manufacturing web design not just now but for years to come.