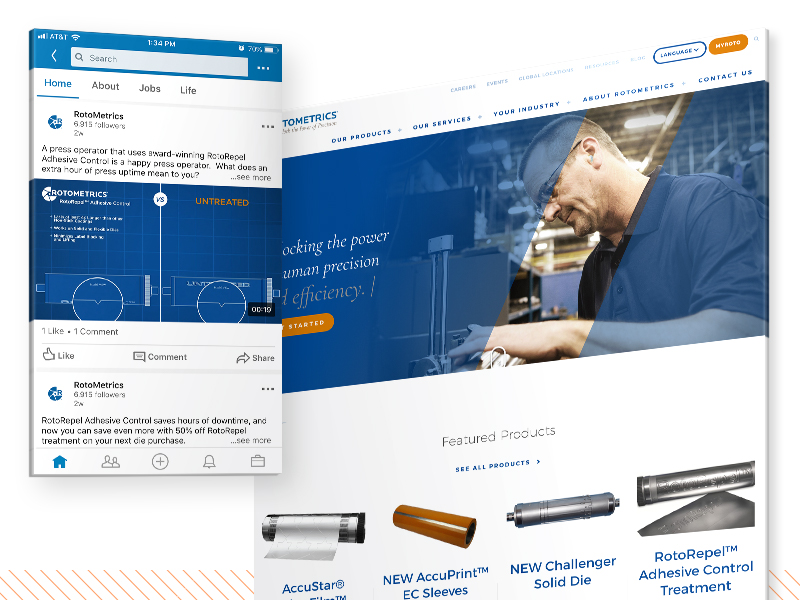 What is
Manufacturing SEO?
SEO, or "Search Engine Optimization" is basically the ability to get your website recognized and ranked by search engines like Google. A search engine optimized website will rank higher on Google's organic (i.e. free or unsponsored) search results than a non-optimized site. This is especially key for businesses in the manufacturing industry. For example, if you're in the business of making snow tires, wouldn't you want to be atop the list when a potential client Googles "snow tire manufacturer" or "snow tires wholesale"? Of course you would!
Unfortunately, ranking on Google is easier said than done. Google's first page of search results is a highly competitive space, and for good reason. It's basically the Internet's sacred ground. Mind you, every single manufacturer you consider to be a direct competitor wants to be in that space just as much as you do. A high ranking website is essentially an invaluable endorsement by Google. It's their way of saying "this company is reliable and deserving of your business."
So how does Google decide which sites are worthy enough for a high ranking? This is where things get a little tricky. Google has a very specific and always-evolving algorithm that evaluates factors such as page speed, mobile-friendliness, backlinks, domain authority, and keywords (among others). What this means is that a manufacturer whose site is slow, full of broken links, and generally not user-friendly isn't going to be deemed as credible as a manufacturer with a thorough, organized and highly-informative website.
Remember, Google is only looking at the quality of your website and the authority of your domain–not your products themselves. It's very possible–and perhaps all too common–for a company to manufacture a high-quality product and still have a low Google ranking. Unfortunately for these companies, their sites are being virtually buried by more SEO-optimized sites. A high ranking website simply means more visibility, more traffic, more clients and more sales.
Why is Manufacturing SEO
Important?
Your website has the potential of being the biggest lead machine you'll ever use. In the manufacturing industry, a single lead can change the course of your business in an instant. And a high ranking site is, in most cases, the best way to generate that lead. Being featured on the first page of Google's search results provides an uncomparable legitimacy to your business at no cost to you. Unlike GoogleAds, organic search results are paid adverting, so your big-budget competitors can't outbid their way to the top.
Furthermore, organic results are not tracked as pay-per-click like GoogleAds so you don't pay Google for the traffic they generate. Basically millions of people could click your link and it's not going to cost you a dime more than the investment you make to have your website ranking on the first page of Google. You're not going to find a better cost per lead than that.
The bottom line is that you won't find a better ROI than implementing effective SEO strategies into your manufacturing website. It is an opportunity that your company simply cannot afford to overlook. Google is the most visited site in the world and chances are that someone is out there searching for your products right now. Are they finding you? Or are they finding your competition?
Why Choose
Us?
Timmermann Group is a full-service digital marketing agency focused on delivering strategy and implementation, and we specialize in manufacturing SEO. We 'll work with your team to strategically develop the right SEO plan for your business and we'll be there to help you carry it out. Timmermann Group has a lot of experience and a proven track record working with manufacturing companies, and we'd love the chance to partner with yours. Let us transform your website into an SEO-optimized 24/7 lead generator, so you stop missing out on the leads from people who are already searching for what you are selling.