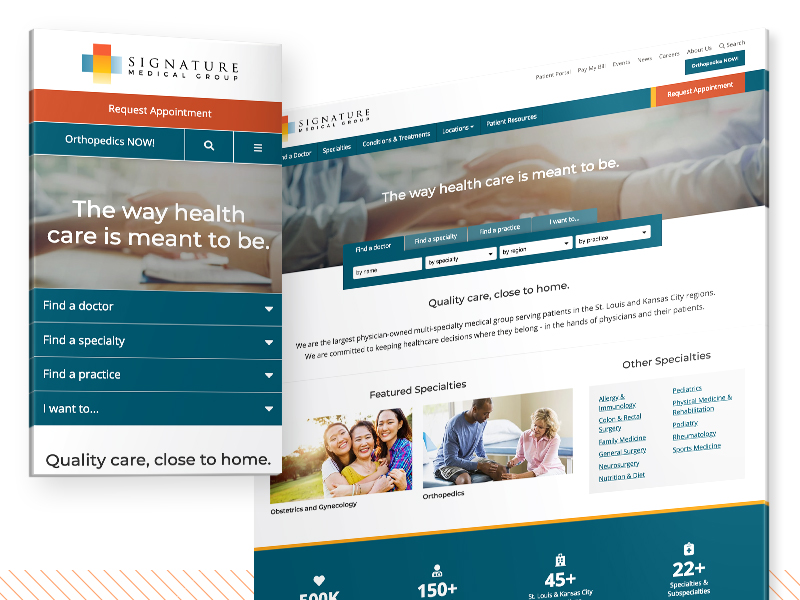 What Is
Healthcare Website Design
Crafting a well-executed healthcare website design is one of the most important steps your business should take to elevate your overall marketing program and to ensure that you are both servicing your current customers, and also attracting new customers. In today's modern business environment, your company website serves as the gateway to your business. For many potential patients and customers, your website is the first interaction they will have with your brand, so it is imperative that your healthcare website design reflects your company's mission and value proposition accurately, effectively, and efficiently. If it doesn't, you will likely miss out on the opportunity to bring that user on as a new customer or patient. Poor healthcare website design could also result in your company losing current patients and customers who find your website difficult to use and navigate. Be sure to partner with an experienced healthcare website design marketing agency partner to ensure that your new site helps you achieve your business goals and grow your business.
The process of building your new website should begin by outlining the various audiences or groups that your company serves. For instance, think about current customers and patients who might visit your website. What information will they be looking for? What questions do they need to be answered? What are they trying to do on your site–schedule an appointment, refill a prescription, submit insurance information? Complete this thought exercise for new customers, insurance companies, and any other types of users who will be visiting your website. It is important to define each of these audiences, or user personas, and to then make sure that your website offers content and functional tools for each of them, providing a positive user experience that will result in online conversions.
Content marketing needs to be a cornerstone of your new healthcare website design. Content marketing will include information about your company, your products and services, and any regulatory or compliance information that may be required. It also may include patient testimonials or customer case studies, blog posts that touch on relevant health topics, and a careers section to help attract new talent to your organization. Your content offerings will also likely take on a variety of formats, including infographics, videos, tutorials, white papers, and animations. The important thing is to make sure that your healthcare website design includes content that is relevant to each of your user personas, that it is created in a way that is accessible and understandable, and that it demonstrates your company's knowledge and expertise. This is crucially important because, when it comes to people's health, confidence and trust in a healthcare provider or partner are paramount. As users engage with your new website, they need to believe that you can help with their healthcare needs in a way that none of your competitors can. If they do not get this feeling of confidence and security from your website and other marketing efforts, they will contact one of your competitors instead.
Remember that today's consumers prefer to do their own individual research and exploration of options before making contact with a company to talk in more detail, and this research often begins with an online search. Therefore search engine optimization (SEO) considerations need to be taken into account as you embark on your new healthcare website design project. This can be particularly tricky in the healthcare space because, in order for your SEO efforts to bear fruit, you must think in terms of what your patients and customers will be searching for. This may not, in fact in many cases will not align with how your business speaks about these topics internally. Think about how your customers ask questions, what phrases they use, what their underlying concerns are. This will help you identify what are the relevant keyword phrases to focus on. Your marketing agency partner should be able to help you with this exercise, determining a list of keywords that have the right combination of search volume and relevance to your business to generate the best return on your marketing investment.
An important consideration for your healthcare website design is what types of functionality do you wish to include. This could be things like scheduling appointments, accessing patient medical records, offering an online chat feature to speak with users in real-time, building out a password-protected customer portal, and so much more. It is important to identify which functional items you wish to include, and to then make sure that patient privacy and security concerns are properly addressed and accounted for. Customers want the convenience of online service but they also demand that the experience be safe. Make sure that you speak with your marketing agency partner about how they will ensure these goals are accomplished with your healthcare website design project.
Your new healthcare website will generate an immense quantity of user data points. This is both good and bad. Good in the sense that it provides a plethora of information that can be leveraged to make intelligent marketing decisions in the future. Bad in the sense that, without a strategic plan in place and the knowledge and ability to determine which data points are the most salient, the analytics process can be bewildering. Be sure to ask your digital marketing agency partner to help your business establish goals and key performance indicators (KPIs) for your healthcare website design, and to also develop a system for analyzing and reporting the appropriate data points and converting those raw numbers into actionable marketing insights. Armed with this information, your company will be in the best position to remain at the forefront of the ever-changing digital marketing landscape so that you are equipped to take full advantage of future opportunities to grow and improve your business.