If You Can't Beat Google, Join Google
Recently, a few team members at Timmermann Group discovered that, when using Google Chrome for their mobile browser, Chrome would display a tab at the bottom of their screen with suggested websites similar to the site they were currently viewing. Some of those suggested sites were direct competitors for the site they were browsing. If they didn't find what they were looking for, they could easily go to another site without having to go back to their search or open a new tab.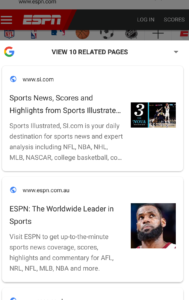 It's possible this new feature is an extension of Google's rollout of mobile-first indexing, a different way of showcasing search results with an emphasis on sites that are mobile-responsive. Obviously, this presents a problem. If you've cleared the hurdle of having a user search for something based on their intent and select your website, you don't want Google helping them jump to another company right from your site.
Though there may not be a way for you to prevent Google Chrome from displaying these results when people visit your site, there is a way you can beat Google at their own game. How? Google is constantly trying to produce the most relevant SEO results for what users are searching for—so make sure your website contains the most relevant content based on the searcher's intent. Now, more than ever, you need to keep people on your site and make sure that they find what they're looking for. Look at your analytics. See where people are leaving your site, which pages they're leaving, and how long they spend on a page and use that data to inform changes to your site.
With the right content and strategy, it's possible your website will prove this new Google Chrome feature irrelevant.